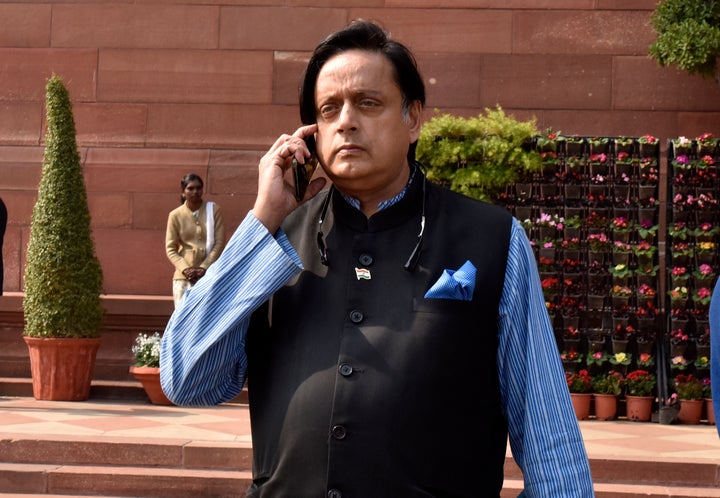 Senior Congress leader and MP Shashi Tharoor, who has expressed concerns about the ongoing session of Parliament in the wake of Covid-19 outbreak, on Tuesday attended a breakfast hosted by President Ram Nath Kovind that definitely included too many people sitting too close to each other.
He tweeted a picture from the event, where at least 45 people can be seen posing together.
Soon after, Tharoor also called for adjourning the Parliament over coronavirus concerns. In a series of tweets, he said "Ironic that Members of Parliament, who must exhort their constituents to take necessary precautions against #COVID19, continue to congregate in Parliament, where they sit cheek-by-jowl on narrow benches."
On Monday, he had suggested that Parliament needs to reconsider holding the current session when the government itself has advised against mass gatherings. "If any MP comes with coronavirus in the Parliament and suppose that MP is unaware of his or her being infected with the virus then many can get infected here. When the government is saying that people should avoid large gatherings, then Parliament would need to consider about it one day," he had told ANI.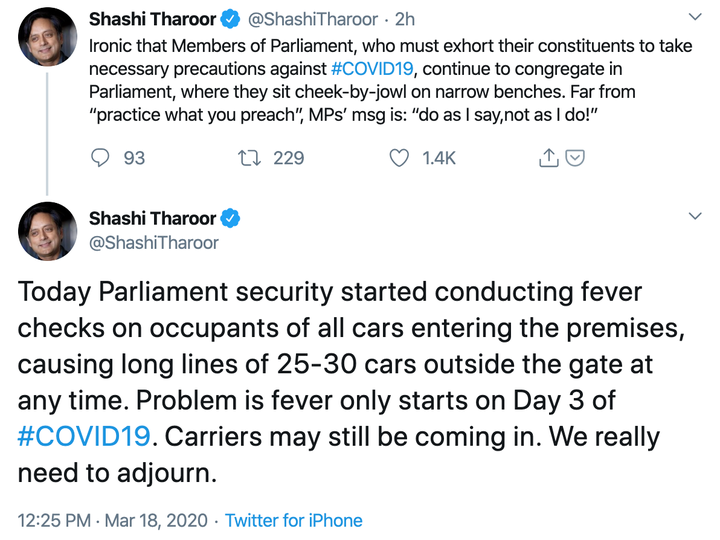 Several people responded to Tharoor's tweet on the breakfast at Rashtrapati Bhavan, asking why the guidelines of 'no mass gathering' and 'maintaining social distance' were flouted.
The Union Health Ministry on Monday issued an advisory on 'social distancing measures' in view of Covid-19. It proposed closure of all educational establishments, gyms, museums, swimming pools and theatres. The ministry also advised on avoiding non-essential travel and maintaining physical distance.
Several countries have also decided to shut down Parliament to contain the spread of Covid-19. Canada's House of Commons voted to shut down for at least five weeks on March 13. The lower house of the Spanish Parliament was also suspended for a week on 10 March and this suspension was later extended by 15 days.
Popular in the Community