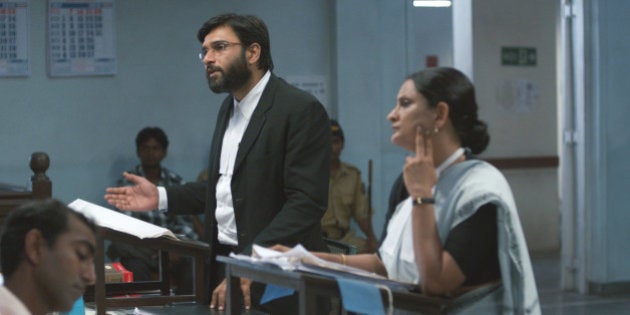 And there you have it: multilingual courtroom dramedy Court will be India's entry to the Oscars this year. The multiple-award-winning film, directed by first-time filmmaker Chaitanya Tamhane, was selected for the honour by a jury headed by veteran filmmaker Amol Palekar, amongst several other worthy entries such as Killa, Kaaka Muttai, and Masaan.
When the news broke, Tamhane and Vivek Gomber, the film's producer-actor were in Japan. "At every juncture of the film's journey, we have felt that is has given us more than we could ever imagine," said Tamhane, in a statement sent across over WhatsApp.
"Once again, this has come as a genuine surprise to both Vivek and me. Ever since we started making the film, we kept our expectations low. Especially in this case, since these results tend to be so unpredictable, it just felt like a wise thing to not expect too much. Now that it has actually happened, we would like to thanks the jury for their decision and everyone who has supported the film so far."
Court, which has also released in the United States, has been sent for consideration in the Best Foreign Language Film category, one that has never been won by an Indian film before. With more than 20 international awards, including the Lion Of The Future and Best Film in the Orrizonti category at last year's Venice International Film Festival, the drama that lays bare the workings of India's bureaucracy-ridden judicial system stands the best chance an Indian film has had at winning the award since The Lunchbox (2013).
However, there is a long way to go. Nominations for next year's Oscars will only be announced on January 14, 2016. Till then, there's plenty of lobbying to be done — which involves, amongst other things, spending a lot of money — and support to be built for its chances to increase. Perhaps the real celebrations should take place when it actually garners a nomination. After all, if that does happen, it will only be the fourth Indian film in history to have gotten the honour, after Mother India (1957), Salaam Bombay! (1988), and Lagaan (2001).