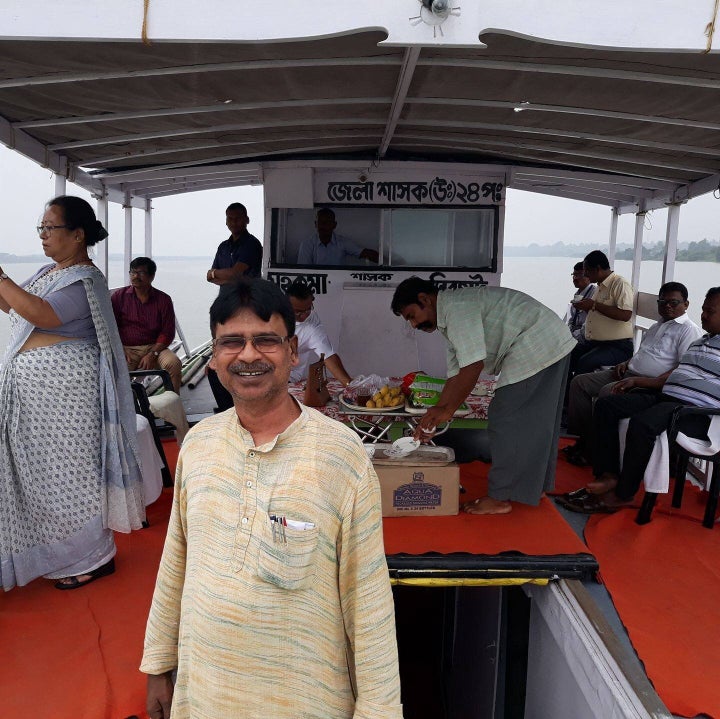 After Khagen Murmu, a Santhali leader who spent almost four decades with the CPI(M), quit to join the Bharatiya Janata Party (BJP), Biman Bose, the party's state secretary, called him a "traitor" at a press meet. "The adivasis of north Malda (Murmu's constituency) will give him a befitting reply," he said. Weeks later, Murmu won his first Lok Sabha election from the ticket of the party he had joined two months ago.
Since then, he has changed his Facebook display name to "Manusher Pashe Khagen Murmu (Khagen Murmu With People)" and has a photo of a beaming Narendra Modi spliced into his profile photo. However, scroll a little past the posts about BJP and you can find photos of Murmu leading protest marches by adivasis against the state and central governments and posters dissing Modi's LPG distribution scheme. One post questions Mamata Banerjee's alleged silence on the Rafale deal and Modi's 'silence' on Saradha and Narada scams, suggesting that the two might be working together in Bengal.
In a way, Murmu's defection to BJP points to a political trend that has left members of both his erstwhile party CPM and its rival Trinamool Congress equally baffled.
Murmu recounts his association with the Left with more than a hint of pride. "You can say I have been with the CPI(M) since I was a child, a student in high school," he told HuffPost India, adding that his wife, an ICDS worker, has also been associated with the party for at least two decades.
Joining the BJP, he said, was a "sudden" decision.
How does a political leader who, for years, fought for adivasi rights as part of a Left party, shift to a right-wing outfit? In an interview with HuffPost India, Murmu tried to explain.
You have been associated with the CPM for very long.
You can say I have been with the CPI(M) since I was a child, a student in high school. That was sometime in the '70s. I believed in their ideals and the work they did for the grassroots.
Why did you decide to join the BJP?
You can say it was a very sudden, spontaneous decision. The Left Front's ideologies, especially that of the leadership in Bengal, has somewhat deteriorated. From their ideals to their policies, things have changed a lot. See, policy-wise, things often change, it's up to the organisation. But the ideals, that had to be compromised a lot. Things that we could not imagine doing, we were made to do. For example, CPM came to power in West Bengal by fighting the Congress… I was a part of a party when that happened. (The CPM government came to power in 1977, Murmu had joined the party in the early 70s). Now we have to come to settlements with that Congress, for elections and stuff. I could not tolerate this decision. When I contested the 2016 assembly elections, I was not at all comfortable with the alliance with Congress that the CPM leadership had forged. And as it turned out, no Congress supporter voted for CPM in that election, it was humiliating.
What do you attribute this "deterioration" of CPM to?
In Bengal, CPM barely wanted to fight the general elections properly and take part in national politics. They wanted to change the society and all. But in the state it is different, because the party in power controls administration and police that is necessary for our work. For that you have to win elections, sure. But that doesn't mean we shake hands with our enemy to defeat another.
This is the first time CPM has not got a single seat in West Bengal. Do you see a future for the Left Front in Bengal anymore?
If Left Front and its leadership doesn't change its attitude, then their future is very bleak. You have to be able to stand up to the establishment — that was our work. And to fight that, you still have to maintain your ideals, you have to fight a fight based on your communist policies and ideals. You have to strategise to win polls, the state leadership is very deficient when it comes to that.
You are talking about the Left's ideals and policies and how the CPM is deteriorating because they are not following it. You've followed the Left ideology for 40 years and some would say BJP's ideology is exactly the opposite. How did you embrace it?
I won't accept that claim that BJP's ideologies are opposite of the Left's. BJP has a strong grassroots organisation, like CPM had always had in West Bengal. Trinamool Congress doesn't have a grassroots organisation at all, or the kind of outreach CPM had.
The issues the BJP fought this election on, especially in West Bengal, are Hindutva, promise to throw out illegal Muslim immigrants, etc. Things like religion were never a mainstay in the Left ideology, was it?
The campaign against the BJP said a lot of things, right? A lot of things were told about the party. But people have responded, and you can see that it went in BJP's favour. People want simple things like government amenities and all. I don't think the allegations of communalism against BJP are accurate. If you look at West Bengal, there has been no concerted attacks on any particular community.
But it is widely accepted that BJP's ideology is based on Hindutva.
That is a propaganda created by the opposition to create panic among Muslims. People want to use Muslims as vote bank. In this election, BJP fielded many Muslim candidates in West Bengal, there were some in south Bengal.
There are Muslim ministers as well in the cabinet. Then how can people say that this party is pro-Hindutva? This is just false propaganda to make sure that Muslims don't vote for BJP. What has Mamata Banerjee done for Muslims? In fact, Modi ji is saying, 'sabka saath, sabka vikaas' and now 'sabka vishwas'.
(Editor's note: The NDA cabinet has just one Muslim minister, Mukhtar Abbas Naqvi for minority affairs and only two of BJP's 42 candidates in Bengal were Muslim.)
But what do you have to say about policies like beef ban? You're an adivasi activist and you work for the community. Recently, we reported how an Adivasi man was arrested for a Facebook post on the community's right to eat beef. The complaint was made by ABVP.
These issues you see… human beings... People's right to eat what they want, I think they are being able to do that. There is some misunderstanding which has been created. See, there are restrictions, but it's not in all ways. It is not banned entirely, right? It's not completely banned, there are some restrictions on eating it, but not entirely banned.
It is being alleged that CPM's grassroots workers in West Bengal worked for and voted for BJP to defeat TMC. Do you think this could be true?
A lot of my supporters came to BJP with me, of course. Now that I have won, many more will join. But TMC is saying all this from frustration. A lot of TMC people have also swung towards BJP. Some people don't like the syndicate raj of TMC, or the extortion done by their goons. They have voted for BJP.
But it was being reported that the CPM has reopened 200 offices in West Bengal and the BJP is helping them do it?
I think after these elections, some of their (TMC's) goons have got a little scared and are not doing their usual hooliganism. That is helping the CPM open some of their offices.
What place can BJP and CPM occupy in West Bengal, at least till the next Assembly elections? Can they exist together as allies or a united opposition?
These are separate parties and separate people. Their policies and ideological battles are different. They cannot exist as a united entity. They will have to exist separately. In some instances, for example, for the state Assembly, the things that the Trinamool Congress government is doing, everyone is against them. From a policy point of view, fighting against the TMC together in the Assembly doesn't mean we have become the same party. It doesn't mean that we belong to their party and they belong to ours. There are some issues, in some issues for people, you have to collaborate. That is the job of an elected representative anyway.
Are you saying CPM and BJP did not work together in this election in West Bengal?
Why will CPM and BJP work together? Some CPM supporters who did not like their current attitude may have voted for BJP, some Congress people also did.
Do you think BJP's win in the state, which signals that Mamata Banerjee may not be invincible, may result in a resurgence of the CPM?
Actually, at one point of time Mamata Banerjee completely put a halt to CPM's activities. Now they are sidelined a bit — their extortionists and their hoodlums maybe a little worried.
BJP has turned 'Jai Shri Ram' into a political slogan in West Bengal. Why are they doing that?
See, Jai Shri Ram is not BJP's slogan. Everyone says 'Jai Shri Ram'... You don't say it?
But in West Bengal, that's not a popular religious slogan, like say 'Durga Durga' or 'Jai Maa Kali'.
They say it everywhere. In our country, people are very religious, everyone follows some religion or other. Why is chanting Jai Shri Ram such a crime? This is not a BJP slogan. "Jai Shri Ram", we say "Jai Shri Ram". What do they (TMC) say? What is Maa Mati Maanush… what work have they done for Maa Maati Manush (mother, earth and people).
We say 'Vande Mataram' also. Vande Mataram is BJP's official song. This is our slogan.
It is a crime to throw someone in jail for saying Jai Shri Ram. Say, you are going to a temple and ringing a bell, they will throw you in jail?
Someone is going to a temple, or someone is going for namaaz. Everyone should do that. How is that a problem?
When you left CPM after 40 years, were you hesitant?
See, I have always led protests and movements. I have reached this position doing that, I was also elected as a party leader. Now if I have to join hands with enemies, I can't.
Popular in the Community