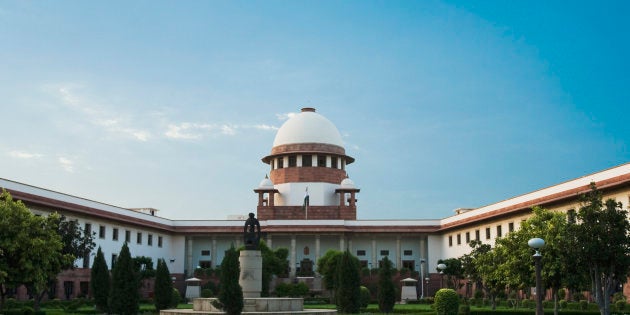 Sedition charges cannot be slapped against individuals for raising their voices against a government or for criticising its policies, the Supreme Court of India clarified on Monday.
A bench of Justices Dipak Misra and U.U. Lalit referred to the ruling in the Kedar Nath Singh vs State of Bihar case of 1962 to explain the circumstances under which sedition can be invoked. "We are of the opinion that the authorities, while dealing with offences under Section 124A of the Indian Penal Code (IPC), shall be guided by the principles laid down by the Constitution Bench in Kedar Nath Singh vs State of Bihar," the bench said, adding that the provisions laid down 54 years ago were valid even today.
In its verdict in 1962, the court had said that a "citizen has a right to say or write whatever he likes about the government, or its measures, by way of criticism or comment, so long as he does not incite people to violence against the government established by law or with the intention of creating public disorder".
As long as the views expressed by an individual, in speech or in writing, do not result in either of the above — violence against the government or public disharmony — even the strongest comments cannot be deemed seditious.
The court on Monday was responding to a public interest litigation (PIL) filed by the activist lawyer, Prashant Bhushan, through an NGO, Common Cause, on behalf of antinuclear activist S.P. Uday Kumar. The PIL had drawn attention to the spate of sedition cases being filed against political dissidents in recent times and had demanded fresh intervention from the court to curb such misuse.
The PIL had reportedly cited the cases of Binayak Sen, Tamil folk singer S. Kovan, JNU Student Union President Kanhaiya Kumar, Delhi University professor S.A.R. Geelani and the recent charge of sedition against Amnesty India for organising a debate on Kashmir. In its response, the court said the principles laid down in the 1962 judgment should be followed in evaluating the validity of a charge of sedition.
Although charges of sedition have led to very few convictions, they cause harassment and become tools to stifle freedom of expression. Recently, a lawyer in Kodagu, Karnataka, filed a case of sedition against Kannada actor-politician Ramya for her positive comments on Pakistan.
Bhushan pointed out to the apex court that most constables, who are responsible for arresting people accused of sedition, would not understand the nuances of the ruling and would only go by the relevant section in the IPC. In response, the court said, "Constables don't need to understand. It is the magistrate who needs to understand and follow the guidelines as laid down by the apex court while invoking sedition charges".
WATCH: Brawling Lawmakers Push And Shove Each Other Inside Kerala Assembly