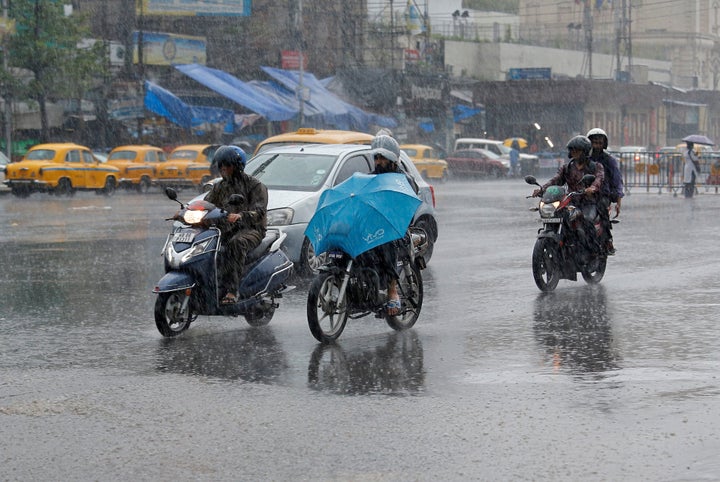 Cyclone Fani made landfall near Puri in Odisha on Friday morning which lasted for two hours, IMD said. Three people died in the state.
The storm system began to weaken as it moved towards the northern part of Odisha. It is expected to weaken further as it enters West Bengal early Saturday morning, IMD said.
Here are the highlights of the day:
10.55 pm: Bhubaneswar airport update
Bhubaneswar airport will resume commercial flight operations from 1 pm tomorrow, the civil aviation ministry said.
10.30pm: Naval Dornier Aircraft Aerial Survey
Large number of trees and electric poles were found uprooted within the city limits of Puri. Large scale water inundation was observed in many, particularly in low lying areas between Puri and Chilka Lake, AIR reported.
10.27 pm: Bhubaneswar airport likely to open by 1pm tomorrow - govt spokesperson
7.47pm: IMD's rain forecast for 4 May
Odisha — Light to moderate rainfall at most places with heavy falls at isolated places over Balasore, Mayurbhanj districts of north Odisha
Gangetic West Bengal — Heavy to very heavy falls at isolated places
Sub-Himalayan West Bengal, Sikkim — Light to moderate rainfall at most places with heavy falls at isolated places
Assam, Meghalaya — Isolated extremely heavy falls
Light to moderate rainfall at many places with isolated heavy falls very likely over Nagaland, Manipur, Mizoram & Tripura.
7.36 pm: CM Naveen Patnaik reviews situation

7.33 pm: Storm surge to flood low-lying areas of 3 Odisha districts tomorrow
Storm surge of about 0.5 to 1 meter height above astronomical tide is very likely to inundate low lying areas of Kendrapara, Balasore and Bhadrak Districts of Odisha forenoon of 4 May, the SSpecial Relief Commissioner of Odisha said.
7.25 pm: Odisha TV telecast disrupted due to cyclone impact
7.17 pm: A view of the devastation in Bhubaneswar
7.01pm: Power, telecom completely down in Puri
A Govt of India spokesperson said, "As per telephonic information, in Puri, extensive damage to kuchha houses, old buildings and temporary shops. No confirmed report of deaths, but 160 reportedly injured. Power and telecom is completely down. NDRF & State forces are clearing roads."
NDRF told ANI that three people had died.

5.35 pm: Forecast for West Bengal
Cyclone Fani will weaken to a severe cyclonic storm when it enters West Bengal in the early hours of Saturday, IMD said.
Bengal received heavy rainfall today.
5.15 pm: IMD bulletin
Fani will continue to move in the north-northeastward direction and weaken further in the next 6 hours, IMD says.
5.11 pm: Cyclone Fani to change Nepal's weather condition
Cyclone Fani will alter the weather conditions in Nepal and bring heavy rainfall and snowfall in the Himalayas, meteorologists have warned, according to PTI.
The cyclone is not likely to make its way to Nepal, but lightning and windstorm will occur in some parts of eastern and central regions coupled with light to moderate rainfall today and on Saturday.
4.44 pm: Revised advisories to be issued for airlines
Civil aviation secretary is monitoring the situation, DGCA will issue revised advisories to airlines when necessary, minister Suresh Prabhu said, according to PTI.
4.41 pm: Gujarat sends NDRF teams
Gujarat has sent 6 teams of NDRF to Odisha in the wake of the cyclone, AIR reports.
4.21 pm: AIIMS PG exam cancelled in Bhubaneswar
AIIMS PG exam scheduled on May 5 has been cancelled at the Bhubaneswar centre, the home ministry said. Another exam will be conducted for students affected by this cancellation as soon as normalcy returns, it added.
4.15 pm: Impact of Cyclone Fani seen at AIIMS Bhubaneswar
4.05 pm: Odisha Police working to clear roads in Bhubaneswar
3:07 pm: 3 dead in Odisha
Three people have died in separate incidents in Odisha, PTI reported, quoting officials. A teenager was killed when a tree came crashing down on him in Puri. Flying debris from a concrete structure hit a woman in Nayagarh district. In Kendrapara, a 65-year-old woman died after suspected heart attack at a cyclone shelter.
2.58 pm: Extensive damage to structure of AIIMS Bhubaneswar
2.43pm: Central assistance for cyclone-hit states
The Union home ministry on Tuesday released over Rs 1,086 crore based on National Crisis Management Committee's recommendation to assist the cyclone-hit states in undertaking preventive and relief measures.
2.27 pm: NDRF deployed in Bengal
Six NDRF teams have been deployed at Digha in East Midnapore, Kakdwip and Dhamakhali in South 24 Parganas, Basirhat in North 24 Parganas, Basirhat and Kharagpur in Purba Midnapore and Sankrail in Jhargram, PTI reported.
Four teams of the State Disaster Response Force have been moved to Basanti in South 24 Parganas district, Contai and Haldia in East Midnapore and Aramnbagh in Hooghly.

2.23 pm: Stay indoors, stay calm, says Mamata
"All arrangements have been made for districts. Relief materials have been sent to districts and we have opened one monitoring cell at the state secretariat 24X7 to keep a watch on the situation. I will request people staying in dilapidated houses to move to safer places," Mamata Banerjee said said.
"I will ask the common people to try to abstain from outdoor activities as much as possible in these two days. And if you have to go out, keep an eye on electric poles and live electric wires. Switch off cable television lines and put off gas cylinders during the storm," Banerjee, who is staying at Kharagpur in West Midnapore district to monitor the situation, said.
"I will ask the people not to be scared and pay heed to any rumour. Do not panic but stay calm... Take shelter at nearby relief shelters. The administration is alert and monitoring the situation from time to time," she said.
2.15pm: Kolkata prepares
Kolkata mayor Firhad Hakim is monitoring the situation from the control room of the Kolkata Municipal Corporation headquarters, CM Mamata Banerjee said.
Kolkata Police has opened a control room at its headquarters to monitor the situation in the city, PTI reported
1.30pm: 2 dead in cyclone
Two people have died in Odisha due to Cyclone Fani, AFP reported.
1.26pm: Cyclone Fani weakens, rains to continue in Odisha
IMD chief says Cyclone Fani has started weakening and will enter Bangladesh by Saturday evening, Reuters said. Heavy rains and wind will continue in Odisha throughout Friday.
1.15 pm: Helplines for 30 districts in Odisha
1.04 pm: Modi mentions Cyclone Fani at election rally
The Prime Minister said the Centre was in continuous contact with state governments of Odisha, West Bengal, Andhra, Tamil Nadu and Puducherry.
The NewsMinute reported IMD had forecast a heat wave as several parts of Tamil Nadu saw temperatures soar above 40 degrees.
12.54 pm: EC relaxes poll code in 4 districts of Andhra
Election Commission has approved the relaxing of the Model Code of Conduct in East Godavari, Visakhapatnam, Vizianagram and Srikakulam districts of Andhra Pradesh to allow authorities to carry out preventive and relief work related to the cyclone, ANI reported.
12.27 pm: De-warning in Andhra
"The cyclone has moved away from Andhra Pradesh, so, we have issued a de-warning. Three districts in the state were impacted by heavy rainfall," Mrityunjay Mohapatra of IMD Delhi said.
12.16 pm: Cuttack hit severely by cyclone, says Odisha Police
12.06 pm: Bengal braces for impact
Cyclone Fani is moving towards West Bengal. As it moves further northeast, Fani is expected to weaken from extremely severe to very severe cyclonic storm, says IMD.
In Digha, NDRF has evacuated 132 people, including 52 children, from Dattapur and Tajpur and taken them to a shelter.
11.55 am: Safety of pregnant women
Odisha's health and family welfare department, on Thursday, said it shifted 1317 expectant mothers from vulnerable areas across the state to Maa Gruha and other hospitals.
A woman gave birth to a baby girl in Mancheswar Railway Hospital in Bhubaneswar at 11.03 am on Friday, Times of India reported. The child has been named after Cyclone Fani.
11.46 am: No flights from Kolkata airport
Airport Authority of India has announced there will be no flight to and from Kolkata Airport from 3 pm today to 8 am on Saturday (IST). The timings have been revised from 9.30 pm today to 6 pm on Saturday.
11.33 am: Over 11.5 lakh people evacuated
Over 11 lakh 54 thousand people have been evacuated in Odisha till now, AIR reports. 157 trains have been cancelled by East Coast Railways due to the cyclone.
At a press briefing by the Odisha Special Relief Commissioner, he said restoring road communication and telecommunication is priority.
11.14 am: One dead in Odisha
AIR reports the Odisha chief secretary held a high-level review meeting in Bhubaneswar. In Sakhigopal area of Puri, a person died due to uprooted trees.
Rainfall in affected areas is around 150 mm.
11.03 am: Cyclone's impact in Odisha, Andhra
Under the impact post-Fani cyclonic storm, there is extremely heavy downpour occurring in Puri, Khurda, Bhubaneswar and Jagatsinghpur in Odisha, AIR reports.
Meanwhile in Andhra, the storm system's influence will be over in Srikakulam within 12 hours, IMD said.
10.49 am: Mamata monitors situation in Bengal
West Bengal CM Mamata Banerjee will stay in Kharagpur, near the coastal belt and monitor the situation today and on Saturday, ANI reported. All her political campaigns for these two days have been cancelled.
10.36 am: Navy on standby
13 Navy aircrafts are on standby in Visakhapatnam to carry out damage assessment and relief distribution requirements, ANI reported. IMD says the cyclone is 300 km east-northeast of Visakhapatnam.
10.27 am: Cyclone's eye moves northeast
IMD says as the cyclone moves north-northeastwards, it will weaken gradually and emerge in Gangetic West Bengal as a severe cyclonic storm. It will weaken further as it moves into Bangladesh.
10.16 am: What the landfall at Puri looked like

10.14 am: Heavy rains lash Odisha
Winds in Puri, Odisha are blowing at a maximum speed of 240-245 km per hour and heavy to very heavy rains continue over the Odisha coast, IMD Hyderabad told ANI. After landfall, the impact is likely to reduce and Cyclone Fani is likely to move towards the West Bengal coast, it said.
10.08 am: Cyclone crosses Odisha coast
Cyclone Fani has crossed the Odisha coast close to Puri and the eye of the storm has completely moved onto the land, IMD says.
10.03 am: Rainfall update
Odisha and West Bengal's coast and adjoining districts will receive very heavy rainfall. Andhra's Srikakulam will also get light to moderate rainfall with heavy rains in some areas.
9.52am: Rains and strong winds in Andhra's Srikakulam
9.27 am: Power supply affected in Puri
Large number of trees have been uprooted on the Puri- Konark marine drive road. Power supply is affected in Puri, Bhubaneswar, Berhampur and Balugaon, All India Radio said.
9.01 am: Parts of Puri under water
Many parts, particularly low laying areas of Puri town have been submerged in water, All India Radio reports. Satapada and Panaspada areas of Brahamigiri block have been severely affected.
8.50 am: Eye of the storm
The eye of Cyclone Fani has entered Odisha's coast near Puri, Skymet Weather says. An eye is the centre of a cyclone, which is calm, while the strong winds that circle it are known as the arms of the storm.
IMD has cautioned people to not lower their guard after the first arm of Cyclone Fani hits the east coast and moves forward, bringing the eye of the storm into the focus which is very calm.
As the eye inches forward, the very calmness brings further destruction as the second arm of the cyclone is equally violent.
8.47 am: Storm surge in Odisha
The IMD has warned of storm surge of about 1.5 metre height which may inundate low-lying coastal areas of Ganjam, Khurda, Puri and Jagatsinghpur districts of Odisha at the time of landfall.
8:40 am: Impact of landfall
According to PTI, the landfall process of Cyclone Fani is likely to last for another 3 hours.
Cyclone Fani will move from Puri To Balasore in Odisha before reaching Kolkata in West Bengal. After this, it will cross over to Bangladesh with reduced strength, PIB said.
8.21 am: Cyclone Fani hits Puri coast
8.13 am: Andhra's ports on alert
The Cyclone Warning Center at Visakhapatnam, Andhra Pradesh said a great danger signal no. 10 has been kept hoisted at Kalingapatnam, Bheemunipatnam ports. Great danger signal no. 8 has been hoisted at Visakhapatnam and Gangavaram ports.
8.04 am: Landfall begins
Cyclone Fani has begun making landfall in coastal areas, Odisha's SRC Bishnupada Sethi said in a press briefing. Puri is recording wind speed of 175 kmph, he said.
Rail, flight services in Odisha to remain disrupted. More than 220 trains on Kolkata-Chennai route are cancelled till Saturday, All India Radio says.
7.50 am: Puri braces for landfall
Odisha's Puri is experiencing strong winds and heavy rainfall, reports say.
The cyclone is moving at a speed of 16 kilometres per hour, the IMD said. It's wind speed could reach 200-230 kilometres when it makes the landfall.
7:38 am: Train update
East Coast Railway has announced the cancellation of 10 more train. The list of trains is below.
7.30 am: Visuals from Puri
7.15 am: India's largest-ever evacuation operation
A massive operation was launched on Thursday to evacuate lakhs of people from low-lying coastal areas in Odisha. According to the SRC, the evacuation is the largest-ever evacuation operation in the country.
The National Crisis Management Committee has been reviewing the preparedness for Cyclone Fani. The cyclone is being tracked by Doppler Weather Radars at Chennai, Vishakhapatnam and Machilipatnam, the SRC said.
7.09 am : Helpline numbers
1938 - Home ministry's helpline number will provide latest updates.
100 - Police helpline for any emergency. Odisha police said the department across the state is on alert.
916742534177 - Odisha's emergency helpline
6.53 am: Fani closes in, over 1 million evacuated
Cyclone Fani currently lies 65 km away from Gopalpur and 80 km from Puri in Odisha, the IMD's latest bulletin said.
"More than one million people have been evacuated from the vulnerable districts in last 24 hours. Ganjam and Puri evacuated more than 3 lakh and 1.3 lakh people respectively to safe shelters," the Odisha chief minister's office said.
According to the Navy, the storm system is moving at 200 kmph and its eye is 30 km wide.
6.42 am: Cyclone Fani to hit 10,000 villages, 52 towns in Odisha
An estimated 10,000 villages and 52 towns in Odisha will be hit by Cyclone Fani, the home ministry said on Thursday.
6.30 am: Landfall expected between 8-10am
Cyclone Fani is expected to make landfall between 8am to 10am and continue up to 12pm, Odisha's Special Relief Commissioner said.
The wind speed is expected to be 170-180 kmph that could reach up to 200 kmph when it makes the landfall.
Areas Likely To Be Affected
At least 14 Odisha districts — Puri, Jagatsinghpur, Kendrapara, Balasore, Bhadrak, Ganjam, Khurda, Jajpur, Nayagarh, Cuttack, Gajapati, Mayurbhanj, Dhenkanal and Keonjhar — are likely to bear the brunt of the cyclone.
In West Bengal, it will affect districts of East and West Medinipur, South and North 24 Parganas, Howrah, Hoogly, Jhargram besides Kolkata city.
In Andhra Pradesh, the cyclone is likely to hit Srikakulam, Vizianagaram and Visakhapatnam districts.
Bangladesh is also bracing for Fani as meteorologists predict the cyclonic storm will landfall in the country after hitting Indian coastlines.
Rain Forecast
The IMD has forecast rainfall at most places, heavy to very heavy rainfall at a few places and extremely heavy rain at isolated places in coastal Odisha and the interior districts of the state on 3 May.
As sea condition will be rough and phenomenal over Northwest Bay of Bengal off Odisha and West Bengal till 4 May, fishermen have been advised not to venture into sea in this period.
Odisha Prepares
People from low-lying and vulnerable areas of coastal districts were being shifted to safe places such as 880 cyclone centres, school and college buildings and other structures, CM Naveen Patnaik said on Thursday.
Arrangements have been made to start free kitchens to provide cooked food to the evacuees, Odisha's Special Relief Commissioner said. Over one lakh dry food packets have been kept ready for air dropping in the areas to be affected by Fani,
The higher education department has directed all state universities and colleges in Ganjam, Gajapati, Puri, Khurda, Nayagarh, Cuttack, Jajpur, Bhadrak, Kendrapara, Jagatsinghpur, Balasore and Mayurbhanj districts to remain closed for three days from 2 May.
Troops of the Indian Navy, Indian Coast Guard and 78 teams of the National Disaster response Force (NDRF) have been requisitioned for deployment.
The Union health ministry has mobilised emergency medical teams, medicines and also coordinated with the Red Cross to provide assistance. It has kept ready 17 public health response teams and five quick response medical teams with emergency drugs.
Trains, Flights Cancelled
The civil aviation ministry announced that flight operations from Bhubaneswar would be suspended from 2 May midnight and operations from Kolkata will remain suspended from the morning of 3 May, and resume as soon the conditions improve.
As many as 223 trains along the Odisha coastline in the Kolkata-Chennai route have been cancelled in view of the cyclone, Railways said. These include 140 Mail/Express trains and 83 passenger trains.
The Railways put three special trains into service to ferry stranded passengers from affected areas.
All operations have been stopped at Paradip Port and Cautionary Distant Warning Signal Number Three was hoisted in all ports in Odisha. The Third Stage warning is issued at least 24 hours in advance of adverse weather over coastal areas.
Popular in the Community