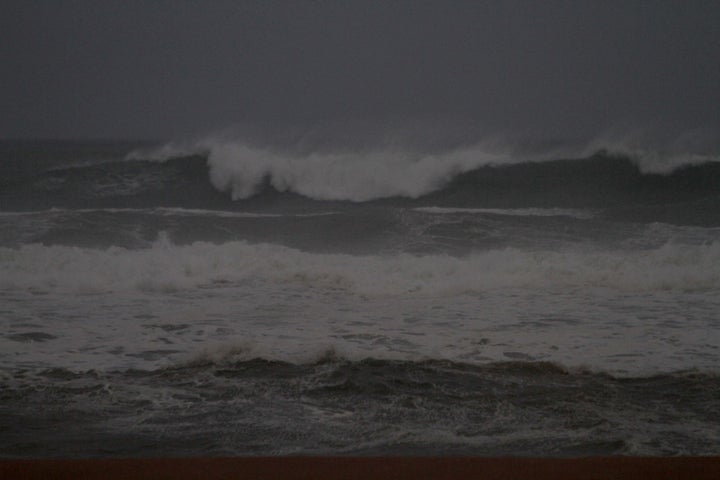 The Indian Meteriological Department (IMD) has issued a red alert for Dakshin Kannada, Goa and Maharashtra in the wake of heavy rains and the possible formation of Cyclone Kyarr in the next two days.
PTI reported that a "well-marked" low pressure area over east-central Arabian Sea could intensify on Friday and could move in north-west direction while intensifying further into a cyclone.
Reports said that the deep depression was 235.7 kms away from Panaji in Goa.
The Indian Express quoted a press release from the IMD as saying, "The storm is very likely to move east-­northeast-wards till the evening of October 25 (today). Then it is very likely to re­curve and move nearly westwards towards south Oman and adjoining Yemen coast with gradual intensification during subsequent 72 hours."
Meanwhile, the IMD advised Goa tourists to stay away till October 27.
Goa has received heavy to very heavy showers because of the cyclonic depression in the Arabian Sea. According to a PTI report, IMD's Goa director Dr Krrishnamurty Padgalwar said the conditions were likely to worsen.
"The depression in the Arabian Sea and its movement towards east-northeast may cause heavy rainfall in the state," he said.
Meanwhile, the Karnataka State Natural Calamity Monitoring Centre asked fishermen not to venture into the sea and asked citizens to remain cautious.
PTI reported that the fishermen out in the sea have been asked to come back.
The Times of India reported The Marine Forecaster, Ocean State Forecast Team Ocean Information and Forecast Services group said that on Friday sea conditions were likely to be rough over east central Arabian Sea and along and off north Karnataka coasts.
A holiday has been declared in the schools and colleges of the Dakshin Kannada district.
Parts of Karnataka have seen very heavy rainfall for the second time in two months that has killed 13 people so far.
Popular in the Community