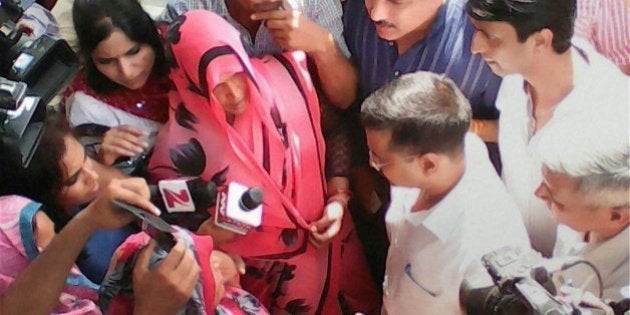 The killing of a middleaged Muslim villager at the Bisara village in Uttar Pradesh may have sparked a debate in civil society on religious intolerance and communal politics, but a Hindu neighbour of Mohammad Akhlaq told the Times of India that he was the last one the 50-year-old blacksmith called before his death as the mob approached his home.
The last, despairing words of Akhlaq are chilling. "Manoj bhai, hum khatrein mein hain. Kisi tarah police ko phone karke force bulwa do' (Manoj bhai, I am in danger. Call up the police and ask them to send a force)," he reportedly told Manoj Sisodia, a friend in the village who has shared many a meal with the Muslim family.
Sisodia told TOI he immediately called the police and ran all the way to Akhlaq's house. The police arrived withing 15 minutes but it was already too late. Akhlaq was beaten to death by the mob and his son Danish lay in a pool of blood outside his house. The mob scaled walls and broke open the door to drag the father and son out believing they had killed and eaten a cow -- held sacred by most Hindus.
Rana told IE that apart from Vishal, the others arrested -- Saurabh, Gaurav, Sandeep, Shivam, Sachin and Vivek -- are also from his family. The other three, Rupendra, Hari Om and Shri Om are their neighbours. Sachin and Hari Om are absconding.
BJP MLA Sangeet Som, accused of making inflammatory speeches during the 2013 Muzaffarnagar communal riots, yesterday alleged that the state government was acting in a biased manner like it did during violence in western Uttar Pradesh two years ago and was shielding those who had "slaughtered cow".
Delhi Chief Minster Arvind Kejriwal alleged "collusion" between ruling Samajwadi Party in UP and the BJP and questioned Prime Minister Narendra Modi's "silence" over it. "Collusion between parties in the state and Centre? What is happening is quite dangerous. PM's silence almost a tacit approval," Kejriwal tweeted referring to controversial BJP MLA Sangeet Som's visit to Dadri where he attacked Samajwadi Party (SP) government.
Kejriwal also praised the son of the murdered Iqlakh, who is an officer in the Indian Airforce. "Salute to Sartaj. Common man is the biggest hope today. Hate, hatred can be ended only through love, not further hatred," Kejriwal tweeted.
Uttar Pradesh Chief Akhilesh Yadav has directed his administration to take stern action against those "creating disharmony and inciting hatred" by circulating "baseless" content on social media.
Yadav said after the Dadri incident, "notorious elements and communal forces were circulating objectionable content on social media". Effective action should be taken and elements spreading rumors should be dealt with strictly by taking immediate cognizance of such cases, he said.
The spokesman said some tweets were made from a twitter handle being operated from Noida with the motive of disturbing communal harmony and spreading hatred.
These tweets were made on September 30 and an FIR has been lodged in the matter. Stern action would be taken against the person concerned after investigation, he said.
The state administration has also asked people to inform it on 9454401002 if they came across any such cases on social networking websites and applications. (With PTI inputs)