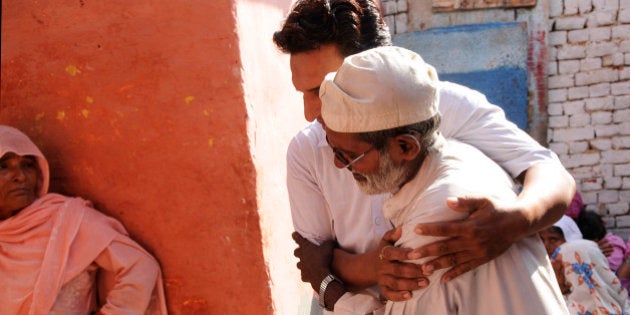 A visibly agitated Union Minister Mahesh Sharma today repeated that the lynch-mob beating to death a Muslim blacksmith in Uttar Pradesh's Dadri was an "unfortunate accident" and not an instance of communal violence stoked by a temple priest over the suspicion that the victim's family had slaughtered and consumed a cow.
"If anyone wants to come and help the family, they are most welcome. But the village will not admit entry to anyone who wants to politicize the issue. I appeal with folder arms that do not communalize this unfortunate accident. I have brief Home Minister Rajnath Singh and have called for a probe by the highest authorities. The Home Minister is upset about the incident. I have met the family. This sort of incident should not have happened in any civilized society. Justice will be served for everyone - the family and also for the youths under arrest," Sharma told TV channels at the village.
Sharma had earlier sparked outrage by described the lynching of 50-year-old Mohammed Akhlaq in Dadri as an "accident". Akhlaq was beaten to death and his 22-year-old son Danish was critically injured by the mob which barged into their house following rumours that the family had consumed beef, on Monday night.
On Friday, Asaduddin Owaisi, the president of the All India Itthadul Majlis-e-Itthadul Muslimeen, met the family and claimed that the incident was pre-planned murder. "The killing was not an accident but was pre-planned. You cannot barge into a house and assault people there," Times of India quoted him as saying.
Uttar Pradesh Chief Minister Akhilesh Yadav assured justice to the family and said those responsible would be severely punished. "The government and law and administration will do its work. The accused won't be able to get rid of the law. Justice will be done in this case and the culprits will be severely punished," he said.
Asserting that the people in Uttar Pradesh live with a feeling of brotherhood, Yadav said there are few elements who want to disturb the environment.
"If anything goes wrong, then the people should inform the police and the government. The government will do a strict probe against those trying to disturb the situation. Few people have been arrested and few others will be arrested. We will help the family and give Rs.10 lakh as compensation," ANI quoted him as saying.
Akhlaq's family has maintained that the meat stored in their refrigerator was mutton and not beef. (With inputs from agencies)