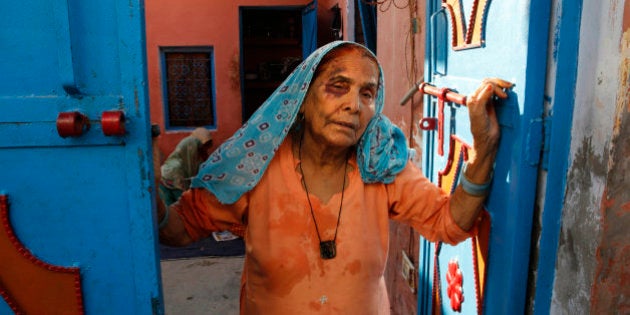 First came the ridiculous defence. Sadhvi Prachi declared that whoever dares to eat beef deserves to be lynched like 50-year-old Dadri resident Mohammad Akhlaq was.
Then came another offence.
Maviya Ali, a political leader expelled by Samajwadi Party, retorted: "She (Prachi) is spewing venom. She does not deserve to be alive. There is no harm if she is killed."
Akhlaq's death and its uproarious aftermath, it seems, has made it completely legitimate to threaten and defend murder in public. Now let's look at who Sadhvi Prachi and Maviya Ali are, rather, what made us familiar with their names. Sadhvi Prachi is the Vishwa Hindu Parishad leader who had sprang to limelight by urging concerned Hindu women to produce babies faster than a Coke can dispensing machine. She prescribed at least four babies per Hindu woman in the country to face up to the challenge of an allegedly hostile Muslim population.
Later, among other things, she had sought a ban on the Khans of Bollywood. Why? Because, what else, they are Muslims.
Maviya Ali was expelled from the post of the secretary of Samajwadi Party's state executive. Interestingly, he was shown the door by Mulayam Singh Yadav who didn't want to irk an ultra-conservative Muslim lobby in Uttar Pradesh.
Ali and Prachi are, however, not the only ones to have lost all sense of propriety while attacking another party, person or religion.
Though UP's Minority Welfare Minister Azam Khan immediately condemned Ali's comments, he himself didn't fare much better while reacting to the Dadri lynch mob incident. He wrote to United Nation's General Secretary Ban ki-moon, asking him to take note of the 'plight' of Muslims in India. Apart from accusing the BJP of planning the lynching, he also added that Akhlaq's murder was merely a part of a 'bigger plan'. An Indian Express report quotes him as suggesting that the BJP and RSS are preparing for to launch a genocide of Muslims in India.
If Khan's completely impractical move to write to the UN seems shocking, you have to hear what India'c culture minister Mahesh Sharma had to say about the Dadri murder.
In an interview to The Indian Express, Sharma tried to explain the logic behind killing a man for storing beef in his fridge. A cow reminds a Hindu of his/her mother and hence killing a cow for meat is equivalent to killing someone's mother, is what Sharma effectively said. He also went on to defend the accused by saying that they had not 'touched' Akhlaq's 17-year-old daughter.
" It (the murder) took place as a reaction to that incident (cow slaughter). You must also consider that there was also a 17-year-old daughter in that home. Kisi ne usey ungli nahin lagaayi,"... Gaay ke maans par hum logon ka… andar se aatma hilne lagti hai (On beef… our soul starts shaking). You can kill other animals, mutton, and people don't (react)… (but) when you name cow… We have linked the cow with our mother," Sharma told The Indian Express.
In complete contradiction to his government's culture minister, home minister Rajnath Singh said that the killing was 'unfortunate' but one shouldn't try to force a 'communal colour' on it.
Singh, it seems, was completely unaware of his colleagues' sentiments. Because another minister - minister of state for agriculture Sanjeev Balyan - seemed to echo Sharma's great love for cows.
He told Headlines Today, "If Akhilesh government doesn't stop cow slaughter, there can be more violent incidents."
Possibly taking cue from the rest of his brethren BJP MLA Sangeet Som, formerly an accused in Muzaffarnagar riots case, said that the Uttar Pradesh government had arrested innocent people and are shielding 'cow murderers'.
Reuters reports that youth from Bisara - the village where Akhlaq was murdered - have been joining a 'Hindu militant outfit' in hordes. Called Samadhan Sena, the outfit's agenda is to establish Hindu supremacy in the country. The report quotes one Ajay Singh, a member of the Sena as saying: "Akhlaq should not have butchered a cow. He should not have forgotten that India belongs to Hindus first."
It couldn't be a coincidence that an FIR was lodged against MIM leader Akbaruddin Owaisi for making a hate speech in Bihar yesterday. Though the contents of his speech have not been revealed yet, Owaisi is known for making provocative speeches against Hindus.
Dadri seems to have turned India into a playground for unbridled communal hate mongering. And the political leaders are are having a ball.