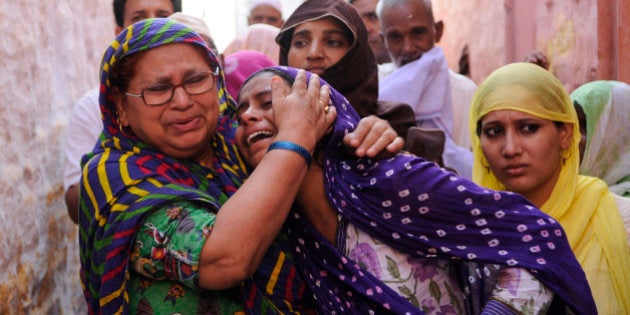 As the National Commission for Minorities (NCM) sought a report from the district administration after a Muslim man was beaten to death over rumours that he killed and ate a cow, his despairing family said they are thinking of leaving the village they've lived in for two generations, according to reports.
Speaking to the Indian Express, Askari, the 75-year old mother of victim Mohammad Akhlaq, said no one from the village had come to share their grief even two days after her son was lynched by a Hindu mob.
"Once our child (Danish) is treated and he is in a stable condition, we need to make arrangements to live somewhere else. Who will buy this house? The government should help us out," Askari told IE. Danish, Akhlaq's son, was also beaten up by the raging mob on Monday night after it dragged both father and son out of their homes.
The NCM stated it was monitoring the measures being taken by the district administration to bring the perpetrators of the "ghastly" crime to justice, reported PTI.
"The NCM strongly condemns this cowardly and reprehensible attack on an innocent Muslim which also resulted in severe injury to his 23-year-old son. The Chairman, NCM has already spoken to DM, Dadri and asked him to send a report on the incident to the NCM at the earliest. After receipt of the report, we will be taking up the matter with both the Union Home Minister and the Chief Minister. It will also be discussed in the next weekly meeting of NCM," Commission member Praveen Davar said.
Tension prevailed in the village, where nearly 40 percent of the 1,500 residents are Muslims, after some cows and buffaloes went missing. A temple priest stoked the communal fire by allegedly announcing that the family had slaughtered cows and stored the beef in their house, an AP report said, quoting District Magistrate Nagendra Pratap Singh.
Singh said the mob dragged Akhlaq and his son from their home and beat them with sticks and bricks. Akhlaq was declared dead at a nearby hospital, while his son was being treated for serious injuries.
A group of protesters also torched police vehicles after the arrests, forcing police to open fire, the Indian Express reported.
An FIR has been filed against 10 people for attacking the family, six of whom were arrested, police said.
"We have lodged an FIR under sections 147, 148, 149, 302, 307, 458, 504 and 7 of the IPC. So far, 10 people have been named in the FIR and six were arrested. All the accused are in the age group of 22 to 28 years. Four of the accused are graduates and employed in the private sector, while others are unemployed," DSP Anurag Singh told TOI.