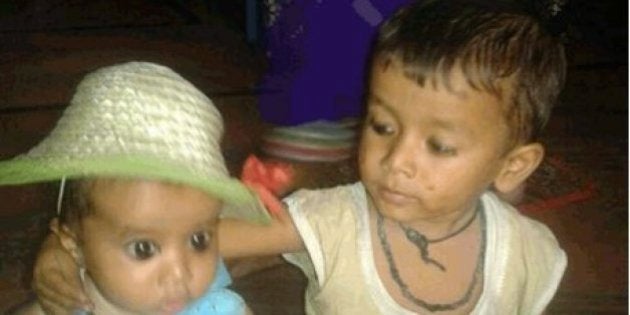 NEW DELHI -- Two children were burnt alive after upper caste men of the Thakur-Rajput allegedly set fire to a Dalit family in the town of Ballabhgarh in Haryana.
A baby, who is less than one-year-old, and a two-year-old brother, were charred to death, and their parents sustained multiple burn injuries, according to the police.
The attackers allegedly poured petrol on the Dalit family in the early hours of Tuesday morning, news reports said.
Jitender, the 31-year-old father, blamed the attacks on members of the Thakur community, who had a confrontation with his family in October, PTI reported. His wife Rekha has been admitted to a hospital in Delhi with 70 percent burns.
"We were sleeping when they poured petrol from the window. I smelt the petrol and tried to wake up my wife but by then the fire had started. My children died in the fire...," said Jitender.
"They had threatened me that they will finish my family, That I should never return to the village... I won't but please give me back my children," he said.
Home Minister Rajnath Singh has called Haryana Chief Minister M.L. Khattar and sought a report on the incident, ANI reported.
Jitender's brother Shiv Kumar told NDTV that three people from the Thakur community were killed in a row with the Dalits over
over allegations of a stolen cellphone. Two months later, Jitender's family was allegedly attacked and their home was burnt down.
"But they were not home and only their cattle was killed. Since then constables were assigned to guard Jitender and his family," Kumar said.
Haryana's Director General of Police, Y.P. Singal, said, "Today's incident was a fallout of the last year's incident, wherein three Rajputs were murdered in the same village. In that case, we had arrested 11 persons. Further investigations are on. The accused shall be arrested soon."



Popular in the Community