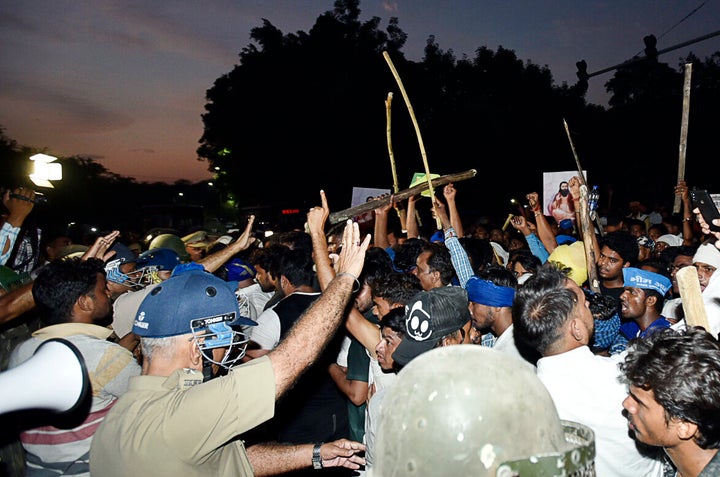 A protest by Dalits in south Delhi against the demolition of the Ravidas temple led to clashes with the police on Wednesday.
Large groups of protesters came in from Punjab, Rajasthan, Haryana, Uttar Pradesh and other states to demand that the government hand over the concerned plot of land to the community and rebuild the temple.
Activists of the Bhim Army, led by Chandrashekhar Azad, and the Ravidas community, who participated in Wednesday's protest, said their protest had been peaceful but the police lathi-charged at them brutally, used teargas and shot bullets into the air.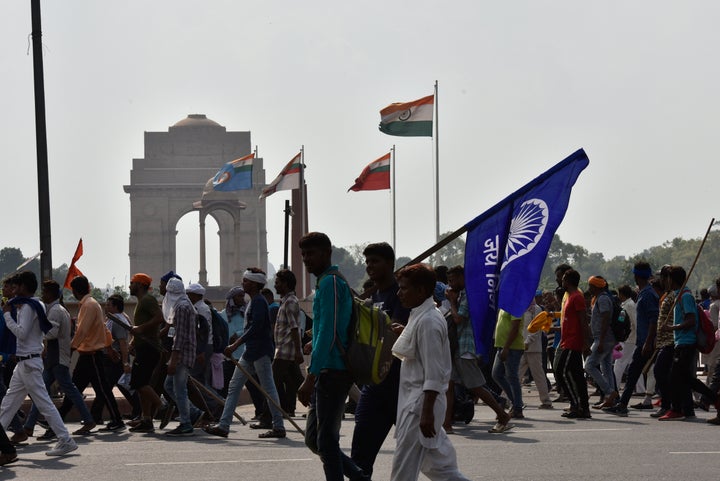 An official told PTI that the police had resorted to "mild lathi-charge" and used tear gas to disperse the crowd. They also detained a few people.
Bhim Army's statement says among those detained are Azad and their national president Vinay Ratan Singh, both of whom were injured in the lathi-charge.
"We have no idea about their whereabouts and demand their immediate release," their statement said.
Indian Express says Azad was taken to Kalkaji police station an FIR for rioting and unlawful activity was filed against him.
Police told PTI that protesters set fire to two motorcycles and vandalised a police vehicle, causing injuries to a few policemen.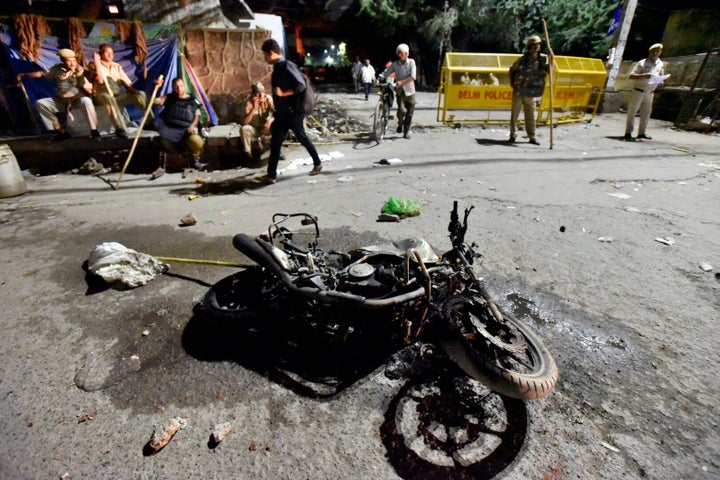 DCP (southeast) Chinmoy Biswal told NDTV no protesters were injured in the police action.
"Mild and reasonable force had to be used to disperse the unruly mob," he said.
The Bhim Army has warned the BJP and Delhi government against the use of violence and police force against peaceful protests by the Bahujan community.
The massive protest on Wednesday brought traffic to a standstill in the entire southeast Delhi, including Jasola Vihar, Greater Kailash, Alaknanda, Sangam Vihar, Kalkaji Mandir, and on roads leading to Govindpuri, Nehru Place, Badarpur and Noida, PTI said.
"Bhim army would launch nationwide protest and give call for Bharat Bandh in upcoming day if the 600 year old Ravidas Mandir is not restored in its original place," the outfit said.
Ahead of the protest, Azad had promised that a bust of Sant Ravidas would be installed at the site.
The temple's demolition had also led to protests in several parts of Punjab last week. Punjab Chief Minister Amarinder Singh had said that he would lead a delegation of Ravidas community members to meet PM Narendra Modi and seek his intervention.
Post the demolition, Bahujan Samaj Party chief Mayawati had said the incident "shows the casteist and inferior mentality towards our saints even today."
Following this, Delhi CM Arvind Kejriwal said his government had no hand in the demolition. AAP has blamed the Central government.
According to PTI, Union minister Hardeep Singh Puri had on Tuesday said the Centre was determined to find a solution to the issue and had not ruled out the possibility of identifying an alternative site for rebuilding the temple.