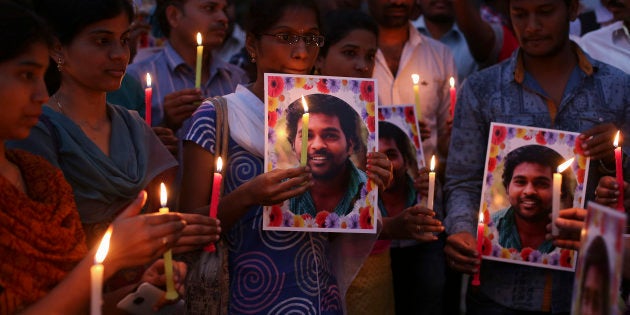 Fingers were pointed at Appa Rao Podile, the controversial Vice-Chancellor of the university, for the disappearance of the Ambedkar memorial. Students and faculty members of the institution burnt an effigy of him, as well as a few representational images of the BJP and the RSS, to protest against this incident. The administration denied having issued any orders, written or oral, for the removal of the statue.
Members of the Joint Action Committee (JAC) of the university are aggrieved by what they perceive as targeted persecution of Dalits on campus. The statue of Ambedkar had been gifted to the campus by a group of journalists, activists and scholars in the wake of the death of Vemula earlier this year. A section of the students also fear that the Velivada, where Vemula had spent his last days, and the Rohith Smaraka, a memorial that was erected in his memory, would be next to go.
Earlier this year, Vemula, a 26-year-old research scholar at the university, killed himself to protest against the institution's unfair treatment towards Dalit students.
In 2015, the institution allegedly stopped paying him his stipend after he started flagging issues affecting the Dalit students under the banner of Ambedkar Students' Association (ASA). In the same year, Vemula and ASA also raised their voices against the death penalty of Yakub Memon, the terrorist convicted for his involvement in the 1993 Mumbai blasts. They also condemned the ABVP's attack on the screening of the documentary, Muzaffarnagar Baaqi Hai.
Following complaints by the ABVP to Union minister Bandaru Dattatreya, a letter was forwarded to then Union HRD minister Smriti Irani, as also to Vice-Chancellor Podile, accusing Vemula and members of ASA of being anti-national. In response to the incident, the university decided to suspend them and bar them from their hostels. After these decisions were confirmed, Vemula killed himself on January 16.
The situation escalated over the months, leading to Vemula's death, after which the HRD ministry raised questions about his caste status. It has been established now, beyond doubt, that Vemula was Dalit, with Guntur District Collector Kantilal Dande submitting a report last month confirming it to the National Commission for Scheduled Castes.
Irani, who had dismissed Vemula's suicide as a political stance, was shifted to another portfolio in the recent Cabinet reshuffle.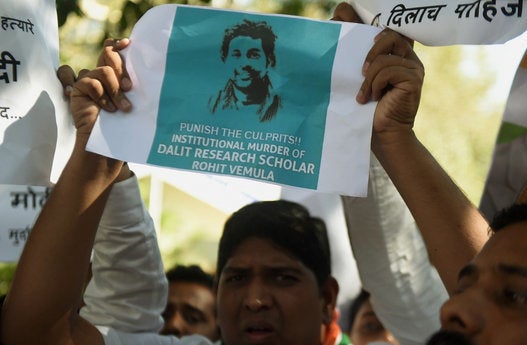 Students Protest Dalit Suicide
Popular in the Community