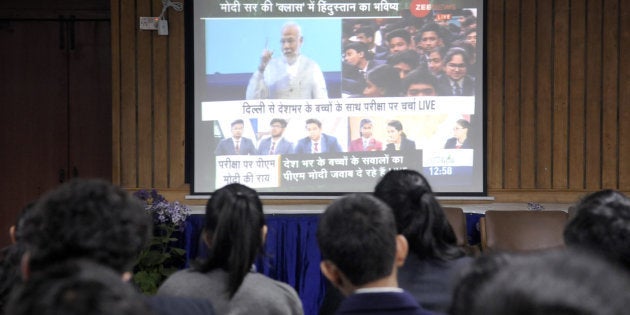 \In a gross act of caste discrimination, Dalit students of a government high school in Kullu, Himachal Pradesh, were made to sit separately in a place 'meant for horses' to listen to Prime Minister Narendra Modi's 'Pariksha pe charcha'.
According to reports, the incident took place on Friday in Kullu's Chestha gram panchayat.
The Indian Express reported that the students made a complaint to the Kullu Deputy Commissioner, saying this was a regular practice in their school, but nothing was ever done about it.
The report says that the complaint, written on their school notebook, even alleged that their school headmaster, Ranjan Bhardwaj, practiced untouchability and even made students belonging to the Scheduled Caste community sit separately during mid-day meals.
Such incidents are not uncommon even in other states of India.
It was only last month that a Dalit girl in Punjab had filed a complaint against her school teachers and seniors for assaulting her after she refused to help them cheat. The girl had complained of caste discrimination in her school.
Meanwhile, the Himachal Pradesh government has promised stern action against the principal.
State Education Minister Suresh Bhardwaj told Indian Express, "I have also been told that Dalit students faced discrimination in the school earlier too, during midday meals. If these reports are true, we will not spare the guilty."
Popular in the Community