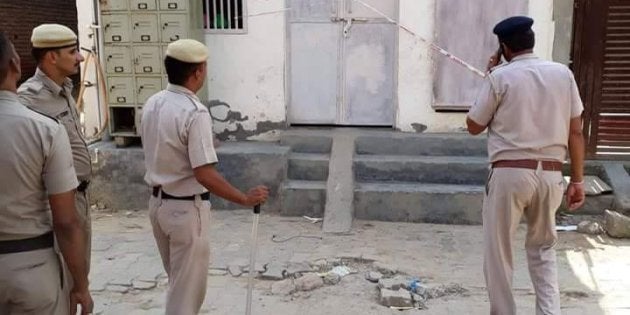 Following a complaint lodged by locals and Hindutva organisations, the Gurgaon civic body on Wednesday sealed a building which was being used by Muslims to offer prayers.
Now, Dalit rights group Bhim Sena has extended its support to the Muslim Ekta Manch, a group that has locked horns with the administration and the Hindutva group by demanding that the building be reopened for namaz.
"If they don't lift the seal off the building, we will seal all of Gurgaon," Nawab Satpal Panwar of Bhim Sena told HuffPost India.
Rajeev Mittal, chief coordinator of the Sanyukt Hindu Sangharsh Samiti, told HuffPost India that residents of Sheetla Mata Colony in Gurgaon took offence at the azan being heard through loudspeakers on the three-storied building's terrace. He claimed that the Hindutva organisation extended their support only a week after the locals protested and wrote to the district magistrate. "They have illegal water and electricity connections," claimed Mittal.
"They have fit some 3-4 loudspeakers on the building and they are blaring the azan from it. The locals in the area were getting headaches from the sound. So they complained and wanted them to stop," Mittal said.
Shahzad Khan, president of Muslim Ekta Manch, said, "This is a planned attack on Muslims. They find just us and Dalits to stop practicing our religion. Why is that?"
Khan said that after Hindutva organisations started disrupting namaz and protested against reading it in public spaces, they were forced to stop holding prayers in places where people had been gathering for years. "Usually poor labourers used to come to these places for namaz, and they cannot afford to travel long distances. Yet, we stopped holding namaz at several convenient spaces".
Khan added that when the building was being constructed, the administration had been informed that it was for a masjid. "We have documents to prove that," he said.
Mittal, however, alleged that the building was "illegal". "It's a house and it cannot be used as a mosque and they don't have a permit to use that as a mosque or read namaz there," Mittal added. He said that their organisation—a conglomerate of 22 Hindutva groups which had come together in May to protest reading of namaz in public places—had submitted a memorandum to the police, asking them to investigate the legal status of the building.
"The area is very close to the Indian Air Force grounds and there have been several sanctions on constructing buildings in its vicinity for the past five years. How did the building come up and who are these people?" Mittal asked. This is an old claim made by the organisation, which alleges that the Muslims who turn up for namaz in these places are not locals and could be illegal Bangladeshi migrants. When HuffPost India in May reported the crackdown on the prayers, the local police said they had no evidence that the namaz readers, most of whom are migrant labourers from Bihar and West Bengal, were illegal migrants.
According to Mittal, based on the complaint, the local tehsildar conducted an investigation, following which the Gurgaon civic body sealed the building. "Mittal accused Khan of lying about threats from Hindutva groups. "They have gathered some 200 Muslims in the area to make a fuss over an illegal building," Mittal added.
Bhim Sena's Panwar said that the sealing of the mosque was another example of state-sponsored atrocities on Muslims.
Popular in the Community