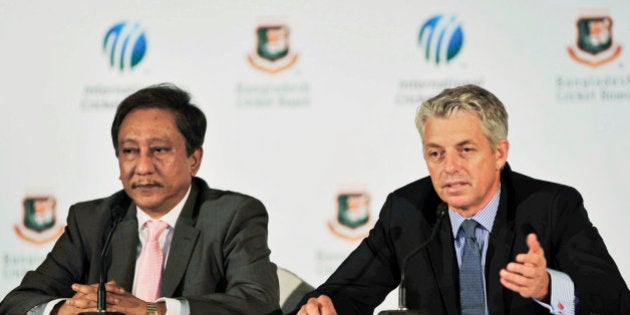 JOHANNESBURG: International Cricket Council (ICC)'s Bangladeshi president has been subjected to criticism from the organisation's chief executive David Richardson for questioning the integrity of umpires, saying that allegations of fixing were unfortunate and baseless.
ICC's Bangladeshi president Mustafa Kamal had claimed that decisions made by officials during his nation's 109-run loss to India in their World Cup quarterfinal in Melbourne on Thursday seemed to have been pre-arranged.
Kamal was angry that India's Rohit Sharma, who top-scored with 137, had not been given out when he was on 90, as the batsman had been caught at deep mid-wicket off Rubel Hossain's delivery, but umpires had signaled a no-ball for what appeared to be a legitimate waist-high delivery, Sport24 reported.
However, Richardson defended the umpires from all accusations of biased officiating. He said that the ICC has noted Kamal's comments, which are very unfortunate but made in his personal capacity, adding that as an ICC President, he should have been more considerate in his criticism of ICC match officials, whose integrity cannot be questioned.
The former South Africa wicketkeeper claimed that the no-ball decision was a 50-50 call, adding that the spirit of the game dictates that the umpire's decision is final and must be respected.
Richardson insisted that any suggestion that the match officials had 'an agenda' or did anything other than perform to the best of their ability are baseless and are refuted in the strongest possible terms.
Kamal said that he was considering quitting his post in protest. He said that as the ICC president, whatever he has to say he would say it in next meeting, adding that it could happen that maybe he would resign.



Popular in the Community