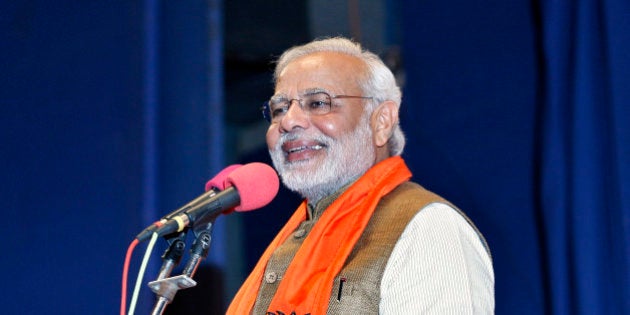 On Monday, Prime Minister Narendra Modi said he is scared of cracking jokes now. Detractors may have rolled their eyes and chortled, 'but you just did', it doesn't change the fact that the prime minister of the country says that he lives in the same fear almost all of us do at the moment. You know, the voice that shouts 'no, no, no' when you are readying to click enter on the funny tweet on say, a cow. Or its urine. Or someone's favourite cricketer, someone else's go-to playback singer, a mythical figure worshipped by many, a politician, anything that's deemed to be a part of Indian culture and Narendra Modi.
Yes PM Modi, we feel you.
Flashback: This is before May 2014. There's an election rally going on. And Narendra Modi, then BJP's Prime Ministerial candidate is behind the mic.
"An American paper has presented a new model - of having one lakh rupees and converting that to Rs 300 crore in four years. This is the RSVP model - Rahul, Sonia, Vadra and Priyanka," he says with a straight face, the crowd rolls in laughter. Twitter users are in splits.
Then one day he said this: "I spoke to Manmohan Singh once...I didn't say he spoke to me." Again, Twitter was all ROFL.
He said the following: "We worship Lord Ganesh. There must have been some plastic surgeon at that time who got an elephant's head on the body of a human being and began the practice of plastic surgery."
Forget laughing, nearly every second person who knows how to Google started giving him history lessons! The LOLs were swiftly replaced with WTFs. Life was not the same again for the person who made wordplay a national pastime of sorts prior to him being elected as the Prime Minister of the country. No wonder then he said the following during an interview with Times Now.
"I have a humorous side," he claimed.
"But, these days humour can be a risky thing," he admitted.
"In this era of 24/7 news channels, anybody can lift a small word and make a big issue out of it. But I will tell you the truth, the reason for the absence of humour in public life is this fear. I am myself scared . Earlier when I used to make speeches, I would make it so humorous but there would never be any issues," he said.
Clearly, the Prime Minister of the country has been feeling a little blue. But he needs to be told that he's not alone.
He also said this: "I am not conscious. I am in fear, there is no humour left in public life because of this fear. Everyone is scared. I am in fear. My speeches used be humourous. I see it in Parliament, that humour is finished there too. It is a matter of concern."
And the rest of the country must have gone, 'OMG, same pinch'.
But is it just '24x7' TV channels to blame for this death of humour? Or, is it the online cheerleaders of political parties like the PM's own, leaders of various fringe group, Hindu, Muslim, Christian religious leaders and the overtly 'sanskaari' Indian who is to blame?
Let's take a look at what has been happening in the country when you try to be humorous.
A month ago, there were protests across Mumbai against comedian Tanmay Bhat. His fault? He cracked jokes on people considered 'icons'. The nationalist frenzy, whipped up by political parties, swept over him and he was accused to insulting cultural icons.
The Raj Thackeray-led Maharashtra Navnirman Sena (MNS) lodged an FIR against Bhat after he posted a Snapchat video where he 'face-swapped' Sachin Tendulkar and Lata Mangeshkar and created a mock conversation between them, dissing each other.
Soon, Bollywood started attacking the comedian and asked him to apologise for "disrespectful" comments against the legends.
Last year, in February, the founders of comedy group All India Bakchod (AIB), that Tanmay Bhat is a part of, were booked because they cracked jokes. The participants and the ones who were the subject of their jokes--Karan Johar, Ranveer Singh, Arjun Kapoor, Deepika Padukone and Alia Bhatt-- were booked too for obscenity.
AIB had to cancel its scheduled live tour, thanks to all the protests and had to send apology notes to various groups.
It didn't end here. BJP leaders in Mumbai asked the BMC to cancel the lease deed of the club where the event was staged.
Facebook posts are cartoons are a 'no-no' in this country too.
In 2014, Devu Chodankar, a 31-year-old shipbuilding professional from Goa faced threats of arrest because he put up a Facebook post, cracking a joke on Modi. Modi was then the prime ministerial candidate of the BJP. An FIR was filed against Chodankar and he was questioned for more than 5 hours over that Facebook post.
But of course, that arrest wasn't the fist of its kind. The PM's fans in Goa was just carrying forward the rich legacy created and nurtured by other political parties in the past.
In 2012, cartoonist Aseem Trivedi was arrested in Mumbai on charges of sedition for painting the Indian parliament as a toilet seat. The same year, Jadavpur university professor Ambikesh Mahapatra was arrested for allegedly drawing a cartoon that lampooned West Bengal chief minister Mamta Banerjee. That same year, Air India cabin crew members Mayank Mohan Sharma and K V J Rao were arrested by the cyber crime cell of Mumbai police for allegedly posting 'indecent' jokes about the then Prime Minister Manmohan Singh and other politicians on Facebook.
Two months ago, we learned that a forward can get us into trouble too. Raghav Chopra, a journalist with CNN-IBN, tweeted an image of Modi appearing to touch the feet of a Saudi king. His tweet asked, "Will someone tell what's Modi ji doing in Saudi? Can't be what it looks like surely." The BJP filed a complaint against the the journalist for "misleading general public by fake photographs image".
Minister of State, I&B was quick on the uptake and tweeted to his ministry's official account to review the violations by Raghav Chopra.
Both Chopra and his organisation had to finally apologise.
Earlier, comedian Kiku Sharda, best known for his drag act as Palak in popular TV show Comedy Nights With Kapil, was sent on a 14-day judicial custody. His fault was he had a 'humorous side' just like our Prime Minister. Kiku was arrested for mimicking Dera Sacha Sauda chief Gurmeet Ram Rahim Singh Insan.
Does this make you feel a little less distraught Mr Prime Minister?
You are right. We don't react to jokes anymore with a clap or a boo. A lawsuit and arrest could well become the norm.
When a Snapchat, a cartoon, a Facebook post is being taken so seriously, it is surreal. It is scary. It is simply depressing.
Mr Modi, we are with you on this one and this is no laughing matter.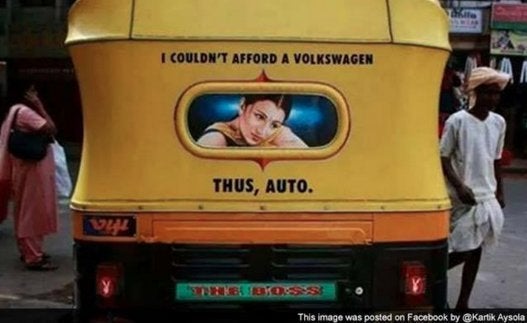 Bumper Stickers In India