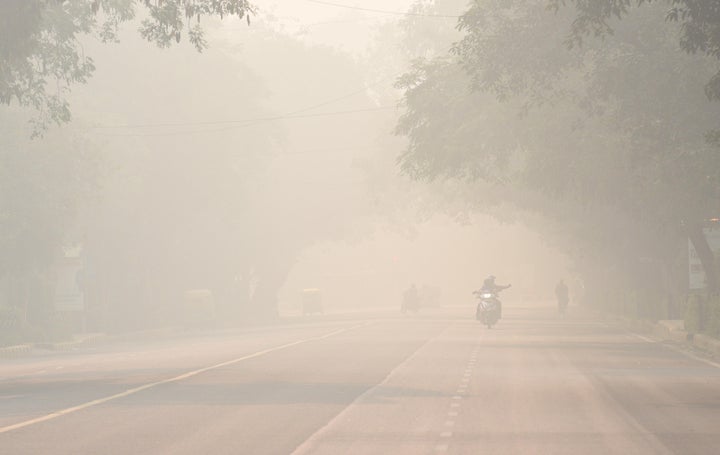 After the Diwali weekend, Delhi's air quality is again headed for the "emergency" category on Wednesday morning as a thick blanket of smoke covered the city.
According to PTI, at 11.30 am, Delhi's overall air quality index, according to CPCB, read 454. Jahangirpuri and Rohini were the most-polluted areas, the report said, with an AQI of 483, followed by Mundka (479) and Bawana (479).
Faridabad (436), Ghaziabad (468), Greater Noida (459), Gurgaon (450) and Noida (469) also had terrible air quality on Wednesday.
An AQI between 201 and 300 is considered 'poor', 301-400 'very poor' and 401-500 'severe'. An AQI above 500 falls in the 'severe plus' category.
For the second time in a fortnight, the Supreme Court has criticised the government over poor air quality that is putting citizens across northern parts of India under risk.
NDTV tickers quoted the Supreme Court as saying, "The whole of north India is suffering, and little was being done as a solution."
The apex court took suo motu cognizance of the situation and sent a notice to the Centre.
The Centre meanwhile told the court that it was "exploring technology" from Japan as a solution to the air pollution emergency in India. The court asked the Centre to explore this technology and submit a report by 3 December.
PTI reported weather experts as saying that a drop in temperature and low wind speed has led to this weeks' poor air quality. The report said that the situation was worsened by clouds that block out the sun.
While stubble burning season in Haryana and Punjab worsens air pollution in Delhi, the PTI report said SAFAR has predicted the share of stubble burning in Delhi's pollution to be 22% on Wednesday, it was 25% on Saturday.
Stubble burning has continued in the two neighbouring states because of lack of financial incentives to farmers.
On 4 November, the Supreme Court had pulled up the Centre and state governments and authorities saying, "Can we survive in this atmosphere? This is not the way we can survive. No one is safe even inside homes; it is atrocious."
The court had said, "Delhi is choking every year and we are not able to do anything. Question is that every year this is happening. It cannot be done in a civilised country".
The Supreme Court noted that every year the governments cried hoarse about crop burning in Punjab, Haryana and Uttar Pradesh but did nothing about it.
"Why is there unabated crop burning every year? Every year there is hue and cry. States know this but still they are not tackling this issue," the court asked.
The court also criticised the state governments saying they were only interested in politics.
"They are only interested in electioneering. They have no responsibility towards their own people… Everybody is interested in gimmicks and elections," the Supreme Court had said.