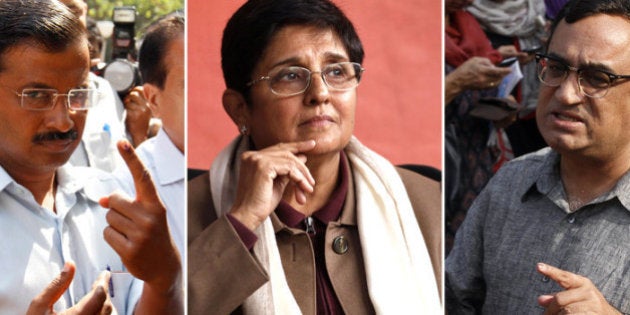 NEW DELHI: Rare unanimity among exit poll surveys on Delhi assembly elections point to a landslide victory for Arvind Kejriwal and Aam Aadmi Party on counting day, a complete rout for the Congress party, which ruled Delhi for 15 years till 2013, and embarrassment for the BJP, whose strategists will doubtless be blamed for squandering away an election that was theirs to win.
The four main exit poll surveys predict a comfortable majority for the AAP, first formed in 2012 after a popular anti-corruption movement led by Kejriwal and activist Anna Hazare. Their compatriot in that campaign, Kiran Bedi, joined the BJP weeks ahead of the polls and was made that party's chief ministerial candidate. If the exit polls prove right, she will have proved to be no match for her erstwhile anti-corruption comrade.
The 2013 polls did not give any party a clear majority. That year, the BJP got 32 seats, the AAP 28 seats and the Congress, 8 seats.
If the exit polls prove right on counting day (Tuesday, 10 February), it will take some sheen off BJP's excellent run in recent elections, on the back on Narendra Modi's popularity and party president Amit Shah's organisational abilities. Opinion will be sharply divided on whether the Capital's verdict is a referendum on eight months of the Narendra Modi government.
Notably, the difference in vote share between the BJP and AAP is not vast. But the poll predictions are showing that even a three percentage point difference in vote share is translating into a 10-15 seat swing in a tightly contested election.
In the exit poll conducted by CVoter, it is predicted that AAP will lead with a 43 percent voter share, and the Bharatiya Janata Party (BJP) will be close behind with 40 percent votes.
The ABP News-Neilsen poll gave the AAP a 41% vote share and the BJP a 34% share. Congress got only 15% share.
The News24-Today's Chanakya poll gave the BJP a 37% share, the AAP a 43% share, and the Congress 13%.