NEW DELHI: Arvind Kejriwal's Aam Aadmi Party has swept the Delhi assembly polls, winning 67 wins out of the 70 assembly seats, about two and a half times the number they won in the last election. The AAP chief won the New Delhi seat, defeating BJP's Nupur Sharma by more than double the number of votes.
This is the highest share of seats won in the history of Delhi elections.
The election result has upset the prevailing political equilibrium in the country, ending BJP's uninterrupted showing at the hustings since May 2014, when it won the general elections to come to power. BJP, which won 31 seats in the 2013 December assembly polls in Delhi and all 7 Lok Sabha seats in May's general elections, has been reduced to 3 seats.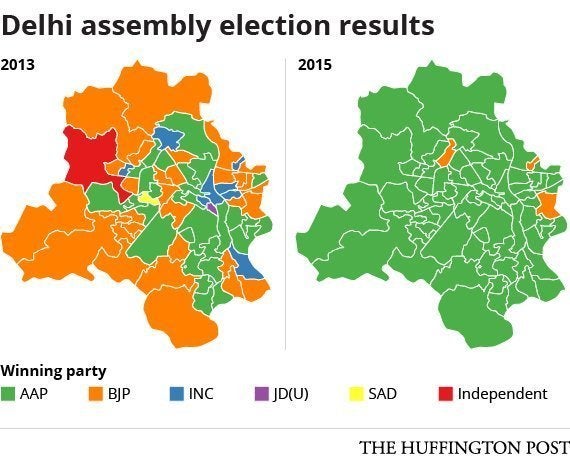 The verdict will be seen as a major breach in the invincible electoral armour of prime minister Narendra Modi, who campaigned hard this election in Delhi. His failure to rein in the party's hardcore Hindutva fringe, which went about making statements that alienated the middle class, cost the party dearly. The PM has also seemed in recent months as out of touch with the common man, seen frequently in the company of global leaders or local industrialists. The attention that was lavished on his clothes during US President Barack Obama is but a recent example.
For the AAP, a young party born in 2012, this is a dream win. It has proved that an alternate politics can be viable. And its victory in Delhi, because of the city's prominence as India's capital and its nursery of ideas, will resound across the country.
For the Congress, this adds to the string of its recent failures. If the inability to win a single seat in Delhi, a city it ruled for 15 years till 2013, doesn't prompt change in the party organisation, it's unclear what will.
Kejriwal will be taking oath as CM on February 14 at the Ramlila Maidan, AAP leader Ashutosh said.
Even if BJP gets less thn 7 seats we will give LOP to BJP. लोकतन्त्र स्वीकार से चलता है.

— Dr Kumar Vishvas (@DrKumarVishwas) February 10, 2015
BJP's chief minister candidate Kiran Bedi lost in Krishna Nagar to AAP's SK Bagga. Bedi congratulated Kejriwal in a tweet. Prime Minister Narendra Modi, too, called up Kejriwal to congratulate him and assure him full cooperation from the central government.
Full marks to Arvind. Congratulations. Now take Delhi to the heights it belongs to. Make it a world class city..

— Kiran Bedi (@thekiranbedi) February 10, 2015
Spoke to @ArvindKejriwal & congratulated him on the win. Assured him Centre's complete support in the development of Delhi.

— Narendra Modi (@narendramodi) February 10, 2015
Anna Hazare wished Kejriwal on his victory and said the election result was in favour of AAP because the "achhe din only came for industrialists" after the Narendra Modi-led government came to power at the Centre eight months back on a promise of great days ahead for all.
"I extend my best wishes to Kejriwal," Anna told reporters, urging Kejriwal to take forward the Jan Lokpal Bill which they had joined forces for, back in 2012. "Public's parliament is bigger than any government. They have given their mandate," he said.
Meanwhile Congress general secretary Ajay Maken, who was the CM candidate, resigned from his post, taking responsibility for the party's crushing defeat.
"I take moral responsibility for the party's defeat in Delhi assembly polls," he told reporters as the poll results showed that Congress was unable to even open its account.
"I was the face of the Congress in Delhi elections. Since the party has not fared well, I take moral responsibility and am quitting as Congress general secretary," he said.
Maken was contesting from Sadar Bazaar in central Delhi, where he was left far behind by AAP's Som Dutt and BJP's Parveen Kumar Jain.
Thanks to all workers for their support!

Been the most fast paced days of my life since I re-entered Delhi to lead the campaign on13th Jan!

— Ajay Maken (@ajaymaken) February 8, 2015
Trinamool Congress chief Mamata Banerjee today termed AAP's imminent victory as a "turning point" in India's current political landscape.
Delhi elex is turning point of present political situation. Shows political vendetta has no place in a democracy. Country needed this change

— Mamata Banerjee (@MamataOfficial) February 10, 2015
This is a victory for the people and a big defeat for the arrogant and those who are doing political vendetta & spreading hate among people

— Mamata Banerjee (@MamataOfficial) February 10, 2015
My congratulations to all the Delhi voters, AAP workers and leaders for big victory. Well done to you. All my best wishes. We are very happy

— Mamata Banerjee (@MamataOfficial) February 10, 2015
Two days ahead of polls, she had requested voters in Delhi to vote for AAP "for the greater need of the country and development of Delhi".
Exit polls on 7 February were unanimous about an AAP victory, but the current trends are beyond even the most optimistic projections in favour of the party.
Delhi came out to vote in record numbers on 7 February, in its third election in three years. This is the second assembly election since 2013, necessitated by the hung result thrown up by that poll.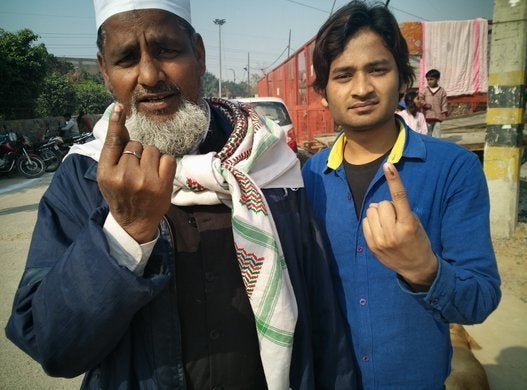 Delhi Votes - Delhi Assembly Elections 2015