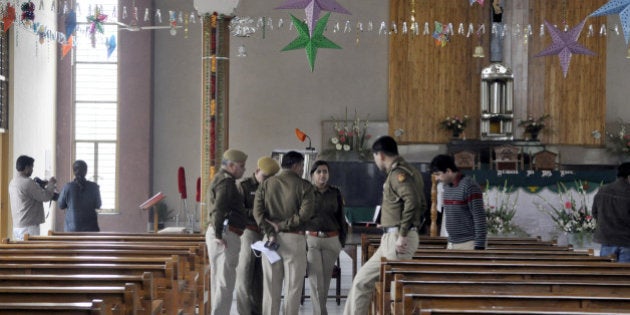 The home ministry has sought a report from Delhi Police on the status of security at religious places following the ransacking-cum-theft incident in a Delhi church Monday.
The ministry has also asked the police to send a report about the action taken in earlier cases of attacks on four other Delhi churches.
The Delhi Police have also been directed to ensure the security of religious places, especially of minority communities.
It is learnt that a senior Delhi Police official briefed about the incident to home ministry officials and assured them that a detailed report would be submitted as soon as possible.
The ministry sought the report from Delhi Police after the ransacking and theft of a few sacred items and a DVD player from St. Alphonsa's church in South Delhi's Vasant Kunj area in the early hours Monday.
The church's administration claimed it did not seem to be just an incident of theft as this was the fifth case within nine weeks when a church was targeted. A few sacred items, including a ciborium (receptacle) and a monstrance kept inside a tabernacle, a cabinet made of wood and glass, were taken away.
The items were stolen from the cabinet and a few of them were also destroyed, police said.
"A few people barged into the church premises. They took away the sacred items and a DVD player. But they did not touch our collection box," Father Vincent Salvatore told IANS.
Police were informed Monday morning when the church guard found the main gate open. Police have questioned a few people in the church's neighbourhood and collected the footage of the CCTV installed near the church.
But the Christian community members have requested that the police investigate the incident from all possible angles, besides theft.
Savari Muthu Sankar, spokesman for the Delhi archdiocese, told IANS: "The intention of the burglars was not only to steal, but there was some foul play. We demanded from the police that the case should be investigated from other angles also."
John Dayal, former president of the All India Catholic Union, told IANS: "Somebody is trying to target our (Christian) community. Since this is election time, it has another dimension."
Sankar said attacks on churches occurring at regular intervals had unnerved Christians in Delhi.
"We see a clear pattern in these attacks," he said, adding that this is the fifth such attack within three months.
"It is difficult to say if these attacks have any connection with the (coming Delhi) elections or this is the handiwork of some fundamentalists. But it is a matter of concern and the police should take proper action," Sankar added.
Four churches were attacked over the past few months in separate incidents. Three people were arrested Jan 15, a day after a church in west Delhi was vandalised, based on footage on a CCTV camera installed inside the church premises.
Earlier in January, a minor fire was reported from a church in Rohini in West Delhi. The Christmas crib outside was charred.
Some unidentified people threw stones at Our Lady of Fatima Forane Church at Jasola in South Delhi in December and broke window panes during the evening Mass. St. Sebastian's Church, a Catholic church at Dilshad Garden in East Delhi, was burnt down in December.
Police confirmed it was a case of arson. According to the 2011 Census report, Christians number around 130,000 in Delhi, which is home to about 17 million.
The Christian population in India is 24 million among a total of 1.2 billion.
Popular in the Community