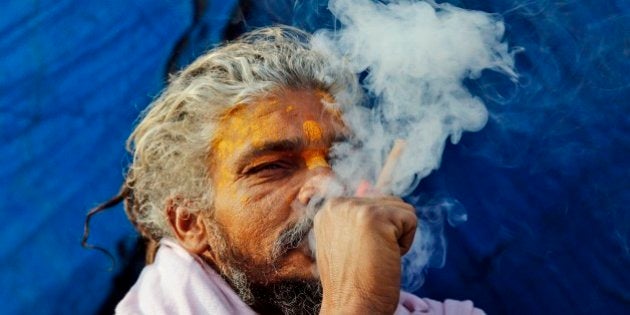 The national capital continues to witness rampant marijuana trade with 122 per cent increase in the recovery of the drug this year compared to the average of the past three years.
Around 3,350 kg of marijuana has been recovered till August 31, making it the highest recovery for any year in the books of Delhi Police. In 2014, around 1,780 Kg of marijuana was recovered in the entire year.
The police, however, claimed the steep increase in seizure reflects sincere efforts on their part and not that the city has a flourishing cannabis market. "We have a dedicated team for tracking narcotics traffickers. The high recovery rate reflects ceaseless and sincere efforts by the team," said Joint Commissioner of Police (Crime) Ravindra Yadav.
According to Delhi Police records, 2013 stands second in marijuana recovery, with more than 3,100 Kg seized, a 64 per cent increase over the previous year when around 1,900 Kg of the psychotropic drug had been impounded.
Unlike heroin, for which Delhi is used as a transit point for further dispatch towards southern India or countries in the west, the city is a thriving market in itself for rackets dealing in marijuana, said an official in the narcotics wing of Delhi Police?s Crime Branch.
"Bareilly in western UP and neighbouring districts like Badaun, Shahjahanpur and Moradabad have emerged as major sources for marijuana in Delhi," said the official, adding that Bareilly came under the police scanner after two major recoveries in 2012 in which inter-state syndicates dealing on massive scale were cracked.
Apart from Uttar Pradesh, Delhi Police have often had hard times chasing Tamil Nadu and Andhra Pradesh-based marijuana syndicates smuggling the drug into the city.
Last year, the Crime Branch had arrested two drug dealers, who allegedly had connections with both Tamil Nadu and Andhra Pradesh-based rackets, and recovered marijuana worth around Rs 1.25 crore from their possession, said the official, adding that the duo were largely selling drugs to students in and around the Delhi University campus.
Murshidabad district in West Bengal and several Maoist- affected regions in Odisha are among other sources of marijuana in Delhi.
In two big recoveries this year, the police seized marijuana consignments of around 400 Kg and 450 Kg, worth crores. While one of the two consignments was sourced from Punjab, the other was linked with a western UP-based syndicate, said the official.