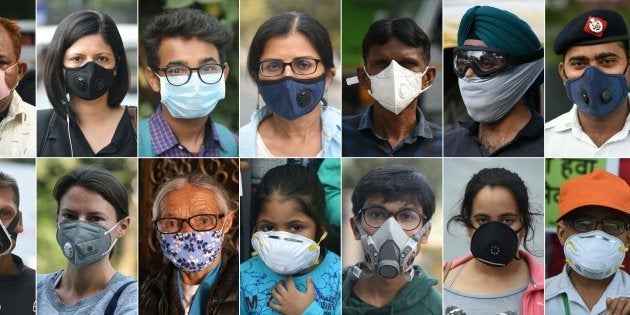 For the past few winters, a sense of despair and powerlessness has been enveloping Delhi as news about the shockingly dismal quality of the city's air dominates the headlines again.
This year too, the air quality level in the city has oscillated between the 'poor', 'very poor' and 'severe' categories in October and November—and even reached the 'severe plus emergency' category after Diwali.
For the second year in a row, the Graded Action Response Plan (GRAP), which has a set of measures to deal with different levels of pollution, has been put into place in the city.
In accordance with the plan, the Environment Pollution (Prevention and Control) Authority (EPCA)—the body responsible for tackling pollution in Delhi—announced measures such as banning entry of trucks in the city, shutting down brick kilns, permanently closing the Badarpur thermal power plant and banning the use of diesel generator sets.
Activists, however, say that solely depending on policies like GRAP to solve the pollution problem is like using band-aids to heal a fracture.
"Air pollution is not a winter problem anymore. There is no reason for GRAP to come to place for two days when the air quality is really poor through the year"
"Air pollution is not a winter problem anymore. There is no reason for GRAP to come to place for two days when the air quality is really poor through the year," said Navdha Malhotra, senior campaigner at Help Delhi Breathe, a campaign that aims to build a people's movement to clean the city's air.
The acceptable standard of pollution on the air quality index (AQI) is between 50 and 100. It has been months since Delhi's air was that clean. The day after Diwali, as many people flouted the Supreme Court's directives without a second thought, reports said the AQI in some parts of the city reached an alarming 999.
GRAP, said Malhotra, looks good on paper but the "implementation is not great".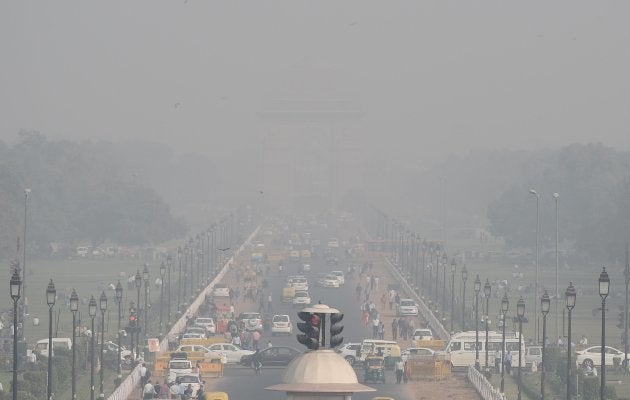 What's in Delhi's air?
Many different studies have been conducted to find out what exactly contributes to air pollution in Delhi. The EPCA's GRAP report quotes a 2015 study conducted by IIT Kanpur, which said that while air pollution levels in the city were significantly higher in the winter, the quality of air was bad through the year. The presence of PM10 and PM2.5 particles, said the study, were consistent in both summer and winter.
"Combustion sources, vehicles, biomass burning and MSW (municipal solid waste) burning are other consistent sources in winter and require a strategy to control these sources. In summer, air quality cannot be improved unless we find effective control solutions for soil and road dust, fly ash re-suspension, concrete batching and MSW burning."
Both PM10 and PM2.5 contain 'secondary particles' in both summer and winter.
These secondary particles enter the atmosphere when precursor gases such as sulphur dioxide and nitrogen oxides, which are mostly emitted from large sources over a great distance, are chemically transformed into particles in the atmosphere.
"For sulfates, the major contribution can be attributed to large power plants and refineries... However, contribution of NOx from local sources, especially vehicles and power plants can also contribute to nitrates"
Within a 300 km radius of Delhi are 13 thermal power plants with a total capacity of over 11,000 megawatts (MW).
The Badarpur plant, which supplied power to Delhi for more than 40 years, was shut down permanently in October, but that doesn't solve the problem—new ones are coming up.
"Why are power plants like the Khurja Super Thermal Power plant, only 80-100 km away from Delhi, coming up? It has a power of 1,320 MW. Imagine the kind of pollution it will be creating," Sunil Dahiya, a senior campaigner at Greenpeace India, told HuffPost India over the phone.
A report by the Institute for Energy Economics and Financial Analysis has recommended that the Khurja plant, which is being set up by the Tehri Hydro Development Corporation, be cancelled for reasons including the emergency air pollution levels in Delhi.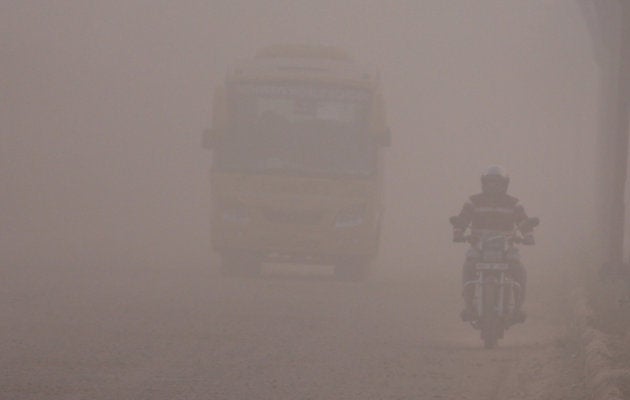 Is nothing being done?
While crop burning by farmers in Punjab and Haryana also contributes to Delhi's poor air quality, activists and experts say poor implementation of policies and lack of planning are the bigger culprits.
Greenpeace's Dahiya said GRAP's measures are mostly knee-jerk, and that "the air is nowhere near breathable quality".
GRAP was notified in January 2017 on a Supreme Court order after AQI hit 999 in October 2016. This happened in 2017 and 2018 as well, when GRAP was in place.
"The EPCA has done absolutely nil because, in principle, there is no question of having a graded response when it is an emergency situation. EPCA was supposed to ensure that the city gains, but because of their failures Delhi became one of the most polluted city in the world," said Advocate Gopal Sankaranarayanan.
Sankaranarayanan was one of the three petitioners who filed a public interest litigation in the Supreme Court in 2015 on behalf of their children, seeking a blanket ban on firecrackers.
He added that the EPCA had "missed the woods for the trees" with GRAP.
"They have one song that they sing every year that they have shut the coal-based polluting plant in Badarpur. It should have been shut down many years ago... Now it has become a national health emergency, where one-third of the population is breathing in carcinogenic conditions. This is not the time to take gentle steps. It's an emergency," he said.
HuffPost India could not speak to EPCA chairman Bhure Lal despite multiple phone calls.
Anumita Roy Chowdhury, executive director of the Centre for Science And Environment, says the steps taken this year were "preemptive", not reactive.
CSE director general Sunita Narain is a member of the EPCA.
A Comprehensive Action Plan (CAP) was notified in June this year to look at long-term solutions to air pollution.
"It (CAP) is also a legally binding round-the-year plan, along with an emergency plan. It will be implemented with great amount of stringency with more enduring benefits, said Chowdhury.
This plan includes shifting completely to gas-based thermal power plants in the long term. But as Badarpur shuts down, Khurja is coming up.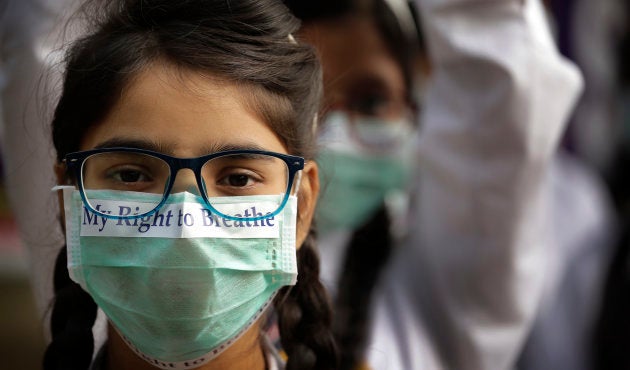 What is the solution?
It might sound clichéd, but there really seems to be no alternative to strong political will and strict implementation.
"Beijing came up with stringent limits for its industries. They were supposed to clean up old power plants. India came up with a plan in 2015 which gave two years for power plants to be cleaned up. The date was December 2017. But the government went to the courts and got it extended. Greenpeace fought against it. They had asked for an extension of seven years, now it has come down to five years," said Dahiya.
The IIT Kanpur study found that vehicular emissions were also a major contributing factor, along with biomass burning and road dust. In winter, on average, vehicle fumes contributed 20-25% of PM10 and PM 2.5 particulate matter.
While the odd-even scheme was implemented twice in Delhi (winter 2015 and summer 2016) to reduce vehicular pollution, there was a lot of opposition and people found ways to get around it. And even if it was followed to the 'T', just this won't help.
"Government needs to look at the transport sector, learn from Europe, like Paris. They need to promote public transport and non-motorised transport."
"Government needs to look at the transport sector, learn from Europe, like Paris. They need to promote public transport and non-motorised transport. We need space for people to walk and cycle. Unless we give up middle-class aspirations of wanting to own a car, we won't move towards cleaner air. We don't even have go as far as Paris. Pune is slowly building biking tracks, Mumbai has the suburban railways," Dahiya said. Diesel vehicles need to be regulated, he added.
Maholtra from Help Delhi Breathe said the city also needed to opt for cleaner energy. "We have to abide to time-bound solutions like adhering to emission limits for industries, moving from coal-powered plants to solar power plants."
She said this was part of the list of demands they had put before the authorities.
CSE's Roy Chowdhury said that CAP targets all the key pollutants—vehicles, power plants and construction activities.
"There are short-term and long-term solutions for each type of pollution indicated, there is a given timeline," she said.
The suggested reforms, she said, were more "systemic", focusing on big energy and tech transition, mobility transition, parking policy and waste management.
"We are trying to generate public support. We have to ensure that these things get implemented with a regular report card on the progress," she said.