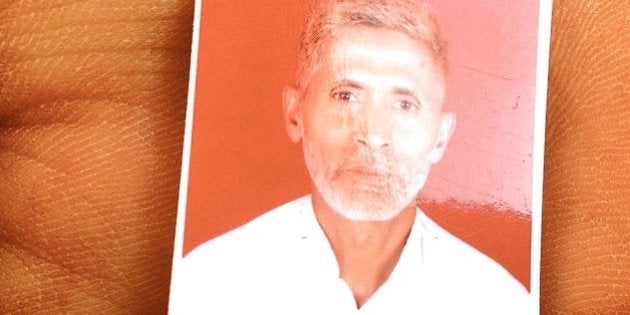 BISADA, Uttar Pradesh -- Ikraman was clearing dinner at home, and the residents of Bisada were contemplating sleep, when a voice, which came over the crackling loudspeaker in the temple, disturbed the still village night.
Villagers recalled that it was around 10 pm on Monday, when they heard a cow had been slaughtered, and they were told to assemble near the electric transformer. The village priest, called "babaji," would later tell the police that he was forced to make the announcement by two youths.
Ikraman, a Muslim, couldn't make out what had just been said. She only heard "Go quickly," over the loudspeaker. Before the 45-year-old woman could ask her family members, the lane, which leads up to her house, was flooded with men wielding lathis, hockey sticks and bricks.
"I begged them to stop. I told them it is a goat, goat, goat."
A blue door prised from its hinges, a smashed sewing machine, and blood splashes on the floor are just a few tell-tale signs of the brute force with which the enraged mob entered Ikraman's home on Monday night, and the ferocity with which they attacked her family.
"I begged them to stop," said Ikraman. "I told them it is a goat, goat, goat."
"Some of them surrounded me. They put their hands into my salwaar. They bit me, see these teeth marks," she said, pointing to a bruise on her chest. "And they kept using filthy words."
On Wednesday, a red slipper, belonging to someone in the mob, was still lying on the steps leading up to the two rooms, where her husband, Mohammed Akhlaq, and their son, Danish Khan, were brutally beaten by a mob alleging that they had slaughtered a calf and stored beef in their refrigerator.
Parveen, Akhlaq's younger sister, who wept over the blood on the floor, said that after thrashing her brother inside the house, the mob dragged him by his legs on to the street, where they beat him up again. "They did not let him speak or explain anything," she said. "They showed no mercy."
Akhlaq, a 52-year-old ironsmith, was rushed to the hospital, but he succumbed to his injuries. Khan, 21, is recovering from critical injuries at a local hospital, according to relatives.
Akhlaq's death has stunned the residents of Bisada village (around 50-60 kilometers from Delhi), who say that Hindus and Muslims had "always" lived together in peace — until Monday night.
Muslims account for about 25 percent of the 20,000 inhabitants in Bisada village. Their homes are scattered around Hindu households, but they never felt the need to cluster together, even as communal tensions rose and ebbed in other parts of western Uttar Pradesh, and elsewhere in the country.
The Hindus in Bisada are mostly farmers of the Rajput caste, who grow wheat and other grain. But their lives have always been intertwined with the Muslims, who work as their farmhands, and performed crucial jobs as ironsmiths, barbers and carpenters over generations.
Both Hindus and Muslims tell the story of how it was the Rajputs, who gave land for the village mosque, built before Independence. Sixty years later, they contributed money for its new edifice.
"Something very bad has happened. I don't think we will be able to go back to the past."
Today, Hindus in the village are divided between those believe that Akhlaq had slaughtered a cow, and those who say it was a goat. And there are those who believe that he was appropriately punished for killing a calf, and those who are disgusted by the violence.
Rakhi, a resident of the village, is heartbroken at the idea of anyone killing a calf, but she also fears that Akhlaq's death will change the village forever.
"They could have slapped him or given him to the police if he killed a cow," she said. "Something very bad has happened. I don't think we will be able to go back to the past."
The 39-year-old mother, who lost her husband to cancer, described Akhlaq as a "nice man and a very good ironsmith," and she blamed the "young blood" in the village for such a high degree of intolerance.
"You see, there were no old people in the mob. They were all young and angry," she said. "There is something about the food we eat, the air we breathe today, and all these mobile phones, which makes the young men so frustrated and violent."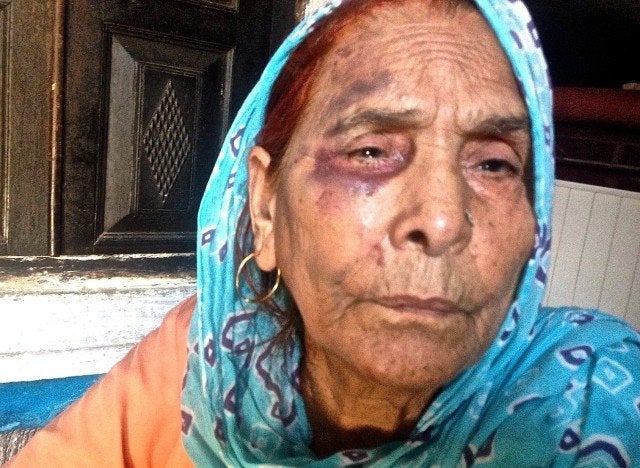 Asgari, Mohammed Akhlaq's elderly mother, says she was beaten up the mob which attacked their family.
Akhlaq's father and grandfather were also ironsmiths, who lived in the same house, surrounded by Hindu neighbours. But no one came to help them on Monday night, said his 70-year-old mother, Asgari Begum, whose one eye is bruised purple. "I couldn't help my son because they were hitting me. They didn't even think of my age," she said.
"You don't think anyone would have heard us or seen us bring a calf and kill it."
Asgari dismissed allegations of killing a calf as completely absurd.
"After spending most of my life without eating beef, why would I suddenly decide to have it or allow my family?" she said. "Forget that, you don't think anyone would have heard us or seen us bring a calf and kill it?"
So far, six people, between the ages of 22 to 28, have been arrested in connection with the attack, and the meat recovered from Ahklaq's house has been sent for testing in a forensic laboratory by the police. Slaughtering a cow is a non-bailable offence in Uttar Pradesh, but possession of meat is not.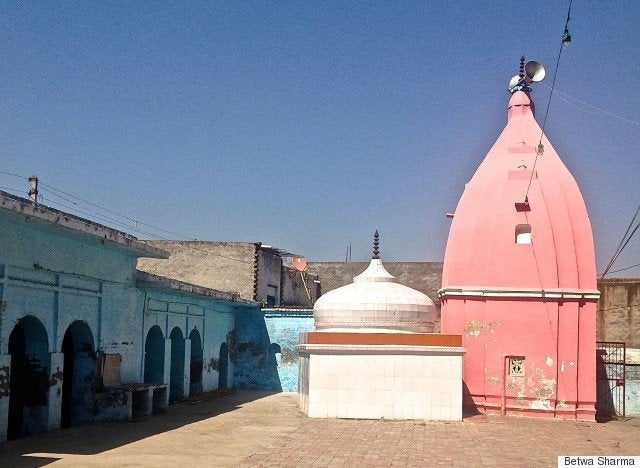 The temple in Bisada village, which announced that a cow had been slaughtered, and told people to assemble near the transformer.
The large courtyard of the temple, usually bustling with activity and chatter, was silent on Wednesday.
One villager, who requested that his name not appear because he wants to avoid any attention, said that Monday's event was a targeted attack against one man and not against the Muslim community.
"In my mind, it was the right thing to do. Things went out of control which happens in a mob," he said. "But did anyone hurt any other Muslim here? His brother lives right next door, but no one hurt his family."
But the UP government, which has deployed the police and the Rapid Response Force in the village, is taking no chances, especially since tensions could escalate as more arrests are made in connection with the death.
Additional District Magistrate Rajesh Yadav, who visited the village on Wednesday to check on security measures, and reassure Muslims about their safety, told HuffPost India that the "situation is under control," but the security forces would stay until the danger of violence passed.
For many villagers in Bisada, the three photos of meat and bones, which have been widely circulated via Whatsapp, is proof enough that Akhlaq's family killed a cow.
One image shows several pieces of meat in a steel utensil, and another is of a police official putting the meat in a plastic bag.
Yadav said that the authenticity of the photos has not been verified, and warned against circulating images, which could hurt sentiments and incite tensions, on Whatsapp and over social media. But these photos have spread like wildfire across the village, and almost everyone has the images on their own phones.
Meanwhile, the story, which is quickly turning into folklore, is that on Monday night, Akhlaq threw out the skin and discarded body parts of an animal in the garbage dump, but a dog dragged out the plastic bag with its remains, which was spotted by some boys, who identified it as a cow.
The second part of the story has the boys going to confront Akhlaq, who denied the accusation, but then beef was apparently found in his refrigerator.
"I've heard they had two refrigerators," said a bystander, who joined the semi-circle which had formed while the story was being repeated at the temple.
But Asgari said that her family doesn't have the money to buy a goat for Eid, which costs Rs10,000 to Rs12,000, let alone a cow. "Most of the meat that we have eaten in our lives has been sent by our relatives," she said.
The man in the temple, who said that no other Muslim was targeted on Monday night, was not entirely correct.
After the mob scattered subsequent to the police arriving on Monday night, a breakaway group headed to the mosque to make trouble. Rahimuddin, a carpenter, was sleeping outside his house near the mosque.
"I usually sleep outside to protect my cattle. Suddenly they grabbed me pushed me against a wall, slapped me across the face several times, and then started punching me," he said. "They said, 'you Muslims kill cows,' but I kept saying that I had done no such thing."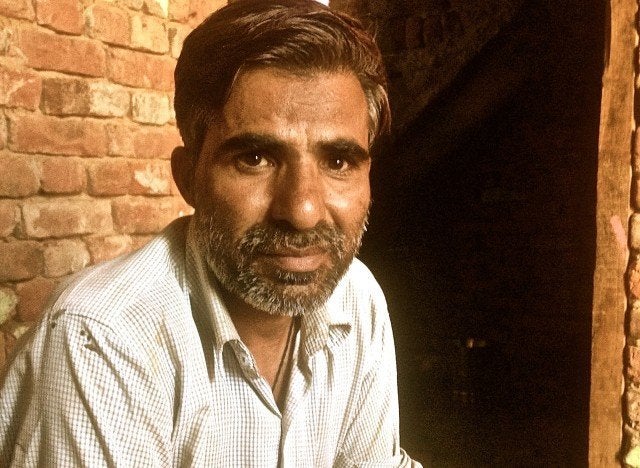 Rahimuddin, a carpenter in Bisada village, was also attacked by a Hindu mob.
Rahimuddin, whose forefathers were also carpenters in the village, believes that he would have been killed on Monday night if a neighbour, the retired school master's wife, had not rescued him.
"She told the boys to leave, but when they didn't budge, she stood in front of me, and put out her hand to stop them coming forward," he said.
"Even if it was beef, do they think that God wants them to beat a man to death."
While the 40-year-old carpenter is too shy to take his protector's name, Veeravati, the 60-year-old "schoolmaster's wife," calls him "Rehmu."
"I was sacred that they would hurt me, but what could I do, Rehmu is a good man, and we like his work. Some years ago, his family used to live next door to us," said Veeravati.
"I told them, 'have you not had enough violence for one day, now go home,'" she said. "Even if it was beef, do they think that God wants them to beat a man to death?"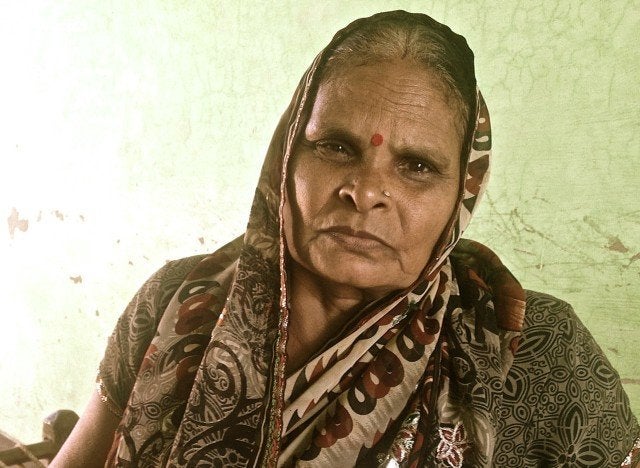 Veeravati, the wife of a retired school teacher in Bisada village, rescued Rahimuddin from a Hindu mob.
On Wednesday, Veeravati and the retired schoolmaster convinced the Muslim labourers to return to the construction of their house.
A day earlier, Rahimuddin sent his three daughters away to live with their maternal uncle, and now he is wondering whether the time has come to leave the village of his ancestors.
Torn between bonds forged over generations, and the horrific intensity of the attack on Monday, Muslims of Bisada village are mulling whether to stay or go.
Even if he decides to stay, Rahimuddin said, "The trust has gone."
And like Rakhi, he is afraid that "it will never be the same again."



Popular in the Community