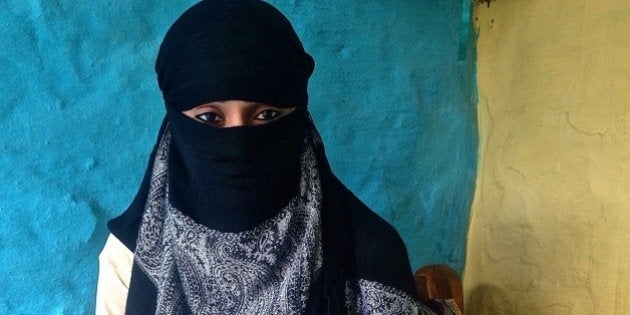 DADRI, Uttar Pradesh - A few hours before Mohammad Akhlaq was beaten to death by a mob alleging that he had killed a calf, Reshma was out distributing wedding cards to friends and neighbours in Bisada village, who she had known all her life.
The 18-year old invited Rajputs, the dominant Hindu caste in the village, Muslims, and those still relegated to the bottom of the social ladder, who have traditionally worked as leather tanners and sweepers.
But when Ahklaq was killed on September 28, and a shadow fell upon their enduring harmony, Reshma's dream of being married from her village came crashing down.
"Every girl wants to be married from her own village. She wants the baraat to come to the house she grew up in," she said, speaking to HuffPost India over the weekend.
With tensions simmering in the days after the brutal attack, her father, Mohammed Hakeem, felt that it was too risky for Reshma and her 19-year-old sister, Jaitoon, to get married from the village. Instead, he decided to get them married at a madrassa in the nearest town of Dadri.
But then help came from an unexpected place: Hindus came together to reassure Hakeem that none of the prevailing strife would mar the weddings, and they would help with the arrangements for the big day on October 11.
A group of elders also met with the kin of the bridegrooms, who come from two neighbouring villages, to convince them that Hindus and Muslims would come together for the celebrations.
In a village of 40 Muslims families and over 2000 Hindu families, there is always a mixed crowd at weddings. But not like this: Rajputs took charge of activities like chopping vegetable for the salad and supervising the halwai (sweet-maker) to clearing stones from the road.
Reshma, who is staying at her maternal home for a few weeks after getting married, gushed about her wedding day, which was widely reported by the media as a healing touch in troubling times. "I never in my life thought that I would have such a famous wedding, and that the whole country would know about it."
"It was just wonderful. So many people helping made it very special," she said. "I never in my life thought that I would have such a famous wedding, and that the whole country would know about it."
Reshma had never met her husband before their wedding day, and she didn't think it mattered. She was satisfied with the basic information which her father had communicated: his name, his age, and his current work status--unemployed. And the newlywed is willing to give up 12th grade because her husband and her father don't want her to study anymore.
While Reshma is hoping to sail calm waters into marital bliss, her wedding day has gone down as a landmark event in Bisada, with villagers likening it to a peace treaty after Akhlaq's death.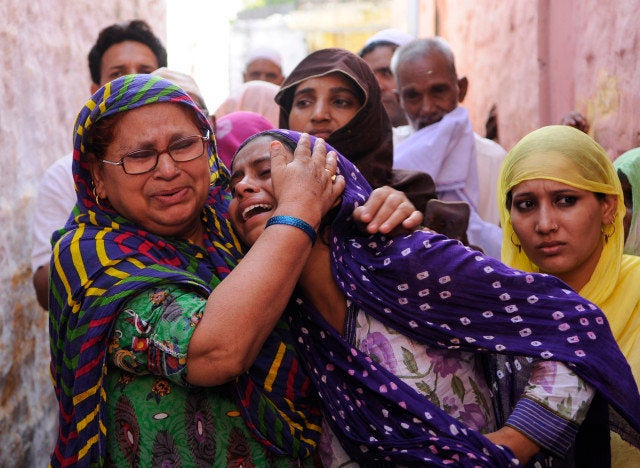 For the Hindus, it was a first step to restore the good name of their village which has become infamous for the lynching. They also had to act fast to prevent the schism from deepening, and Muslims abandoning the village, which typically happens in the aftermath of communal violence.
For many Rajputs of Bisada, slaughtering a cow is unacceptable, but so is killing a man for it. They recommend several alternative punishments including slapping, beating, excommunication from the village and prison. They choose to blame Akhlaq's lynching on hot-headed youngsters who lost their minds in the face of grave provocation.
Several Hindu villagers refuse to believe the forensic report which found the meat in Ahklaq's fridge to be mutton and not beef--attributing it to what they see as the ruling Samajwadi Party's policy of appeasing Muslims. They are reluctant to see the hand of right-wing groups or leaders in the events of 28 September, but blame politicians and the media for exacerbating the tensions after Ahklaq's death.
But the Rajputs are also intensely proud how Hindus and Muslims have "always" been at peace in Bisada village. They readily offer up tales of sticking together even during the worst episodes of religious violence in the country: the Partition, the destruction of the Babri Masjid followed by the serial bomb blasts in Mumbai, and the Muzaffarnagar riots in 2013.
The Muslims don't shy away from crediting the more affluent Rajputs of collecting money to build their mosque, and giving land for the Idgah, the ground used for prayer during Ramzan and to celebrate Eid.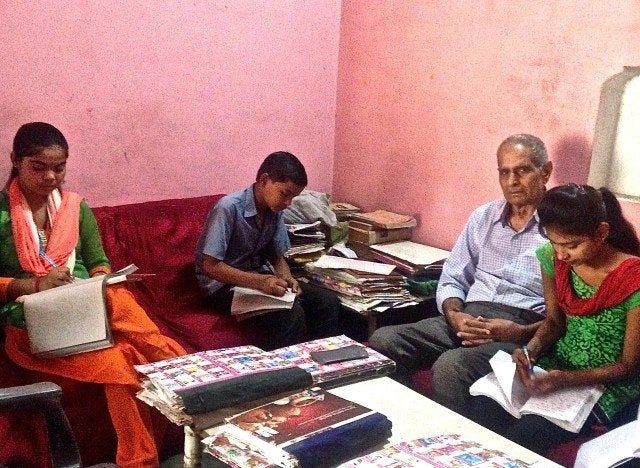 Subedar Major Khazan Singh spent two days preparing for Reshma's wedding on October 11.
"This village has always been peaceful and we want to preserve the good feelings which people have. That is why it was so important for Hakeem to have this wedding here," said Subedar Major Khazan Singh, who taught English in the army for almost 30 years. He now tutors children in the village.
The villagers talk about how Singh spent two days supervising preparations for the wedding, and he didn't leave the compound of the primary school, where the festivities were held, until the brides had departed. "This wedding was our way of saying sorry, and asking for forgiveness."
"This wedding was our way of saying sorry, and asking for forgiveness," he said.
Rampal Singh, a 74-year-old farmer, is one of the most aggressive opponents of cow slaughter, and he believes that the U.P. police is rounding up "innocent" young men in connection with Akhlaq's death without a proper investigation.
But for the wedding, Singh spent two days with the halwai (sweet maker) to ensure that he plated up "delicious" gulabjamuns, jalebis, salty snacks and even chowmein.
"Chowmein at a wedding," he said, sighing audibly. "But this younger lot likes chowmein."
Over the weekend, villagers told HuffPost India that the wedding was also their chance to show the world that they would not let their village be defined by Akhlaq's killing. "Time started and stopped with Akhlaq's death."
"His killing is unforgivable. But if you see the media coverage, you will think that nothing came before Akhlaq's death and nothing will come after," said Sanjay Rana, the village head, who has been in the eye of a storm for the past few weeks.
"Time started and stopped with Akhlaq's death," he said.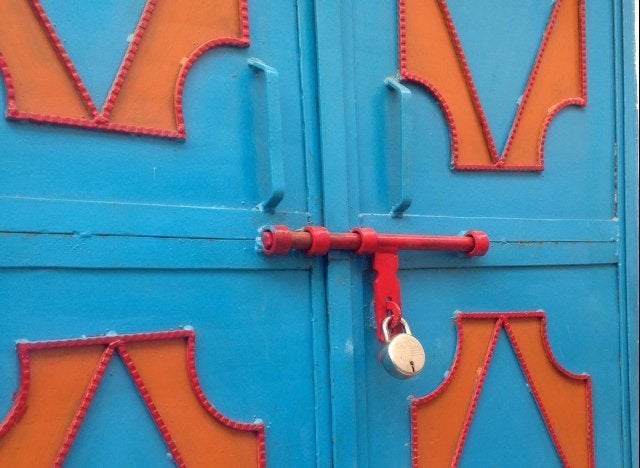 Mohammad Akhlaq's family has left their ancestral house in Bisada village.
But Reshma's wedding doesn't plug the fissures which are erupting in the communal harmony that was once taken for granted.
Cow slaughter was never an issue in the village, where Hindus far outnumber Muslims, and many, including those belonging to the so called "backward castes," eat meat.
Now, however, the Rajputs express a zealousness about protecting the cow, and punishing beef eaters which makes Muslims nervous even if they have no desire to do so.
And as Hindus boys (10, so far) are arrested in connection with the case, resentments grow, and are ripe to be exploited by political forces.
The steel lock on the blue door of Ahklaq's house is a lasting reminder of of how a few minutes of violence--whether premeditated or spontaneous--uprooted the family members of the 52-year-old ironsmith, who had lived in the village for at least three generations.
While some Hindus are unhappy about their decision to move away, others petulantly remark that their leaving has more to do with the compensation from the government, than fear.
While this reporter walked past her house, a middle-aged-woman, sitting at the doorway with three others, shouted, "Does any government give so much money for one death? Would they have given a Hindu family the same amount?"
The other women nodded in agreement.
The police personnel stationed in the village say that no other Muslim family in the village has left permanently, so far.
Even though they welcomed the spirit of harmony that brought about Reshma's wedding, Muslims villagers, who HuffPost India interviewed, are still not at ease. The real test, they said, would come when the police and the Rapid Response Force (RRF) personnel leave.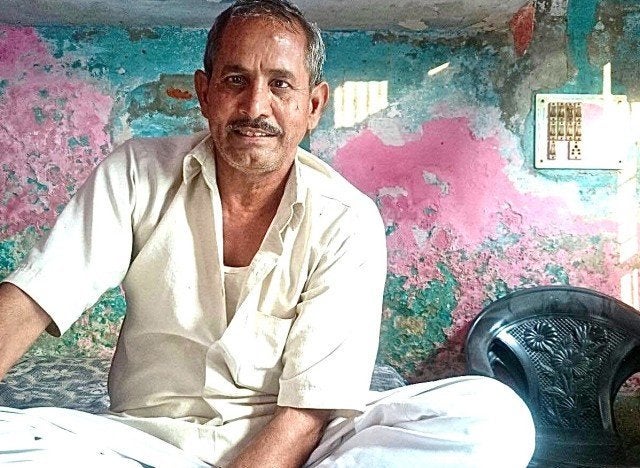 Santosh Kumar, a Rajput farmer, chopped vegetables for the salad served at Reshma's wedding.
Young Reshma, the newly wed who was back in Bisada, visiting her parents' home, is worried about the never-ending episodes of religious strife she hears about on the news these days - several of these incidents involve cows. But the one she likes is a recent tale of how a Muslim man jumped into a well to rescue a cow. "It is a great story," she said.
Whether the peace holds, or the villagers allow the schisms to deepen and be exploited, is entirely in their own hands, remarked Santosh Kumar, a Rajput farmer, while sipping tea on Saturday evening. "We are the ones who will determine the fate of the village."
"We are the ones who will determine the fate of the village," he said.
Kumar loans out portions of his land to be cultivated by landless farmers, and collects revenues from three-fourths of the produce. Hakeem, Reshma's father, is one such farmer, who grows wheat and rice on his land.
While that makes him Hakeem's boss of sorts, Kumar didn't mind spending a whole day chopping onions, radishes, cucumbers and tomatoes to prepare the salad for Reshma's wedding.
"I was a bit nervous because I don't work in the kitchen in my house. But I wanted to help so that we can close the distance that has come between us," he said.