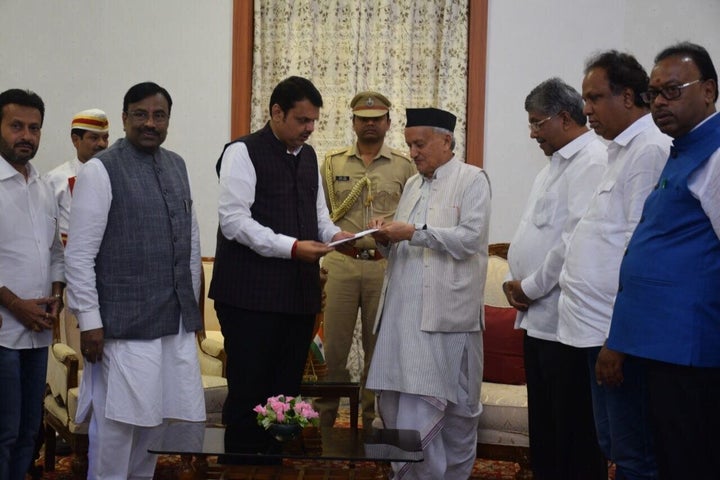 NAGPUR, Maharashtra — Devendra Fadnavis on Friday announced his resignation as the Chief Minister of Maharashtra as the deadlock over government formation in the state entered its 15th day since the assembly election results were declared on 24 October. He will continue as the acting chief minister.
The five-time MLA from Nagpur south-west submitted his letter of resignation to Maharashtra governor Bhagat Singh Koshyari at 4.25 pm.
In a press conference soon after resigning, he said, "I have just met the governor and submitted my resignation. The governor has accepted it. I thank the people of Maharashtra for allowing me to serve them for five years. I also thank my alliance partner, who some think is still with us. My tenure witnessed huge development work in the last five years which is why we got such a big mandate in Lok Sabha polls. Our alliance won more than 160 seats in Assembly elections and BJP emerged as the single largest party."
"Uddhav Thackeray, in his very first press conference, made it clear that he was open to all options for government formation. It was a shock to us as the mandate was for the Mahayuti alliance."
Fadnavis also made it clear that there were no talks of sharing the chief minister's post for two-and-a-half years with the Shiv Sena. "I asked Amit Shah about it and he also told me there was no deal regarding the sharing of the chief minister's post," he added.
The BJP leader said he shares a cordial relationship with Uddhav and will continue to do so. "I called Uddhav many times in the last 15 days, but he did not speak to me. We did not stop discussions. I am pained that Shiv Sena had time to carry on negotiations with NCP and Congress but not with us. Perhaps this mentality (that Shiv Sena might go with Congress-NCP) had been there from day one.
"I don't want to criticise the Shiv Sena but one thing is for sure that people around Uddhav and the kind of statements they are making will not help in government formation. Nobody should think that we cannot answer. We can reply in a similar language. But we want to unite not break. The BJP will never think of disrespecting the honourable Bal Thackeray."
Fadnavis also expressed displeasure over the statements made by the Shiv Sena. "We did not give any statement against Uddhav Thackeray. But Shiv Sena has attacked our Prime Minister through its mouthpiece and through media. To form a government with a party and to target the leadership of that party is not acceptable. The entire world has accepted Modi's leadership and to criticise him is unfortunate which even Congress has not done," he said.
Fadnavis's resignation came on the day when Shiv Sena sent its MLAs to a hotel near Uddhav Thackeray's residence and a Congress MLA claimed that he was made an offer by some "elements close to BJP" to shift loyalties.
The BJP leader responded to the allegations of poaching in his press conference. "Some people are making baseless statements that BJP is poaching MLAs. I openly challenge them to give us proof or apologise to us publicly. We will never indulge in poaching or horse-trading while forming the government. I am confident that the next Maharashtra government will be formed under the leadership of BJP only," he said.
The term of incumbent Maharashtra assembly ends tonight and the state is likely to see a short spell of president's rule after Thackeray refused to back down on his demand for the post of the chief minister.
Union Minister Nitin Gadkari, who is considered a rival of Fadnavis inside the party, reached Mumbai early morning on Friday and held meetings with BJP leaders, who were sidelined by Fadnavis before the election.
The Shiv Sena chief is taking every effort to ensure his MLAs are not poached. Forty out of 56 Shiv Sena MLAs are currently in the Rang Sharada Hotel in Bandra area of Mumbai which has now been surrounded by Shiv Sena workers and officer bearers.
Two luxury buses have been kept ready in front of this hotel in case the Shiv Sena MLAs have to be moved to the governor's house or any other place.
Forty-four Congress MLAs are also being shifted to Rajasthan due to fear of poaching.
Sanjay Raut meets Sharad Pawar
Shiv Sena spokesperson Sanjay Raut met Sharad Pawar on Friday. "The term of the Maharashtra Assembly has ended and a new government has not yet been formed. So traditionally, resignation has to be submitted. I saw his press conference with Sharad Pawar. Udhdav Thackeray will speak about his allegations," Raut said after Fadnavis's press conference.
The Sena spokesperson further asked the BJP to "stick to what was agreed upon". He said the Shiv Sena never targeted Amit Shah or the Prime Minister. "The statement (of Fadnavis) is incorrect. We have always respected the Prime Minister and the Home Minister. If CM says his government is coming back then my best wishes to him. But if we want, we can form the government and make a Shiv Sena leader as the state CM," Raut added.
A few hours ago, BJP ally RPI's chief Ramdas Athawale also called on Pawar fuelling speculations of a new political realignments in the state.
The BJP emerged as the single largest party in the recently concluded Assembly polls winning 105 seats. Its ally Shiv Sena got 56 seats. The NCP and the Congress won 54 and 44 seats, respectively.