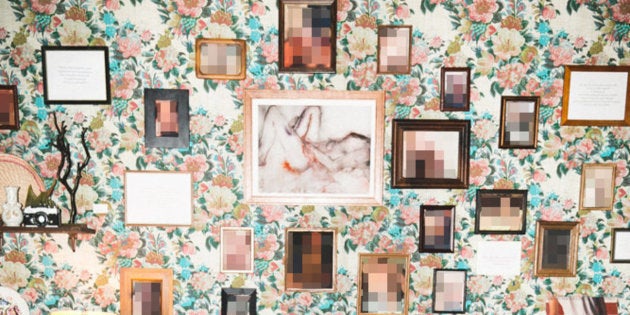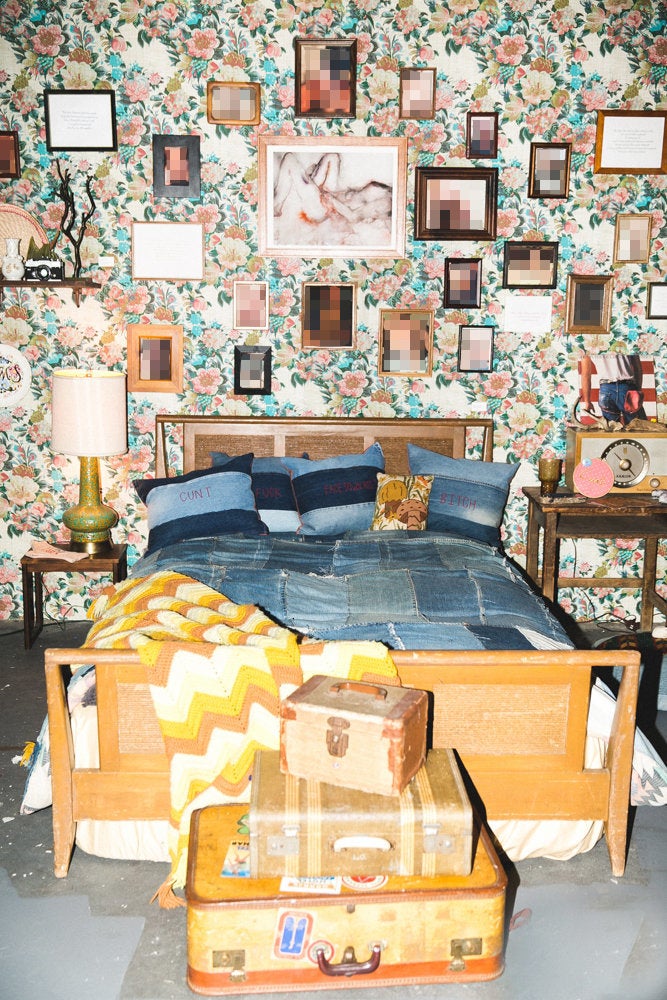 The ongoing harassment many women-seeking-men endure on dating apps across the internet is ... exhausting.
The presumptuous pickup lines, the aggressive responses to rejection, the #NotAllMen evangelism, and, most potent of all, the unsolicited dick pics. Years ago, the penis-photo-we-did-not-ask-for was a horrifying anomaly. Today, the dick pic is everywhere, a sinister reminder of sexual harassment's gross ubiquity online.
"This behavior is so commonplace we have all just accepted it as the norm," Whitney Bell explained to HuffPost.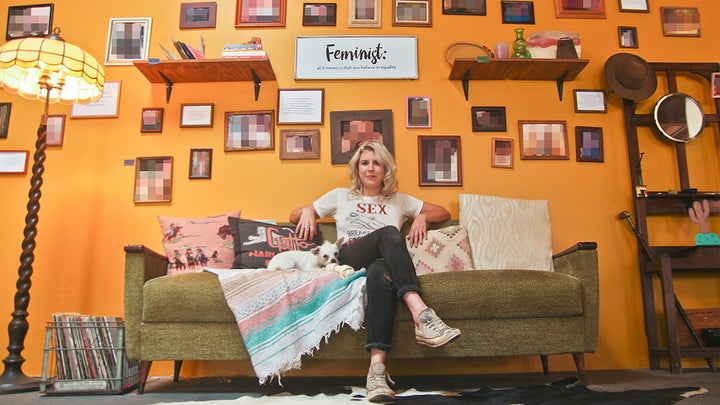 Bell is the woman behind "I Didn't Ask For This," an exhibition of over 150 real, unsolicited dick pics received by the artist and other women she knows. Displayed in a gallery furnished to look like your BFF's apartment, the framed pictures are meant to evoke the feeling women get when a dick pic arrives. You're sitting on your couch among your throw pillows, floral lamps and vintage suitcases when, all of a sudden, a man's penis has overtaken your screen. It's that easy to make a woman feel unsafe in her own home.
"When you put hundreds of dicks and the aggressive comments that accompany them up on display like this, the absurdity of it almost becomes comical," Bell said. "I was fed up with the harassment and the threats, fed up with feeling unsafe. I was done quietly accepting harassment as my reality."
Her show, a version of which was previously on view in Los Angeles, opened in San Francisco on Friday. According to the artist, the exhibition is not intended to shame men, penises, or men with penises. Instead, Bell wants "to expose the normalization of misogyny ― especially online," to provide a forum where people who are both shocked by or numbed to the practice of sending dick pics can talk about everyday harassment.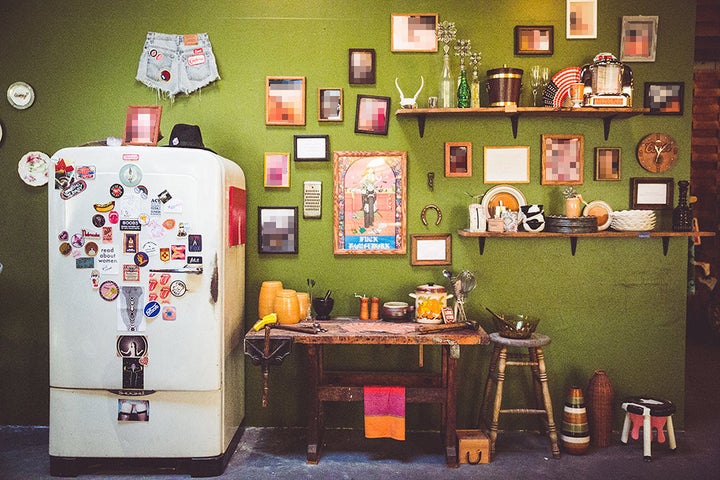 Whose dicks are featured in the show? "The river of dicks that line the gallery walls were sent by just that: Total fucking dicks. Unsolicited, unwanted dicks." Bell, a woman whose life has been lived fairly publicly online, received a fair share herself; the rest came from female friends and members of feminist organizations who needed only open their old Tinder accounts to find a suitable addition to Bell's show.
Bell is adamant that the collection of pics, accompanied by other work from 30 artists exploring "the female condition," is not a form of "revenge porn." When asked how she'd respond to people who think otherwise, she replied:
Much like the All Lives Matter "activists" who crash Black Lives Matter protests, these people don't really care about what they claim to. If you were really concerned about All Lives, or about harassment, you wouldn't only bring it up as a response to a marginalized group's plea for visibility. Do you really think your time is best spent defending men who use their genitalia to harass and intimidate women online? Do you really think that harassing the harassed for calling out harassment is beneficial to anyone? I implore you to pick a better battle.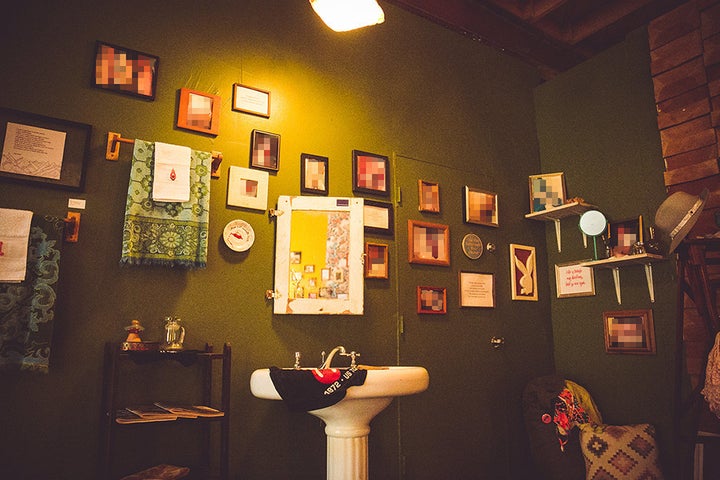 She does acknowledge that the "rules of dick pic sending" function differently in straight and gay communities. While she understands that abuse and harassment exist in queer spaces, her goal was not to lessen the experience of LGBTQ individuals by focusing on straight women, but to "highlight the the overwhelming issue of heterosexual harassment inflicted upon women. Most specifically I wanted to address the societally endorsed behavior of men attempting to exert their control over women through aggressive sexual advances."
At the end of the day, Bell hopes those visiting her show will "look beyond the hundreds of penises and the threatening comments that line the walls," and realize that the issue of sexual harassment is much larger than a few (or, in this case, 150) dick pics.
"I urge them to recognize how little respect many men have for women and that it's high time we stop sweeping aside our daily harassment as routine."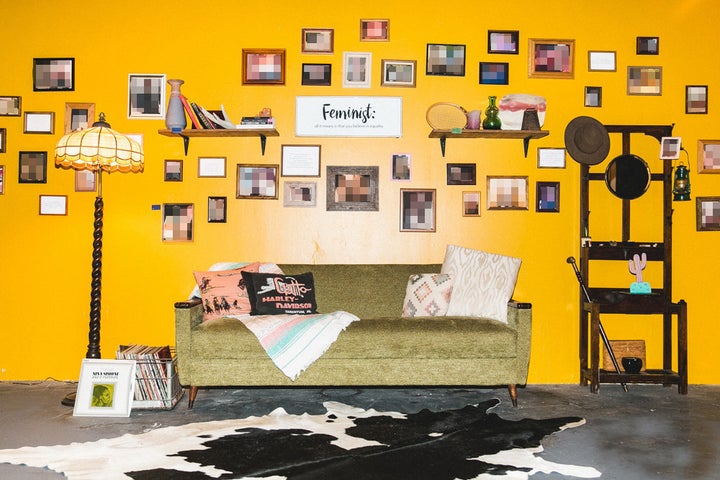 See some of the original artworks by women on view at "I Didn't Ask For This: A Lifetime Of Dick Pics" until June 11 at SOMArts Cultural Center below.
According to Bell, tickets for the Friday show have already sold out, though there will be a few hundred more available at the door, as well. If you're in the mood to see the pics IRL, Bell suggests trying Saturday. "Go to brunch then come peep some peen."
A portion of the proceeds from Bell's show is being donated to We Are #HappyPeriod, which supplies homeless individuals with the menstrual products they need. Bonus: If you bring a box of tampons or pads to donate, you'll receive a free drink ticket.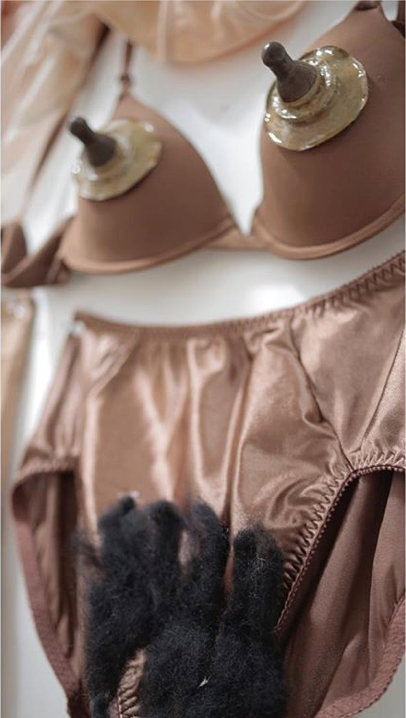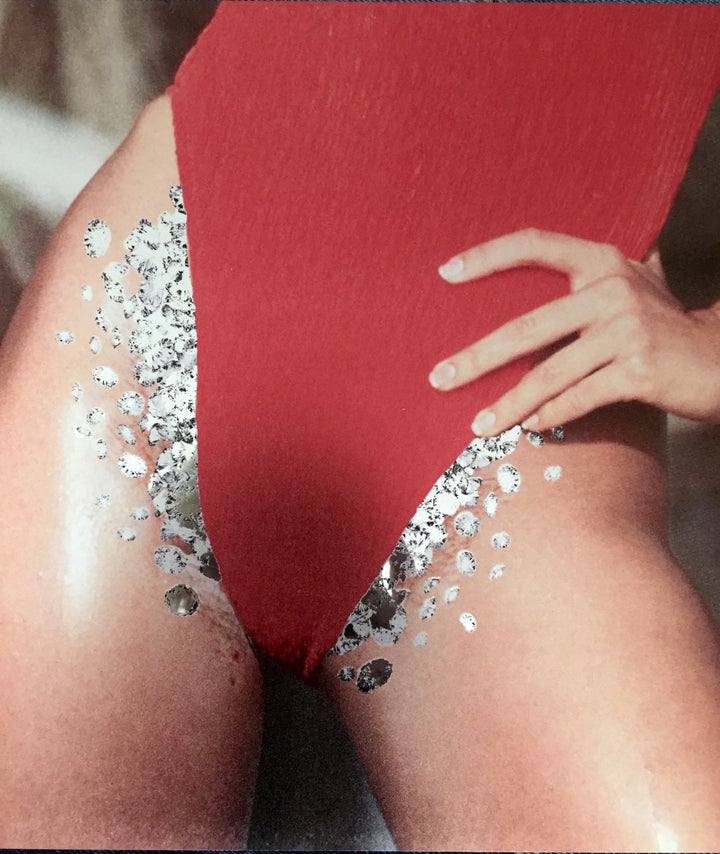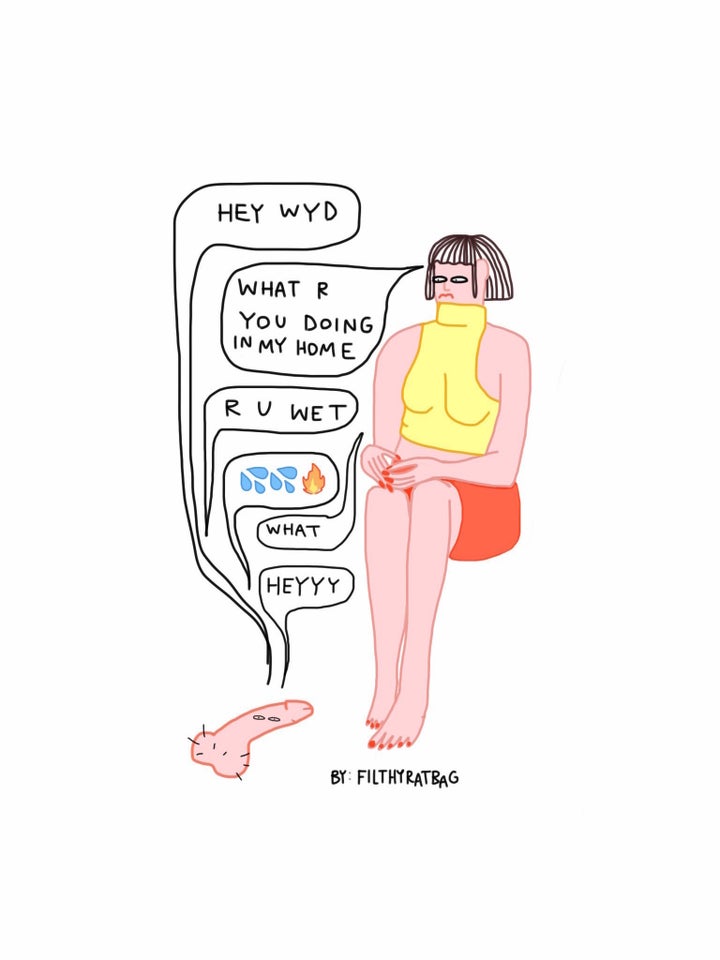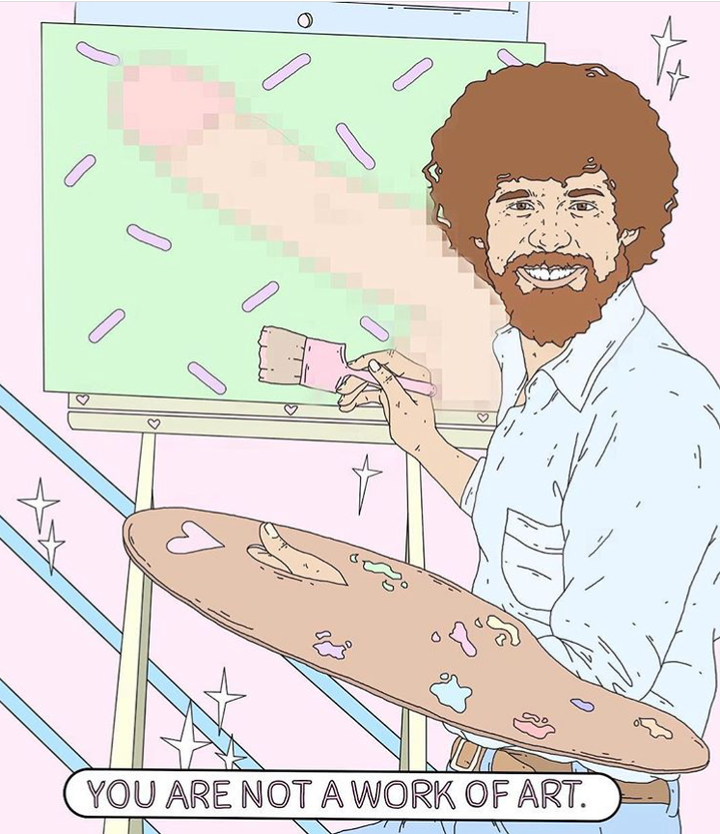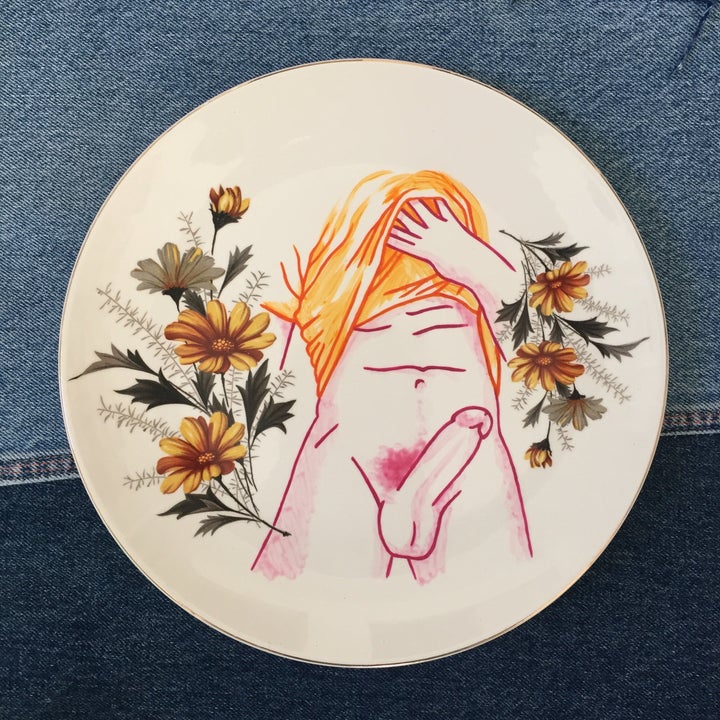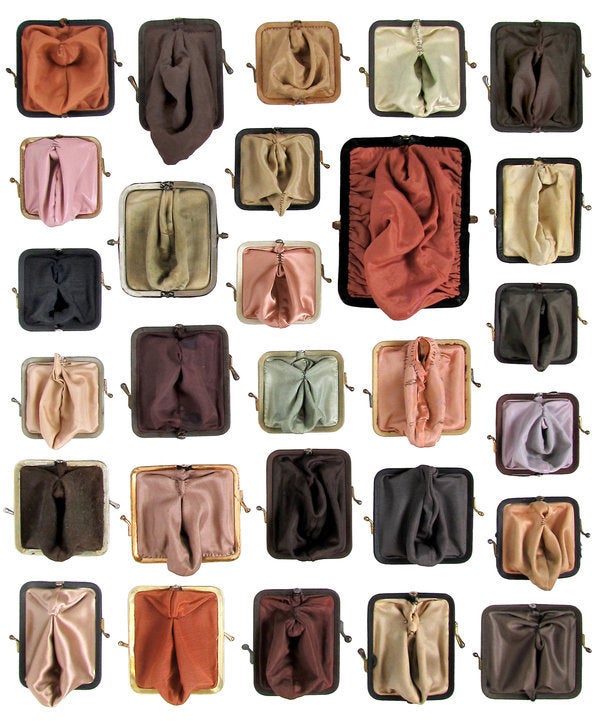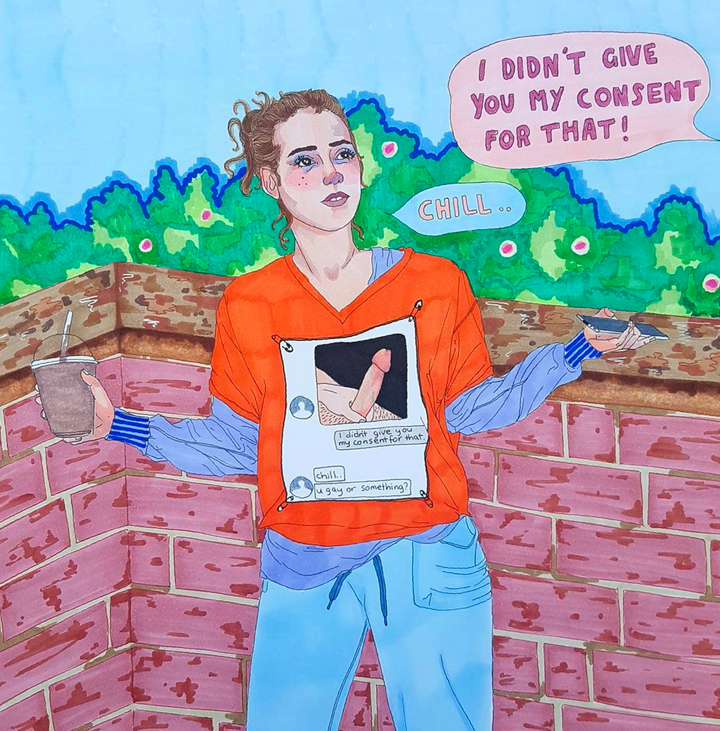 Popular in the Community