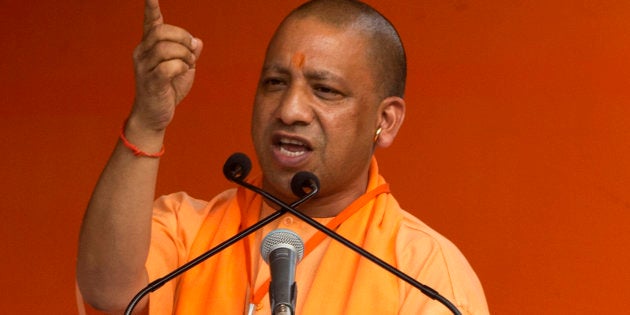 At the time, said Ramesh Dixit, the UP state president of the Nationalist Congress Party (NCP), he would frequently encounter enthusiastic and fairly hostile defence of Adityanath and Narendra Modi at public meetings, even in remote constituencies.
"In most public speeches, I call Adityanath and Narendra Modi murderers. Two years back, men would shout at me angrily and howl 'how can you say that?'"
On Tuesday, state election results from the Hindi heartland showed that the BJP may have reason to worry as the 2019 general elections draw nearer. In strongholds such as Madhya Pradesh, Chhattisgarh and Rajasthan—where the BJP had showcased impressive performances in 2013—its seat share has dipped considerably.
Dixit told HuffPost India that although BJP strategised its election campaign with more zeal than its opponents, flaunting Adityanath and Uttar Pradesh as trophies wasn't probably the best idea.
Soft Hindutva vs hard-nosed Hindutva
The 76-year-old NCP leader holds back no punches while speaking about Adityanath—roping in a 'goonda' (thug) to lead the country's largest state was a well thought-out strategy that may have backfired on the BJP right now.
Anthropologist and scholar Nadeem Hasnain said that while a form of 'soft Hindutva' may strike a chord with some voters, far fewer people would be on board with the kind of violent demonstrations that UP has witnessed in the past two years.
"Take, for example, what happened in Bulandshahr. It resulted in the death of a policeman. Somewhere, people draw the line, and under Adityanath, the Hindutva elements have crossed that line," Hasnain told HuffPost India.
Last week, a police inspector and a civilian were killed after a mob attacked a police outpost in Bulandshahr, alleging that cows had been slaughtered in the area. After the murder, Adityanath drew more ire by ordering a probe into the alleged cow slaughter, even as he called the inspector's killing an "accident".
SR Darapuri, a former IPS officer and Dalit activist, added that Adityanath's pre-occupation with cow welfare—a thinly-veiled ploy to persecute Dalits and minorities—may not have found favour with the working population.
Darapuri points out that one of the first projects the Adityanath government took up immediately after it came to power was cracking down on meat shops and shutting down 'unlicensed' businesses.
"Firstly, this couldn't be the first and most important issue facing the state. So when he went after it, it sent out a message that he was going after the livelihoods of Muslims and Dalits," Darapuri said.
The former IPS officer also pointed out that the Adityanath government hasn't successfully executed any development project—instead its most significant 'achievements' have been renaming cities with Muslim-sounding names and announcing the building of the country's tallest Ram statue. Apart from that, his government has indiscriminately jailed Muslims and Dalits, invoking the controversial National Security Act, which also may not have gone unnoticed, said Darapuri.
"The RSS must have thought that Adityanath will be an asset. But clearly not," Hasnain added.
'Star pracharak'
Darapuri said that BJP paid the price for making Adityanath its 'star pracharak'.
The BJP clearly attempted to reap what they thought would be the advantages of Adityanath's hard-nosed Hindutva approach in states like Rajasthan and Madhya Pradesh and hence roped him in for campaigning alongside PM Modi.
"It sent out a negative and wrong message," Darapuri said. "He keeps talking about cow protection and Hindutva and 'mandir wahi banega' and it sounds like cow is more important to him than man," he added.
Hasnain added that there is a limit to which even a Hindutva-leaning voter can romanticise Hindutva.
"The majority may like Hindutva but they hate violence and bloodshed. And Adityanath's brand of Hindutva has now become synonymous with violence and bloodshed following the spate of lynchings across the country, many in BJP-ruled states. Also, Hindutva won't get food to people's stomach. You cannot drown issues of unemployment, demonetisation, education in the noise of Hindutva for too long," he said.
Apart from that, Hasnain added that the majority of the bureaucracy and the police in Uttar Pradesh has not been 'indoctrinated' in Hindutva the way the far-right wanted them to be.
That Adityanath's actions could backfire was evident from the BJP's defeat in bypolls in UP's Phoolpur, Kairana and the CM's hometown Gorakhpur, said observers. Yet, the party did not take the hint.
Lesson for Congress
Dixit said that although using Adityanath as a mascot may have backfired on the BJP, the Congress has a lot to learn from the BJP's electioneering.
"They (BJP) used all the star power they had. Even if it was to polarise and incite communal disharmony, all hands were on the deck. Have the Congress and other opposition leaders really visited all constituencies? Plus the Congress is so arrogant that they refused to broker amenable terms for a coalition with other parties," he said.