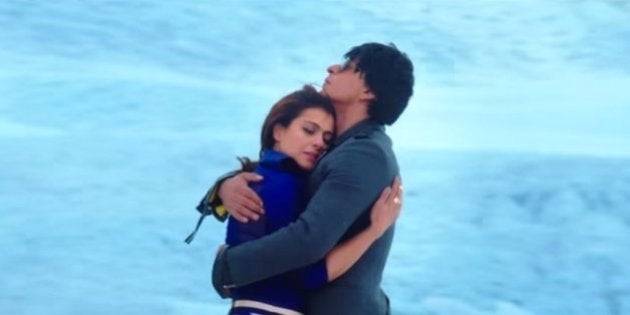 Are you even remotely surprised by what that headline implies?
If yes, then give this review a shot, even though you're going to hate or scoff at or be indifferent about the stuff I say. You've probably already made up your mind about watching Dilwale. You may even already have tickets booked, rightly anticipating the rush for this movie.
Perhaps you're a Rohit Shetty fan. Perhaps you're a Shah Rukh Khan fan. Or a Kajol fan. Or an SRK-Kajol pairing fan. Or a Varun Dhawan fan. Or a fan of Kriti Sanon. Or perhaps you just go to the movies every weekend and watch whatever you have the time for.
If no, then we're all in the same boat, and it's a pretty tiny one. This is the Bollywood circus in all its glory, stomping out one of its regular earthquakes with one of Hindi cinema's biggest superstars at its epicenter. Khan is 50 years old and apparently still not too old to play a 20-something falling in love. Kajol is 41 and looks half her age, aside from having given fairness cream companies further reason to exist.
They're still doing the same thing we saw them do from Baazigar (1993) to My Name Is Khan (2010) — more than two decades of admittedly magical on-screen chemistry, despite never having even kissed in any of their films. You have to admit, it's pretty weird — in 2015 — to see two people exchange intense looks, get really close, lean in and… embrace... for a while.
Rohit Shetty, now all set to deliver yet another 'hit' (whatever that means anymore), is the captain of this ship and, you know what, it's unfair to blame him at this point. He's just doing what he knows best i.e. to be Rohit Shetty and make Rohit Shetty films. That's all he's doing here when he destroys cars (in sequences reminiscent of Michael Bay's Bad Boys films — he is, after all, the closest we have to a Bollywood equivalent); revels in forced, adolescent humour; and relies on a convoluted, far-fetched plot that ends in a typically 'zany', idiotic climax involving the entire cast.
Dilwale is a tired, factory-generated film from frame one, right from the overdone colour palette to the exaggerated, comical violence. Khan and Kajol are star-crossed lovers whose paths meet again after 15 years. Dhawan and Sanon are the younger pair. It's box-office gold on paper — take one of Hindi cinema's evergreen jodis, add two hot young actors and apply the 'Shetty Shetty Bang Bang' formula.
Funnily, even with a pretty big budget, Dilwale doesn't look like a polished product — possibly its worst offence. The song 'Gerua', shot in gorgeous Icelandic locales, looks like SRK and Kajol doing their thing against Windows 98 wallpapers, as comedian Sapan Verma once rightly observed on Twitter.
Moreover, it's just really difficult to wade through all the inanity beyond a certain point. While never as cringe-worthy as Chennai Express (2013) at its worst, Dilwale is chock-full of the usual things Shetty thinks are funny: sound effects for comic effect, mildly homophobic jokes, and sexism so casual that you could wear it to work on Fridays.
The point is that it's 2015 and there are entire, new generations of moviegoers out there who have higher expectations from the 150-odd minutes they spend inside a darkened cinema theatre.
There are, admittedly, some things about the film that keep motivating you to give it a chance. It's impossible to be a millennial and not be at least momentarily captivated by scenes that include SRK-Kajol making googly eyes at each other. The presence of Johnny Lever as mandatory comic relief is always welcome, never mind that he's only occasionally amusing here. Khan hasn't acted well or anything, but at least he's a little more restrained here than usual. Kajol gets to play a role with more grey shades in it than she usually does opposite Khan and, hell, it's kinda nice to see her again. Dhawan is sincere but why must he act like Uday Chopra on a sugar high?
Plus, proceedings are often enlivened by a man named Oscar, played by Sanjay Mishra, who has a penchant for ending his sentences with nonsensical rhymes. This is, for once, an instance of slapstick done right and Mishra steals nearly every scene he's in. He may be the reason I didn't actually walk out before the movie ended.
All things considered, Dilwale — even if it isn't actually Shetty's worst work — is still an infuriatingly mediocre movie. For all the hype it has arrived with — complete with titular appropriation from Dilwale Dulhania Le Jaayenge (1995) — it's really just a standard-issue potboiler with the usual number of plot holes and lame, self-referential humour. There are a bunch of nods to Khan's earlier films — the younger brother angle from Kabhi Khushie Kabhi Gham (2001), the constant referencing of DDLJ — to keep fans happy. There's also enough that has been 'inspired': a car chase from Mission: Impossible II (2000) and the 'two-minute date' from How I Met Your Mother were the straight lifts I spotted, at least.
But the point is, it shouldn't matter anymore. It shouldn't matter that this is not the worst movie of the year, or that it may be slightly better than Chennai Express in parts and at least Khan didn't ham as much this time. The point is that it's 2015 and there are entire, new generations of moviegoers out there who have higher expectations from the 150-odd minutes they spend inside a darkened cinema theatre.
The point is that we're the reason these films exist. We go to watch these films out of curiosity, perhaps because it's a weekend family outing, and there's no way we can get out of it. We give them our money. We give them mentions on Twitter and likes on Facebook. And all of us, to some extent, have been brainwashed into coming up with justifications for this kind of filmmaking to exist. "It's a Rohit Shetty film — what do you expect?"
To Mr Shetty and team: I apologise for expecting more. I am sorry for bringing to your notice that the world has changed, and, indeed, keeps changing even as you guys continue living your Groundhog-Day-esque situation of eternal, '90s mediocrity. I regret to inform you that this is bad even by recent commercial Bollywood standards (I have several problems with PK and Bajrangi Bhaijaan, but they're miles ahead of this tripe). And lastly, I apologise on everyone's behalf for the existence of the Internet and satellite television.
To everyone else: we're better than this. Let's start believing it now, please.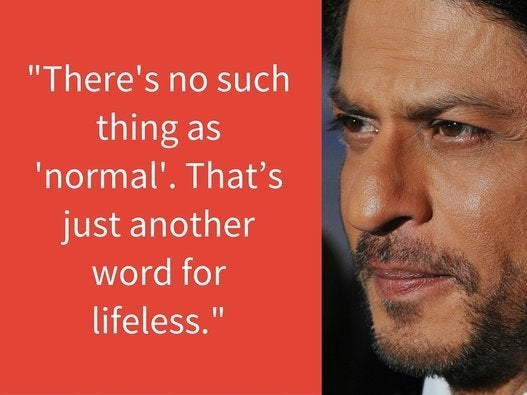 7 Life Lessons By Dr Shah Rukh Khan