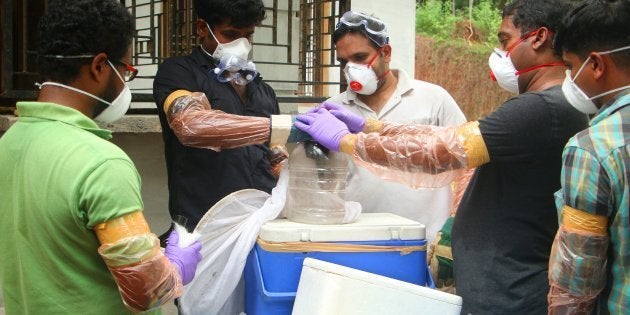 While CNN reported on Tuesday that the Nipah death toll in India rose to 16, researchers at the O'Neill Institute for National and Global Health Law in the US have warned that with cases of human to human transfer in India, there was a huge risk of an epidemic across the world.
According to the report, published in the International Journal of Infectious Diseases, which was led by Daniel Lucey, MD, MPH, a senior scholar at the O'Neill Institute for National and Global Health Law at Georgetown Law, and Halsie Donaldson, MS, a medical student at Georgetown University School of Medicine, that timelines for treatment of Nipah like vaccines, antiviral drugs or immunotherapies need to be accelerated.
Lucey said in a statement, "Immediate enhanced preparation measures should include training on personal protective equipment (PPE), infection prevention and control, diagnostic testing, and clinical management protocols."
The report says that the May discovery of the disease in India "is a bellwether of that potential risk of a Nipah pandemic."
The Nipah Virus, also known as NiV, is transferred to humans from fruit bats.
The World Health Organisation says that the first outbreak of the virus was recorded in 1998 in Malaysia's Kampung Sungai Nipah, after which the virus has been named. This outbreak happened from human contact with pigs that were the hosts of this virus.
Bangladesh saw an outbreak in 2004 after people consumed date palm sap contaminated by fruit bats.
While WHO has said there have been documented cases of the virus transferring from human to human, researchers have warned that the deadly new avatar of the virus seen in India (with most cases being from human to human transfer) and frequent air travel across the world, the virus could rapidly spread around the world.
"Taken together therefore, we anticipate that the risk of undetected outbreaks of Nipah in Bangladesh, and elsewhere in Asia due to either infected travelers or transmission from bats to humans, with associated person-to-person transmission, should be actively anticipated and actions taken in recognition of this threat."
Meanwhile in Kerala, over 1000 people have been allegedly quarantined to spread of the disease, reported Firstpost.