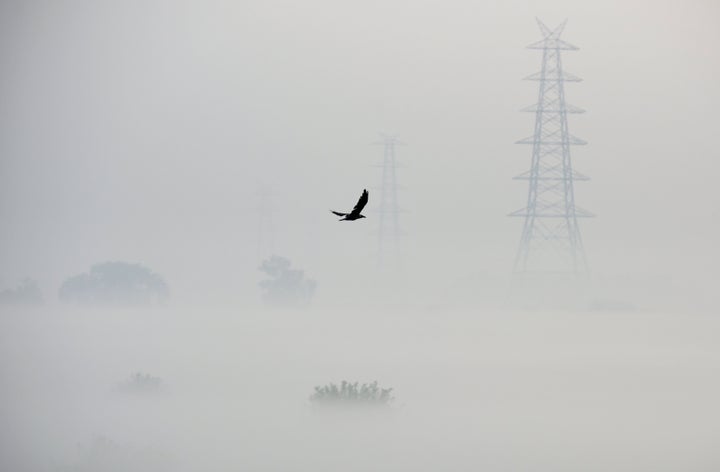 NEW DELHI — Delhi's ruling Aam Aadmi Party organised four days of laser shows in a bid to convince the city's residents to choose life over firecrackers, but the morning after Diwali 2019, the city's air quality was worse than last year; suggesting that nothing can come between the capital city's residents and their headlong quest for communal asphyxiation.
Air pollution in India is measured by the Central Pollution Control Board (CPCB)'s network of monitoring centres scattered across the country. The board assigns an AQI quality score out of a maximum of 500. The higher the AQI score, the worse the air. You can access their database here.
At 7:00 AM on October 28 2019, the Air Quality Index (AQI) at the city's monitoring centre at the Indira Gandhi International airport stood at 389, compared to an AQI reading of 370 recorded at monitoring centre in Bawana in November last year. Just across the city's eastern border in Greater NOIDA, Uttar Pradesh, the AQI stood at 368.
Loni in Ghaziabad had the worst air in the country with an AQI of 404 at 7 AM this morning. By 9 AM, the AQI had improved marginally to 385.
Delhi Versus India
The air quality in Delhi bucked the national trend. Last year, the AQI recorded at Lucknow's Talkatora District Industrial Centre stood at a staggering 430; while the monitoring station at the planetarium complex in Patna, Bihar's capital, city read 416.
Both cities improved this year, with Lucknow recording an AQI of 339 and while the AQI in Patna this morning was 298. To be sure, these readings still correspond to very poor air quality.
At the other end of the spectrum, the air in Kerala's Thiruvananthapuram had a relatively salubrious AQI reading of only 51, an improvement over last year's AQI reading of 64.
Stubble Burning Versus Fire Crackers
This year, can Delhi's elevated pollution levels be linked directly to the bursting of firecrackers?
Air pollution is notoriously hard to pin down to just one factor. To be sure, Delhi's air quality this year began to deteriorate a few days prior to Diwali. Earlier this month, the Central Pollution Control Board reported an increase in instances of stubble burning in the city's neighbouring states.
However pollution levels peaked on the morning after the festival — suggesting firecrackers are the most likely cause.
Popular in the Community