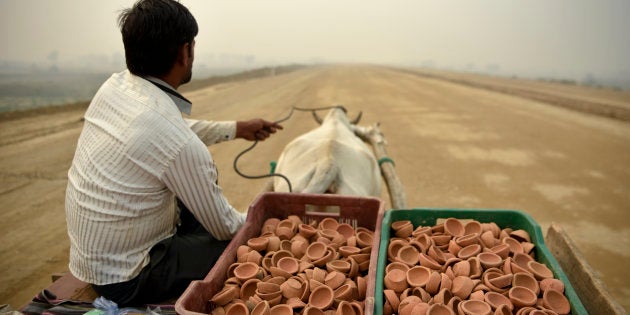 NEW DELHI — The Supreme Court sought to regulate urban India's toxic air pollution crisis by setting two hour windows for bursting crackers this Diwali. Yet, reports suggest that Indians really do care more about annoying their neighbours, frightening animals, and literally blowing up money in the guise of having a good time, over life's more simple pleasures — like breathing.
Reports filtering in the morning after India's most regulated Diwali in recent memory say the Supreme Court's orders were ignored in several places, here are the cities with the worst air according to the Central Pollution Control Board's Air Quality Index. The AQI index assigns a quality score out of a maximum of 500. The higher the AQI score, the worse the air.
Lucknow, Uttar Pradesh: The monitoring centre at Talkatora District Industrial Centre in the capital city of Uttar Pradesh recorded literally the worst air in India this morning with an Air Quality Index score of 430 — categorised as "Severe". The monitoring centre at Lal Bagh reported marginally less awful air, with an AQI score of 421.
Patna, Bihar: The monitoring station at the planetarium complex in Bihar's capital city read 416 — also categorised as severe — on the morning after Diwali. Worryingly, the entire state has only 3 continuously updated air monitoring centres.
Delhi: Delhi-wallas, rejoice. Despite the massive focus on the national capital, the city has only the third worst air in north India (and also the most monitoring centres). This morning, the worst air was recorded by the centre in Bawana — 370, or "Very Poor" on the air quality index.
While other cities across north India recorded AQI scores of between 300 and 350, the air was significantly better in central and southern cities — with with the air in Thiruvananthapuram, Kerala, deemed "satisfactory" with a AQI score of only 64..
Popular in the Community