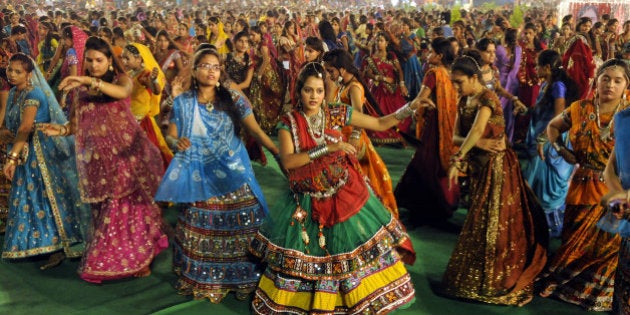 Let's say you are not a Hindu and you still want to attend a garba event because it's fun song-and-dance after all. But if you're in Prime Minister Narendra Modi's home state Gujarat, you may as well put a lid on those plans right away. Because a new diktat issued by the Vishwa Hindu Parishad in the state has banned non-Hindus from taking part in garba festivals.
If you do end up at any of these events despite VHP's warning, you will face the music, or 'gau mutra' to be precise. Ahemdabad Mirror reports: "The Hindu outfit has also announced that if a non-Hindu is caught at a garba venue during Navratri, they will be purified the `Hindu way' (using Ganga jal, gau mutra and vermillion tilak)."
VHP has also 'explained' why they have decided to issue such sanctions on non-Hindus participating in the celebrations. They said that filtering the non-Hindus would keep the women at these celebrations safe. Obviously, the move is based on the belief that Hindu men don't harass women.
So that no one takes them lightly, VHP has also told the media that no non-Hindu can 'slip into' a garba celebration from under the nose of their alert volunteers. And god (the non-Hindu ones) help them if VHP catches the 'infiltrators'. PTI reports: "The right-wing Hindu organisation said its volunteers will keep a close watch at the garba venues across the state to see whether non-Hindus were trying to enter the venues. Vishwa Hindu Parishad (VHP) further said that those Muslims, who still want to enjoy garba, will be given an option to "embrace Hinduism" at the venue."
Apart from making sure that the Hindu women in the garba event are not bothered by non-Hindu men, Gujarat VHP's general secretary Ranchhod Bharwad told reporters that the move will curb attempts of 'love jihad' too. No (garba) dance, no romance, after all!
And how does the VHP intend to tell a Hindu from a non-Hindu? Bharwad explained that won't be difficult since Hindus outshine non-Hindus, thanks to their purity. "Hindus are such enlightened people that they are easy to identify the non-Hindus among them. We will coordinate with the police and seek help from the Hindu public. However, we will be present only at Sheri garba venues and won't be present at Club garbas as they don't represent traditional Hindu garba," he told Ahmedabad Mirror.
However, PTI quotes one Raghuvirsingh Jadeja from the VHP as saying they will have a gau mutra test at the garba venues. He said, "If a person does not apply tilak and hesitates to be sprayed with Gaumutra, he will not be allowed to go inside."
If you don't relish the idea of any kind of mutra (urine) being sprinkled on you, skip that garba event for sure!