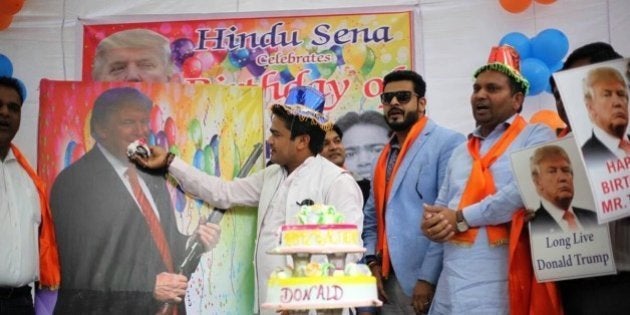 If you have not been living under a rock, you know who Donald Trump is. You may have heard some of his speeches too where he declares that a wall must be built around America to keep Muslims and immigrants away. For most rational individuals, Trump is part meme, part joke, and completely stuff liberal nightmares are made of. Racist, misogynist, liar, caricature—these are the words that are frequently used in the same breath as Trump.
Like some people from across the world, most of us Indians too regard Trump as a ridiculous example of what happens when endless privilege meets endless ignorance.
No, we don't particularly relish the idea of celebrating Trump's birthday, but we must have wondered what kind of people celebrate the birth of this strange piece of work? Today, I was presented the opportunity of finding that out and decided to not miss it for anything.
That's how I found myself among a mob of people celebrating Donald Trump's 70th birthday in New Delhi, 14,000 kilometres away from the Republican presidential candidate's home.
Two weeks ago, when I was talking to Vishnu Gupta, National President of a fringe right-wing organisation, regarding their plans to hold an armed training camp in New Delhi to "fight against Islamic terrorism," he seemed more upbeat about a party. So what was this party that got Gupta more excited that the prospect of shooting dolls in skull cups? Donald Trump's birthday, he told me.
"Didi, don't tell anyone now but we are planning to celebrate Trump ji's 70th birthday. We will get a big cake," he said, emphasizing the word 'big'. "Will it be 70 kilograms, Vishnu ji?" I asked. "Yes Didi," he responded.
As promised, the Hindu Sena leader sent me a WhatsApp invite for Trump's 'birthday party' that he was hosting at Jantar Mantar. "Please come and celebrate with us," he added.
This was the first time I was invited to a celebrity's birthday, so what if the man of the hour wasn't present himself?
By the time I managed to reach the venue, the grand celebration had already begun. Gupta, who was arrested last year for allegedly making a "false complaint" about beef being served at Kerala House, was wearing a blue coloured party hat. He also looked very pleased celebrating the birthday of a man, reviled by most, and who had no clue that Gupta existed.
He was surrounded by some ten workers, all of them wearing saffron coloured mufflers around their neck. The more adventurous ones wore party hats too. A banner in the background read, "Hindu Sena celebrates birthday of Donald Trump."
The little tent was filled with blue and orange balloons and there was a three tier cake placed on the table. To my disappointment, it was only a seven-kilogram cake, not seventy.
But what caught everyone's attention was a large cut out of Trump, holding a gun.
After observing a minute's silence for the victims of last weekend's shooting at a gay nightclub in Orlando, Florida, the leaders cut the cake, singing the 'Happy Birthday' song, which sounded nothing like the one you have been hearing at birthday parties: "Happy Birthday Trump ji, Trump ji Zindabaad," the right-wing leaders shouted, scarring every memory I had of birthday songs.
As soon as the cake was cut, someone from the crowd asked Gupta to 'feed' Trump. "Trump ji ko cake khilao." Gupta, turned towards Trump ji - the menacing gun wielding cut-out - and smeared his face with cake. What is more fearful? A gun-holding bigot or a gun-holding bigot with a big blob of vanilla cream on his face? I am still figuring out.
"Donald Trump is speaking the entire world's mann ki baat against Islamic terror and we support it," he announced. Prime Minister Modi's may want to cringe at the insinuation, but Gupta seemed mighty pleased to have brought his 'idols' together in one sentence.
In what must have been a clever tribute to Trump's ridiculousness, Gupta spouted one gem after another, nearly threatening to pale the Republican politician's ignorance with his own.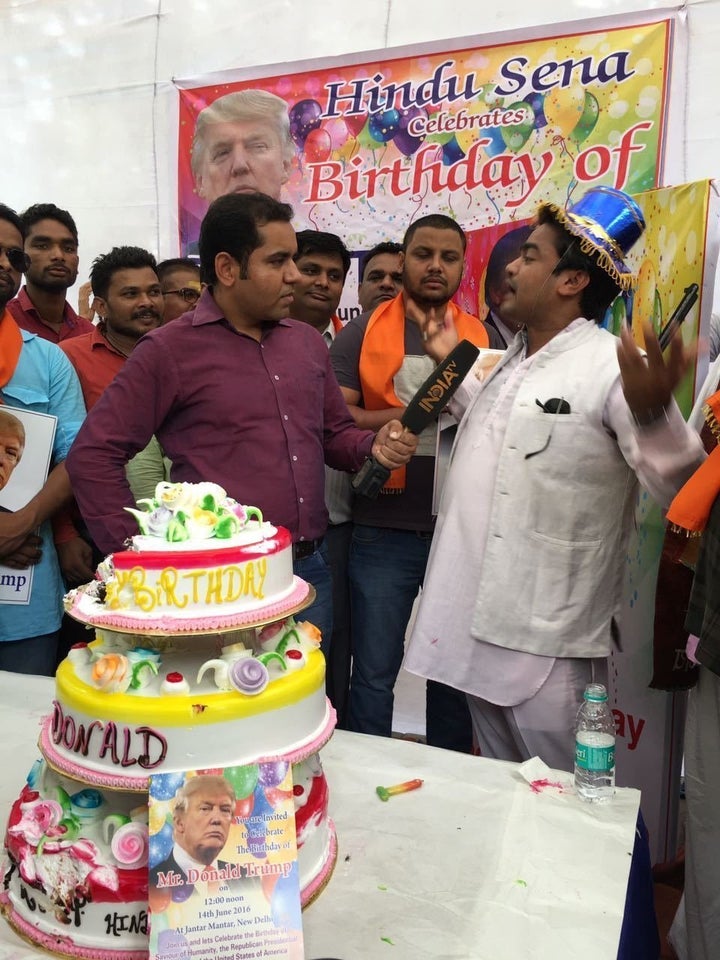 "Trump is about to become the king of the world," Gupta said. "How will we attack Pakistan without his support?"
"So, are you saying you want Trump to remove Islamic terrorism with that gun he is holding? What about gun control laws?" someone from the crowd asked. "No. I don't know anything about gun control," Gupta responded.
"I found this picture on Google, and I really liked it. So we decided to get a big print out of it and keep it here," he said.
The crowd burst into laughter, but Gupta continued. "If Trump supports India, Prime Minister Modi can go to Pakistan and kill all the terrorists there, just like how the US killed Osama," he said.
When asked about the support he was getting from other leaders or political parties, he said that no political leader was ready to speak against Trump because they are afraid of him. "The BJP used to speak against Islamic terror, but after coming to power it has also become a 'secular party'."
Gupta also said they plan to organise events in support of the New York businessman outside the American embassy in New Delhi and JNU campus soon.
"If I ever meet Trump, I will ask him to remove Islamic terrorism from India too. I am sure if he reads news and he knows that we are praying for his win," Gupta said.
Earlier this month, the Hindu Sena leaders conducted prayers in the capital's Jantar Mantar to show support for Donald Trump and pray for his win.
While Gupta mentioned 'Islamic terrorism' about fifty times, a few steps ahead of this celebration venue, The Delhi University Teachers Association (DUTA) staged a protest against the University Grants Commission (UGC). "UGC, down down," the sloganeering continued.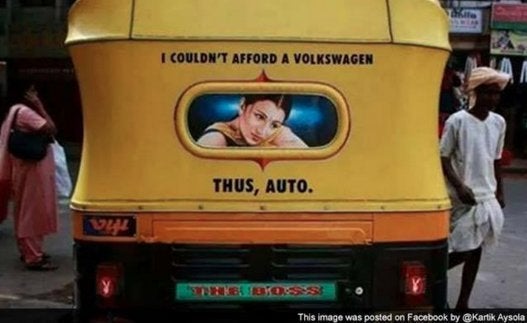 Bumper Stickers In India
Popular in the Community