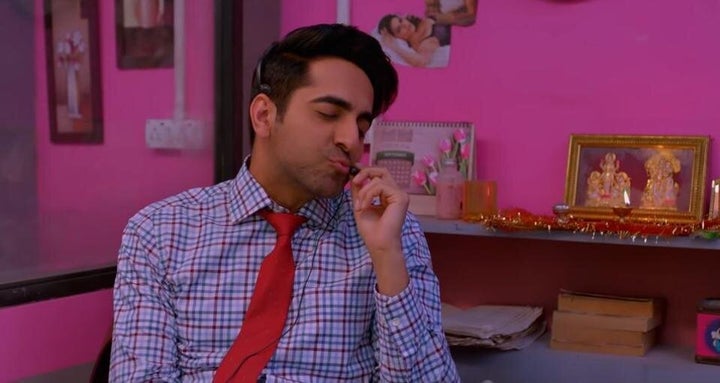 From its title to the many sequences that build the film's narrative to the several references to Hindi film songs, the most striking aspect of Raaj Shaandilyaa's Dream Girl is its self-reflexiveness, a cinematic trope that thrives on drawing attention to the medium, making the viewer aware that they're watching a film.
In a scene where a brass band is playing celebratory tunes, the song is Ooh La La from The Dirty Picture before it switches to Baby Doll from Ragini MMS, both films banked by Ekta Kapoor, also the producer of Dream Girl.
A heartbroken character gets Tadap Tadap Ke from Hum Dil De Chuke Sanam as background score while his romantic longings are tuned to Kuch Kuch Hota Hai. When a character touches Khurrana's feet (when he's playing Sita in the Ram Leela stage play), he says, "Ayushman Bhava" with an emphasis on his own name. When he gets into a fight with his fiancé and she strides off in an autorickshaw, the back of the vehicle says, "Hum Aapke Hai Koun." Abhishek Banerjee, who plays Mahinder, inserts the "Vicky pleej" dialogue from Stree in a different context in Dream Girl.
Ayushmann's character's biggest draw in the film itself is his ability to act. His performance is about putting up a performance. So the aforementioned tropes are well-thought creative decisions that help create a plausible universe for a film that rests on the idea of make-believe itself.
A young man without a job, Khurrana's Karam joins a seedy call center that employs women to sweet-talk lonely men (and women) mostly during nocturnal hours. How him? He can convincingly impersonate a woman's voice (he pretends to be 'Pooja'), sound sensual and even comes up with inventive one-liners to keep the repartee rolling.
His clientele includes a drunk poet-cop (Vijay Raaz) with domestic issues, a young Haryanvi dude who looks like he was plucked out of a Tik Tok video, a man-hating woman journalist (Nidhi Bisht), his fiancé's younger brother (Abhishek Banerjee), their domestic help. Once Karam's shady professional life begins percolating into his personal narrative, things go topsy-turvy throwing into question just how long he can maintain the facade.
The film's second half is essentially him trying to untangle the mess, which ironically, becomes a mess in itself.
Dream Girl's strongest part isn't its story or its contrived messaging but the dialogues and how rooted they are in the film's milieu. Everytime the film's pace drops, a new set-up, which may not necessarily take the story forward as much as contribute to the existing chaos, emerges and gets the laughs. The camaraderie between Manjot Singh's Smilie and Khurrana's Karam is gentle and organic, reminiscent of lovingly nurtured old friendships, one that gives the film its emotional anchor. Both actors feed off each other's terrific comic timing and are delightful to watch. The jokes land and the film moves around in a brisk pace until the curse of the second half strikes, as it does, to many a good film.
As the novelty of Dream Girl's premise wears off, the dialogues sound repetitive, coming across as minor variations of the same punchline. Khurrana's romantic track with Nushrat Bharucha's Mahi is half-heartedly written and is the least convincing part of the story. He lowkey stalks her and over the next few montages, they're shown to be engaged. Even in the film's crazy meta universe, the love story feels disingenuous, offering nothing worth rooting for. A couple of supporting characters appear as if recycled from previous Khurrana films, like the daadi who likes her daaru.
However, it's the film's overwrought, Priyadarshan-meets-David-Dhawan style climax that turns into the film's biggest undoing. By the time the film reaches its end, there are too many characters, too many subplots for one to care about. Despite its two hour running time, the film begins to feel longer as multiple plotlines overlap, creating a laborious comedy of errors.
Here, the humour works, but only sporadically.
The scenes where Annu Kapoor switches religion for the sake of his quasi-imaginary lover are, sure, hilarious but are overstretched and milked to a point of being annoying and exploitative. This, despite the fact that the film doesn't stereotype one community but satirises a bunch of them including a scene that calls out sexist tropes in the Mahabharata.
Dream Girl works best when it just wants to be a silly film with dark satirical undertones. But when it attempts to pass a broad commentary on loneliness ("Everyone is looking for their own Pooja"), the results aren't very flattering. The director doesn't have to spell out what the film is about. The very idea of a mainstream hero playing a part where he isn't bashing up baddies or saving the heroine but is playing a role such as Dream Girl is subversive and challenges existing notions of how masculinity is depicted in Hindi cinema.
And ultimately, despite a terrific ensemble including Vijay Raaz and Rajesh Sharma, the film belongs to one man ― Ayushmann Khurrana. Fluidly switching between his two identities of Pooja and Karam and displaying a carnival of expressions, Khurrana disappears into the two characters and appears to be having tremendous fun while he's at it. For that terrific performance alone, where even the female voice is his, Dream Girl warrants a trip to the cinema.
Popular in the Community