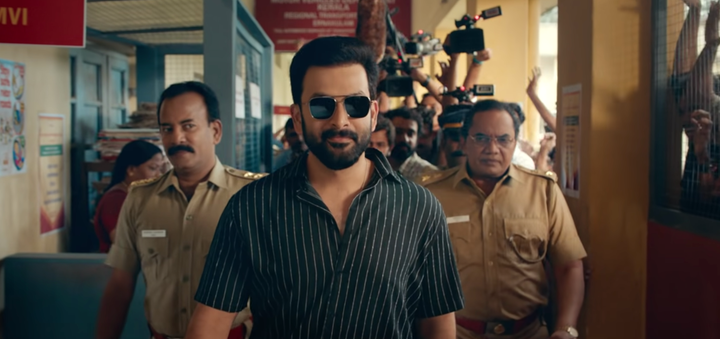 During a promotional interview of Driving Licence, director Lal Jr had revealed that writer Sachi had originally written the role of the male lead, who plays a superstar actor, keeping Mammootty in mind. For reasons best known to Mammootty, he declined, and the role went to Prithviraj. He plays superstar Hareendran in the film.
Interestingly Hareendran's character has sly biographical references to Mammootty — like the star is known to often do, the introduction scene shows Hareendran manically driving the car around with a petrified driver in the backseat who requested him meekly to slow down.
t's also how the writer projects Hareendran as "tough on the outside but soft" on the inside by those around him. Hareendran is also egoistic, a family man and crazy about cars and acting. At the other end is superstar's die-hard fan, motor inspector Kuruvila, who watches his films a dozen times, religiously keeps a file with all the movie tickets and has his cut-outs plastered all over the house. Driving License also has glimpses of Shah Rukh Khan's Fan — how a fan's love for the actor soon turns into an ugly battle of egos with an unpredictable shift in power play.
Driving License opens with the first day first show of a superstar Hareendran film at a single screen theatre. There are massive cut-outs of him and the drumbeats, cheer-leaders and ticket sellers introduce the audience to the fan—Kuruvila. Hareendran is introduced through the movie inside the movie. His scruffy beard and dark sunglasses make him unrecognisable in the introduction.
The characters of fan and superstar are well crafted.
Hareendran is portrayed as a 'star' who is almost sensitive and down-to-earth in real life. He is a star who longs for stability back home—he is apologetic about spending less time with his wife and is anxious about their trip to US for a medical check-up. Hareendran's interactions with his childhood friend, an MLA, is also warm and relatable.
When the friend recommends that he meets Kuruvila, Hareendran isn't very enthusiastic. However, he later agrees. Hareendran's exasperated response seems like that of a man who values privacy. The scene where Hareendran comes face to face with his biggest fan, which eventually turns into an ugly showdown is carefully written, deftly balancing the power dynamics between the two. While the sympathies of the writer or director is concentrated on the fan, but the viewer feels empathetic towards Hareendran.
Though the producer (Lalu Alex) and director of the film shown in Driving Licence might come across as familiar, they aren't caricatured. Some of the touches in the movie are clever—like the producer who bows reverentially before Hareendran's driver or how they try to arm-twist the superstar into speaking a few lines in the movie for an advertisement for a hospital. Another superstar Badran is shown as Hareendran's competitor. Badran is hysterical, but behind in the race and ropes in an astrologer to make things difficult for his rival. It's through Badran's character that the writer perhaps puts a few inside details about the superstar rivalries in Malayalam cinema.
He talks about how Hareendran gets better theatres as opposed to the shoddy ones he gets. Badran is an insecure, ageing caricature of a superstar who struggles to do action scenes with his leg cramps, awful dialogue delivery and has paid fan clubs. There are references to Association of Malayalam Movie Artists (AMMA) with Idavela Babu playing himself and Innocent making an appearance through a phone call.
The core of the film — the fan-superstar dynamic — is well crafted, but required a lot more depth. Hareendran acknowledges the existence of fan clubs, but tries to cover up their mob mentality. "Why do you mock fans? I am also a fan of Mammootty, Mohanlal and Amitabh Bachchan. I can't deny their importance in my life," he says in the film. This dialogue seems a bit misplaced considering it comes immediately after a horrifying scene of fan mob violence.
What it gets right though is the fragile ego battles between men—between the powerful and the less powerful. About how a man, however big or small his economic or social status, cannot be dismissed in his right to seek vengeance when his self-respect gets dented. It's interesting how in spite of locking horns with each other due to circumstances beyond their control, the fan in Kuruvila never ceases to be one.
All Kuruvila ever wanted was an apology, when that never comes, he keeps the fanboy in him aside and thinks like a normal sane self-respecting human being and that's when the conflicts arise. But it has to be said that although Hareendran is needlessly dragged into the battle, it never stops him from exercising his privileges. He uses his privilege, star power and ego craftily to win his game, while Kuruvila holds on to his own little position of power to get even with him.
There are two women in the story, and both are unfortunately caricatures. There is Hareendran's perfectly turned out wife who gets a precious few lines. Kuruvila's wife is portrayed as a greedy, foolish woman.
The film eventually belongs to Prithviraj Sukumaran who completely owns Hareendran. He brings a sense of cockiness to the character. It's a role which requires a star and Prithviraj is an out and out star in every frame. Suraj though commendable doesn't quite get it right in the first few scenes—he looks awkward and doesn't quite seem like the diehard fan. He seems to find his groove later in the film. Driving License isn't perfect, but it achieves what it sets out to achieve—make superstars look flawed and human.