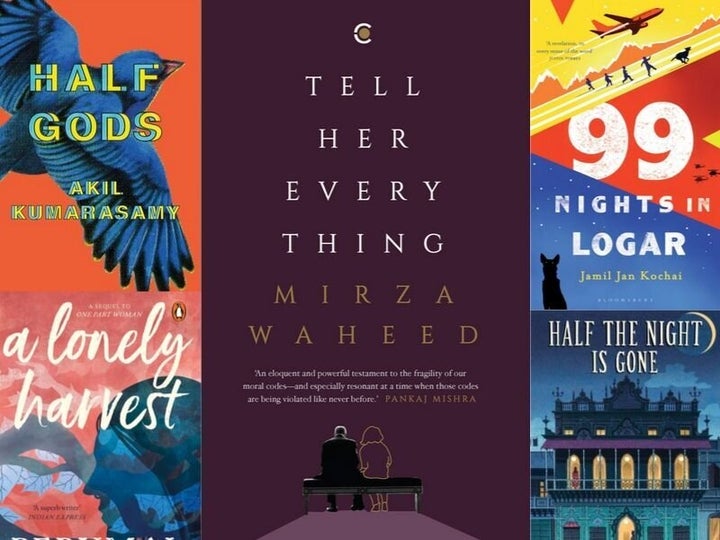 Last year, when the DSC Prize for South Asian Literature announced its longlist, this writer had wondered how the award could stay relevant—it had halved its prize money to $25,000 a year earlier, and its distinction as the richest literary award in India (and South Asia) had been taken over by the JCB Prize. Would the arrival of new prizes, those literary stamps of approval, nudge — if not necessarily entirely displace — the DSC Prize, which is now in its ninth year, from the pedestal we've placed it on?
While the 2018 longlist had quite a few familiar faces, including heavyweights such as Arundhati Roy, Mohsin Hamid and Kamila Shamsie, the prize finally went to Jayant Kaikini and his translator Tejaswini Niranjana for the short story collection, No Presents Please: Mumbai Stories.
On Thursday evening, the longlist for the 2019 DSC Prize was announced at Oxford Bookstore, New Delhi, and a quick look at the numbers reveals that, one year short of its 10 anniversary, the DSC Prize is alive and mostly well.
What the jury said
The 15-strong longlist features seven women writers, seven debut works, and three works in translation (from three Indian languages: Malayalam, Tamil and Bengali). The Prize, administered by the South Asian Literature Prize & Events Trust, received a record number of 90 eligible entries this year (to its 88 last year) from 42 publishers and 55 imprints across the globe. The five-member international jury panel—chaired by Harish Trivedi, and also featuring Jeremy Tambling, Kunda Dixit, Carmen Wickramagamage, and Rifat Munim—then funneled these into the resultant fifteen.
Of the list—which he thought "diverse and inclusive both intrinsically and by design"—chair of judges, Trivedi, said: "Some of the novels we read narrated the nation. Some others explored individual subjectivities and yet aligned them to a broader social and political reality. Some grabbed us by the throat not so much for what they were saying but for how they said it. Many were set in multiple time-spans and international locations."
The linguistic and gender breakdown aside, he further noted the geographical breadth of the Prize —which, although focuses on South Asian fiction writing, is distinctive in that writers of any nationality or ethnicity are eligible, as long as the writing is about South Asia and its people. So the longlist comprises writers of Indian, Pakistani, Bangladeshi, Afghan and Sri Lankan origin, alongside an American writer with no ethnic connection to South Asia whatsoever. "Apparently, South Asia is to be found all over the globe and comes in all colours and complexions," he added. (The Prize defines South Asia as Afghanistan, Bangladesh, Bhutan, India, Maldives, Myanmar, Nepal, Pakistan and Sri Lanka.)
Convergences, divergences, and surprises
There are three—and a half!—overlapping titles between the 2019 JCB and DSC Prize longlists: Madhuri Vijay's The Far Field, Manoranjan Byapari's There's Gunpowder in the Air (translated from Bengali by Arunava Sinha), Rajkamal Jha's The City and the Sea, and Perumal Murugan's A Lonely Harvest (translated from Tamil by Aniruddhan Vasudevan), one half of the "twin sequels" to his One Part Woman, both of which are jointly on the JCB longlist. (Murugan's Poonachi was also on last year's JCB and DSC Prize lists.)
The connection between the 2019 DSC Prize and JCB Prize longlists aside, this year's DSC Prize longlist also features two titles from last year's JCB Prize shortlist: Amitabha Bagchi's Half the Night is Gone and Shubhangi Swarup's Latitudes of Longing. While it was slightly surprising to see two titles that did the rounds on the literary prize circuit this time last year, it by no means undercuts or takes away from their inclusion on this list. On the contrary, it only serves to strengthen these works in our literary imagination — and is perhaps a comment on their longevity.
These commonalities and convergences aside, there were notable differences and divergences too—between prizes, but also prizing years. Seven of fifteen titles on this longlist are debuts (37/90 entries)—and yet, we don't see a single overlap with the Shakti Bhatt First Book shortlist (of five instead of the usual six) this year. Where last year's DSC Prize longlist was home to lots of literary heavyweights—and writers and works consecrated by international literary prizes—it's heartening and refreshing to see this year's list circumventing the usual thresholds and canons of prizing and charting newer territories.
In a publishing year where Akil Kumarasamy's Half Gods, Madhuri Vijay's The Far Field, Devi S. Laskar's The Atlas of Reds and Blues, Fatima Bhutto's The Runaways and Jamil Jan Kochai's 99 Nights in Logar (all on this longlist) were first published outside of India, or where their international and Indian publication dates ran in parallel, and in a prizing year where south Asian writers and their works largely slipped under the radar of international prize lists—which gestures to the larger issue of marketing, publishing, publicizing, and translating South Asian writing in and for the global literary marketplace—the 2019 DSC Prize does well to maintain equilibrium between the "centres" and "peripheries", so to speak—and to ensure those writers, publishers, genders, genres, geographical regions considered underdogs stand a chance, too. For example, this means that a small press in India (Zubaan Books) and a small press in the US (Counterpoint Press) can comfortably share space on this list for Sadia Abbas's The Empty Room and Devi S. Laskar's The Atlas of Reds and Blues, respectively, and that at least ten publishers can celebrate.
You win some, you lose some
As with any list, there's a fair share of eyebrow-raising omissions and inclusions here: it's noteworthy that the entrance window may have left some titles ineligible for this edition of the Prize. The jury of five will cull the current longlist into a shortlist of 5-6 books, which will be announced on November 6, 2019 at the London School of Economics (LSE). By rotation, the winner is announced in a different South Asian country each year, and the 2019 ceremony will be held on December 16, 2019 at the IME Nepal Literature Festival in Pokhara, Nepal.
While it is inevitable that the DSC will henceforth be read side-by-side with the JCB, it's worth mentioning that while they may take disparate and divergent routes, they're rooted in the same spirit: prizing the power of words.
Here's the full longlist of 15 books for the 2019 DSC Prize for South Asian Literature:
1. Akil Kumarasamy: Half Gods (Farrar, Straus & Giroux, USA)
2. Amitabha Bagchi: Half the Night is Gone (Juggernaut Books, India)
3. Devi S. Laskar: The Atlas of Reds and Blues (Counterpoint Press, USA)
4. Fatima Bhutto: The Runaways (Viking, Penguin Random House, India, and Viking, Penguin Random House, UK)
5. Jamil Jan Kochai: 99 Nights in Logar (Bloomsbury Circus, Bloomsbury, India & UK, and Viking, Penguin Random House, USA)
6. Madhuri Vijay: The Far Field (Grove Press, Grove Atlantic, USA)
7. Manoranjan Byapari: There's Gunpowder in the Air (Translated by Arunava Sinha, Eka, Amazon Westland, India)
8. Mirza Waheed: Tell Her Everything (Context, Amazon Westland, India)
9. Nadeem Zaman: In the Time of the Others (Picador, Pan Macmillan, India)
10. Perumal Murugan: A Lonely Harvest (Translated by Aniruddhan Vasudevan, Penguin Books, Penguin Random House, India)
11. Rajkamal Jha: The City and the Sea (Hamish Hamilton, Penguin Random House, India)
12. Sadia Abbas: The Empty Room (Zubaan Publishers, India)
13. Shubhangi Swarup: Latitudes of Longing (HarperCollins, HarperCollins, India)
14. T. D. Ramakrishnan: Sugandhi alias Andal Devanayaki (Translated by Priya K. Nair, Harper Perennial, HarperCollins, India)
15. Tova Reich: Mother India (Macmillan, Pan Macmillan, India)