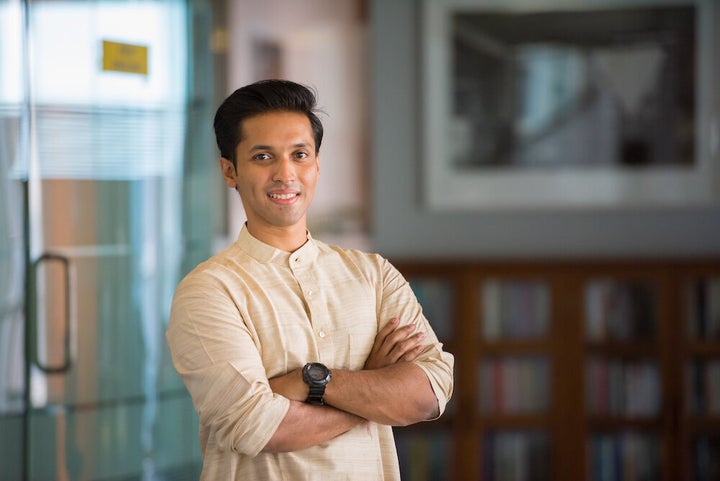 Durjoy Datta cringes when I tell him I want to know more about one of the characters in his latest novel. "You've actually read it?" he asks sheepishly. "It's not one of my best works. Generally my books are unreadable after a couple of months. Wish I Could Tell You was unreadable after the first day. It was unreadable even as I was writing it."
Instead, he urges me to pick up one of his earlier books, The Boy Who Loved, published in 2017, a novel he's not "yet embarrassed about".
"Maybe it'll change the tone of the article you write," he says, flashing his trademark wide smile.
We're sitting in the coffee shop of a five-star hotel in Central Delhi, hours before the launch of Wish I Could Tell You at the Oxford Bookstore in Connaught Place. His book just became available to readers that morning, with Delhi as the first stop in a multi-city book tour, but Datta seems relaxed despite downing two espressos in quick succession. With 18 bestselling novels and hundreds of events thronged by adoring fans behind him, he has the drill down pat. It's only by the eighth city, he says, that he feels bored.
Datta burst onto the literary scene in 2008 with his wildly successful debut novel, Of Course I Love You…Till I Find Someone Better, co-written with Maanvi Ahuja. He joined a wave of first-time authors such as Ravinder Singh and Preeti Shenoy, whose books were hungrily lapped up by a huge new market of readers created by the Chetan Bhagat phenomenon. These books engaged directly with the anxieties and aspirations of a generation in flux—strongly connected to their families but also hungry to break out on their own. The characters in these novels, like their real-life readers, wanted to ace the education system, conquer the job market, and most crucially, navigate a whole new world of dating and sex. Romance was suddenly in demand, the more odds-defying, troubled and sachharine-sexy the better.
"Very few of us in India grow up being told of what fun it is to read a book, so to discover it for yourself is a big shock to the senses," says journalist and literary critic Supriya Nair. "I think that accounts for the love and the loyalty that many readers feel towards this genre, or any genre that first introduced them to that pleasure."
Datta was still in the final year of college at the time of his debut, but he had everything going for him—an iconic lead couple (the characters of Deb and Avantika from his first book recur in several of his novels), prolific pace of writing (he would churn out a new novel every 7-8 months), fondness for writing sex scenes and, as his publishers soon discovered, good old-fashioned physical allure. With legions of young women snapping up his books—starry-eyed not just about Datta's writing but also his perfect coif, snug t-shirts, signature dimples and easy charm—the author-as-celebrity was refashioned into the author-as-heartthrob.
Since then, his books have sold over 2.5 million copies and he's racked up over a million followers on Twitter and Instagram, but the 33-year-old, like his books, remains accessible and down-to-earth— as self-deprecating in person as in his Instagram captions. The writer is acutely aware of what his fame means, and where it comes from, but 11 years after his first book, he's trying to push its boundaries without alienating his fans. He's willing to take some risks, but is practical enough to not deviate too far from the formula that's worked for him till now.
Love as a garnish
The success of Datta, Bhagat and others had set off a race among publishers to find more and more authors who could produce the next big romance novel. For many first-generation English speakers in particular, these affordable, accessible novels offered an entry into the world of reading. It was a market waiting to be tapped.
"I wouldn't go so far as to say that all these writers respect their readers; in fact, I think many of them manipulate them quite unapologetically," says Nair. "But I think they do put their readers first in some vital way that other writers don't. They respect their time, their aspirations, and, I suppose, what they think of as the limits of those aspirations."
"Very few of us in India grow up being told of what fun it is to read a book, so to discover it for yourself is a big shock to the senses. I think that accounts for the love and the loyalty that many readers feel towards this genre"
Datta says that for the first 7-8 years, he thought his books worked because they were "relatable". "But that's just because everyone told me that. My books have stopped being relatable now. The last one, The Perfect Us, was about characters who are 34 years old and trying to have a baby—that's completely out of my reader age. The ones before that were written from the POV of a 14-year-old boy —again, not my reader base."
Vaishali Mathur, who has been Datta's editor at Penguin Random House India since 2012, agrees that his writing has changed significantly – for the better, she says – over the years. "I feel that trying different genres and experimenting with the way you tell a story is the mark of a maturing writer and without it, it's impossible to sustain your readers' interest."
The Boy Who Loved, the novel Datta recommended to me, certainly seems far removed from some of his early books, which were marked by weak storylines and cheesy titles (She Broke Up I Didn't!... I Just Kissed Someone Else and Oh Yes! I'm Single... And So Is My Girlfriend, to name a couple). The epistolary novel, written in the form of diary entries by its protagonist Raghu, is ostensibly a love story, but at its core traces a suicidal 14-year-old boy's painful realisation of the ugly bigotry and violence embedded in his own family. There are plenty of YA fiction tropes on offer, the writer's admitted admiration for John Greene clearly coming through, but Datta holds back nothing in painting a devastating, morbidly dark portrait of the unrelenting jingoism, casteism, sexism, and most prominently, religious hatred, of the conservative middle-class Indian family. It's often too bleak and hopeless, and doesn't always hold up, particularly in its final pages, but it would take a particularly uncharitable reader to dismiss the novel as romantic fluff – the least interesting parts of The Boy Who Loved, in fact, are the ones that try to tell a love story.
Datta's latest, Wish I Could Tell You, similarly tries to tackle themes far beyond romance, although, true to his warning to me, to not much success. The slim novel features characters that don't hold much depth and a narrative that doesn't tie together. But through the story of two employees of a crowd-funding enterprise, Datta attempts to discuss Twitter trolling, the perils of virality and 2019's most polarising and exhausting online debate: cancel culture. The love story could well be incidental.
Datta seems like he's tired of the boy-meets-girl routine but is also acutely aware of his marketability as a romance novelist. He admitted in a recent interview that he writes what he actually wants in his newer books and then adds the love story "as a garnish" in the last few drafts. "I find it difficult to tell an interesting story just on the back of romance," he tells me. "There are books that do that well but I don't find those books as interesting as before."
But over the past decade, Datta's readers have looked to his books for romantic escape (even if tinged with his signature dark humour) and, as Mathur puts it, "to understand what it often means to be in a relationship". Are they ready for such a heavy dose of reality in their fiction? And more importantly, a departure from one of the things Datta became known for – generous helpings of racy sex? When you've got your writing down to a formula, how much will your readers appreciate experimentation?
"Datta seems like he's tired of the boy-meets-girl routine but is also acutely aware of his marketability as a romance novelist."
'Not-a-really-durjoy-type-book-but-still-his book'
"This book is very depressing. One may become unhappy at the end. Nothing good happens to the characters," begins the highest-rated review on Amazon for The Boy Who Loved. "I don't feel that this book is written by the current Durjoy. Somehow I feel that Durjoy had gone 4-5 years back," goes another for The Perfect Us. One reader sums up their assessment of his latest novel with a succinct "couldn't connect...the story telling is not Durjoy way".
Yet plenty of loyalists stay on, enthralled by Datta's latest offerings, ready to go along for the ride – "A beautiful not-a-really-durjoy-type-book-but-still-his book", "a totally different genre book...brilliant concept", and in a distillation of the emotional nakedness that the genre encourages, "Durjoy what have I done .... I've never felt multiple emotions like this ever, there were times when I laughed, when I cried, kept the book aside cause I could not bear to read ahead but picked it up the second instant."
"I genuinely believe that a high percentage of literary fiction is absolutely trash. So many literary books are so boring that you can't get through them no matter how many glowing reviews they have"
With relatively short turnaround times between the germination of an idea and publication, many commercial fiction writers such as Datta are able to attempt something that's more difficult for authors of literary fiction – writing a novel that represents its reader's daily and immediate realities in a country that is changing faster than you can say Tik-Tok. The question of success lies in how well they're able to pull it off.
Despite the thick, prickly wall between literary and commercial fiction in publishing, Datta remains unperturbed by the differential degrees of respect accorded to the genres. "I genuinely believe that a high percentage of literary fiction is absolutely trash. So many literary books are so boring that you can't get through them no matter how many glowing reviews they have."
Yet he reads widely across genres, including literary fiction, often to aid the writing of his own books.
"I try to mimic the language of those writers and I end up with whatever I end up," he laughs. Unlike his fellow romance novelist, Ravinder Singh, who famously did not read books until his first novel was published, Datta grew up with authors such as Enid Blyton, Roald Dahl, Neil Gaiman, John Grisham and Stephen King. He holds up the last as an example of the fallacy of genre divides – "how do you slot him?"
Whose image is it anyway?
Datta is a pragmatic man, shorn of authorial vanity and sharply aware of the importance of building and managing an image. In early 2016, at the peak of his popularity, particularly among female readers who couldn't get enough of him, the writer revealed to his sizable Twitter following that he had a girlfriend of many years and was planning to get married to her. Instead of sweeping up the remains of broken hearts, he got fans involved, asking them to tweet at her, sharing a "live" formal proposal that went viral. It was over the top, aspirational – hundreds of women tagged their partners nudging them to make such grand gestures – and on brand. Even if demands that his followers "bully" her into saying 'yes' might veer more towards the creepy than romantic.
In the four years since, the bestselling author (and his Instagram feed) has transitioned from heartthrob to loving husband and doting father. His occasional solo photos still elicit plenty of thirsty comments, usually replied to with a disarming emoji, but the admiration is mostly reserved for the plentitude of baby photos.
"Even people who know me sometimes think that this is planned. That I'm making these subtle changes to my personality to still be relevant," he laughs.
Despite the breakout success of his novels over a decade ago, Datta has remained cautious about relying on it entirely, having often spoken frankly about how difficult it is even for most bestselling writers in India to give up their day job.
"The way people approach writing is the most foolish approach I have ever seen anyone take towards a career," he says. "An aspiring writer will be like 'I just want to follow my passion'. I want to ask them if they know how much a writer earns?"
Datta finished a management degree even while writing his novels and worked with American Express until he reached a point where the royalties from his books outstripped his salary. After quitting in 2011, he established a publishing house with his friend and fellow commercial novelist, Sachin Garg, but stepped back after a few years, worried that they were stagnating.
He's aware of how easily the market for his books can shift, especially since he's slowed down his output after becoming a stay-at-home dad and moving to Dubai, where his wife flies with an airline. The demand from publishers for campus romances has also toned down from when the genre first exploded, even though established authors continue to remain popular with readers and publishers alike.
"I went to a distributor and said I'm starting a publishing house," he remembers. "And there was a book cover in front of us, and he looked at it and said 'yeh toh bilkul greeting card jaise dikhta hai...sir, greeting cards bhi ek time pe bahut bikte thhe, aur phir woh khatam ho gaye (this looks exactly like a greeting card. They used to sell lots also once, but that's over now).' And I was like 'fuck, that's true'. It's not a perfect analogy but I keep thinking about it every time I write a book. That I can easily fall through."
He points out that the same crop of writers continue to occupy the top tier in romance – "It's been 10 years and there are the same 3-4 authors" – but is not overly concerned about a tapering of the market.
"I think most of the fault lies with us that we haven't written a cracker of a book that would generate 30% extra sales. And it's not that I have to do that. Even if Ravinder does it, there will be a trickle-down effect and I'll reap the benefits of that as well. His next book will come out in two years. In that time, three of mine would have come out," he laughs. "It's the perfect opportunity to swoop in."
Overrun at Oxford
An hour-and-a-half after our chat, when I arrive at the Oxford Bookstore for the launch of his book, it's fuller than I have ever seen it. People are standing on chairs, rivulets of sweat are running streaks down what were once immaculately made-up faces, and a wall of bookshelves that has been set up as a protective barrier next to the stage is in danger of being toppled over.
A trio of shy teenagers tell me they've come from an engineering college to see Datta but don't want their photos taken because their parents don't know where they are. A woman, irritated by her less-than-ideal photo angle, asks her boyfriend to hoist her up when Datta gets on to the stage. "I'm a blogger, it's my job," she says, adding, "wait till you see him, he's so hot."
As Datta's arrival is met with excited roars of "aa gaya, aa gaya", 20-year-old Shweta tells me that reading one of his novels in the ninth grade was how she realised she liked romance. She thinks Bhagat is overrated and can't remember anything from the Ravinder Singh novel she read. "Durjoy is my favourite," she smiles, already turning away to dive into the frenzy behind her. It's her first time at a Durjoy Datta event and she isn't going to lose her chance for a photo and an autograph.
As I make my way out of the store, the host asks an audience member what their favourite Datta novel is.
"What's wrong with you guys?" Datta says on hearing the response, feigning exaggerated disgust as the audience roars their approval at the choice of book, "You liked it? It's such a terrible book."
The cheers get even louder as I exit.