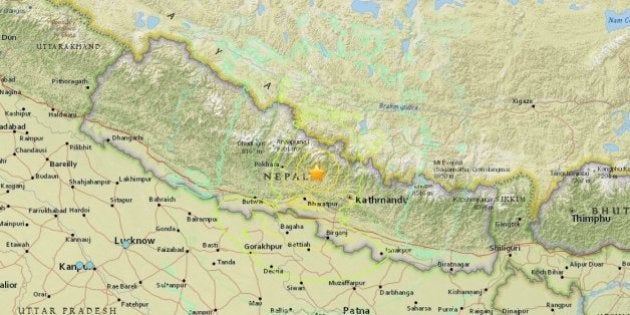 An earthquake measuring 7.9 on the Ritcher Scale struck Nepal Saturday morning at 11:40am, causing widespread damage to buildings and infrastructure. News channels are reporting that an avalanche has struck the Everest basecamp, although details are as yet unknown.
Reuters reported more than 758 people dead by Saturday evening.
India has dispatched supplies and assistance from the Hindon Air Base. A team of National Disaster Relief Force has left for Nepal as Kathmandu airport has resumed operations.
In many cities across India, people rushed out of homes and offices as tremors from the quake was felt. In parts of North India, such as Uttar Pradesh and Bihar, there are isolated reports of damage to buildings.
Parts of West Bengal, Rajasthan, Bihar, Jharkhand and Delhi reported strong tremors. Even in far off Kerala, tremors were reportedly felt. An aftershock was felt at round 12:15 pm.
Indian armed forces are on standby to provide any assistance required by affected regions. Prime Minister Narendra Modi is learnt to have called a Cabinet meeting to discuss relief efforts.
The U.S. Geological Survey said the quake, initially measured at 7.7 but upgraded to 7.9 magnitude, struck 80 km (50 miles) east of Pokhara.
News has come in about an Earthquake in Nepal. Several parts of India also experienced tremors.

— Narendra Modi (@narendramodi) April 25, 2015
We are in the process of finding more information and are working to reach out to those affected, both at home & in Nepal.

— Narendra Modi (@narendramodi) April 25, 2015