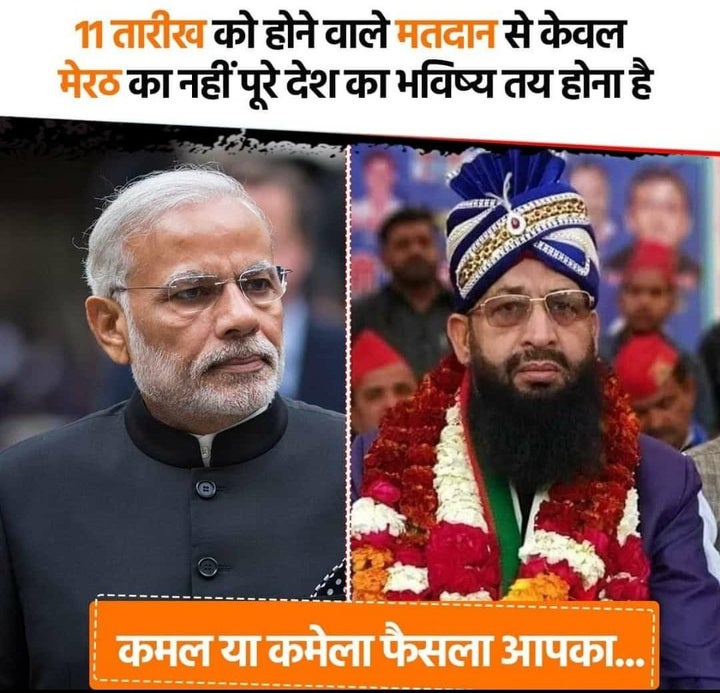 MEERUT, Uttar Pradesh — "Residents of Meerut, this is the last appeal.... you will find blood and flesh in your water tanks and taps... if you vote for the lover of slaughterhouses."
This "appeal" to Hindu voters was just one of hundreds of messages that cycled swiftly through the Whatsapp account of a BJP voter on the day of polling in this constituency where Haji Mohammad Yakub, a wealthy meat exporter is a candidate from the Bahujan Samaj Party (BSP) against the incumbent, Rajendra Agrawal, from the Bharatiya Janta Party (BJP).
The messages, the BJP supporter and voter said, picked up speed on the eve of the elections, continued through voting day, and ended by Thursday evening — when the first phase of elections ended.
On the day of polling, at around two in the afternoon, the BJP supporter received a photograph of a long line of men and women in skullcaps and burqas, with a message identifying the place as Khalapar in Muzaffarnagar.
The message read, "Get out and vote, if you don't, then the situation will be intolerable."
Social media, and the indiscriminate sharing of fake news, communally-charged content and outright hate speech, has provided a background score to the 2019 general election. The Election Commission of India (ECI) has sought to make parties accountable for their online campaigns, while Google and Facebook have sought to make political advertising on their platforms more transparent.
Yet, as the Whatsapp account of this BJP supporter in Meerut illustrates, the ECI and tech majors are largely powerless to stop the relentless flow of propaganda on the phones of India's 900 million eligible voters.
Earlier this month, HuffPost India published an investigation into how political parties are actively exploiting the anonymity and omniscience of social media networks and toothless election laws to polarise the polity — often with devastating results.
On polling day of the first phase of the elections, HuffPost India examined 60 messages to get a sense of the sorts of information and misinformation targeted at voters in the course of this crucial election.
The BJP supporter, a businessman, is partial to the messages that portray Prime Minister Narendra Modi as a strongman. While playing video clips of his interviews with TV channels, he said, "This is how a prime minister should talk."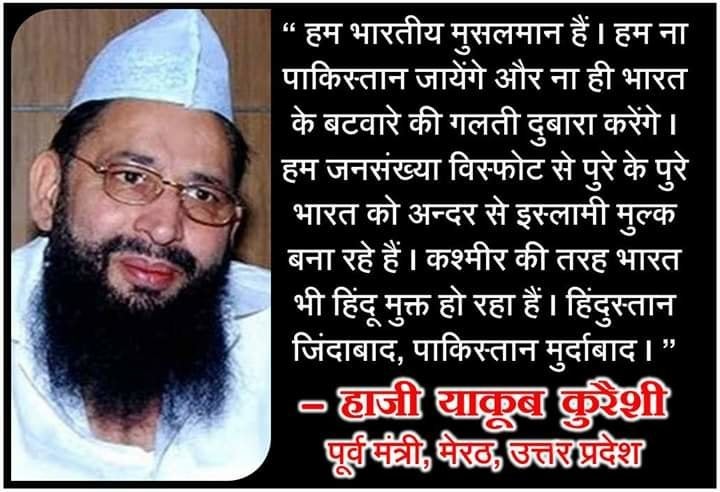 Targeting Haji
Meerut, in many ways, is the perfect petri dish to understand how social media in general, and Whatsapp in particular, play to the worst impulses of users. The town has a history of communal riots that sharply polarised the polity well before the advent of mass messaging services.
Yakub, who is standing for the BSP-SP (Samajwadi Party) alliance, is perhaps best known for offering Rs 51 crore for the head of the Danish cartoonist who made a series of satirical sketches about the Prophet Mohammed in 2005.
As the only Muslim candidate from Meerut, which has a sizable Muslim population, and the backing of the BSP-SP alliance, Yakub is a formidable challenger to BJP's Agrawal.
The Whatsapp messages about Yakub, on the BJP supporter's phone, play into this dynamic.
The following quote was attributed to him, without any information on when or where it was said: "I will slaughter a cow and throw it in front of the BJP government that has spread terror in the name of the cow, and no one will have the guts to stop me."
When asked where and when Yakub had said this, the BJP supporter said that he assumed it was true.
Another quote attributed to Yakub, without any information on where or when he said it, read: "We are Indian Muslims. We will not go to Pakistan and we will not let India get partitioned. We are using our population explosion to make India a Muslim nation internally. Like Kashmir, India will also be free of Hindus."
Another message, shared in a group made up of industry workers and employees, said that even though Agrawal, the BJP incumbent, had done nothing for the past five years, it was vital to forgive him and vote for the BJP. "Sincere request is to forget everything else and push the lotus button. A friend," the message read.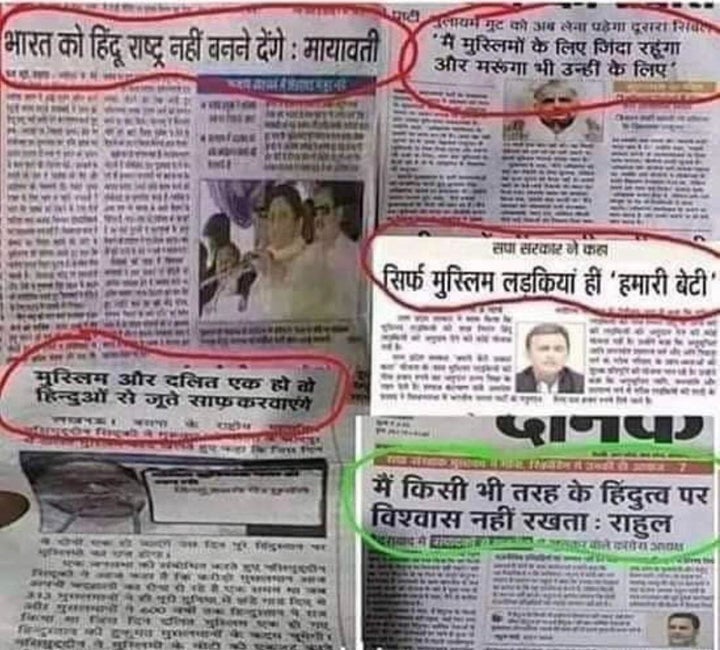 Anti-Muslim propaganda
Apart from messages directly targeting Yakub, many of the messages on the BJP supporter's phone assumed that Hindus needed to be saved from Muslims, and Modi is the only one who could do so.
One message sought to accomplish that while explicitly undercutting the BSP-SP alliance which hopes to find support amongst Dalits and Muslims.
"Hindu batega, Modi hatega, Phir Kashmir, Bengal Aur Kerala Ki Tarah Poore Desh Mein Hindu Katega. Phir kya Dalit aur savarn bachega?"
(If Hindus are not united then Modi will go. Then, like Kashmir, Bengal and Kerala, Hindus will be cut down everywhere in the country. Then, will Dalits and dominant castes survive?)
Another message says that while 52 political parties are working for 20 crore Muslims and seven crore Christians, only Modi is working for 100 crore Hindus.
Another message, posted in a 50-member group , shows newspaper clips, attributing headlines like "Only Muslims girls are our daughters" and "If Dalits and Muslims were to unite then we will get Hindus to wipe our shoes," to SP president Akhilesh Yadav and BSP chief Mayawati respectively.
A long message, with the dual objective of demonising Muslims and making fun of Rahul Gandhi's NYAY scheme, was posted in another 50-member group.
In this message, a Muslim man named Abdul is closing his puncture repair shop because he anticipates getting Rs. 6,000 every month under the NYAY scheme.
"There is going to be an explosion," Abdul's character says in the message. "There is aboo (father), amee (mother) and badi maan (grandmother) in my house. There is me and my two wives. I have nine kids with one wife and ten kids with the second wife."
Then, Abdul's character goes on to calculate that 25 people would rake in about 1.5 lakh under the NYAY scheme.
Abdul then goes on to say that his dream of ruling India, which Muslims thought would be realized in 500 years, will only take 30 to 40 years. "You (Hindus) will work and we (Muslims) will eat. If you don't work, you will be cut down," the message reads.
The message concludes that the "explosion" is a mixture of population explosion among Muslims, mixed with RDX and the imposition of Shariah law. And the "explosion" will begin in Wayanad, Kerala, where Congress Party president Rahul Gandhi is contesting the Lok Sabha election.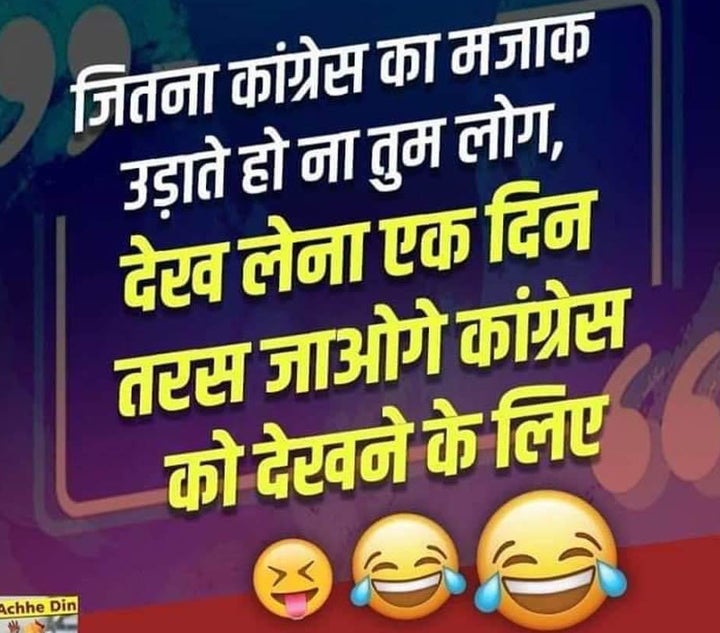 Messages, messages
The only messages more numerous than the communal ones were those making fun of Rahul Gandhi — which arguably fall squarely within the ambit of political campaigning.
Politicians have long lampooned their opponents — Rajiv Gandhi, the current party president's father, never could shake off a famous slip when he declared, "Hum jeetenge ya losenge!" at a public rally.
Whatsapp's signature admixture of fake news, hate, and genuine political parody highlights just how difficult it is to crack down on one without censoring the other. In fact, the current dispensation has routinely used the pretext of filtering hate speech to intimidate and imprison its critics.
The jokes on the BJP supporter's phone are videos and images that portray Gandhi as a dim-witted embarrassment.
In one joke targeting Gandhi, Aam Aadmi Party (AAP) chief Arvind Kejriwal asks Gandhi to send him a "joke." Gandhi says, "I'm busy, preparing to be prime minister." Kejriwal replies, "send another one."
Videos of Modi, on the other hand, make him appear to be both a man of action — grave and decisive, and a man of the people — witty and relatable.
In these messages, Modi's estrangement from his family, and the fact that he does not have children, are written about in two ways. First, it goes to show that his sole dedication to the country. Second, he has no reason to be corrupt.
Videos and remarks, previously debunked as fake, are still in circulation.
For instance, a video of Gandhi wearing a skullcap and praying with Muslim clerics is still doing the rounds, with the implication that the Congress president has converted to Islam. The three-year-old video is from his trip to Ayodhya, where he visited a temple and a dargah.
The fake survey attributed to the BBC, which has BJP winning the general election, continues to be shared.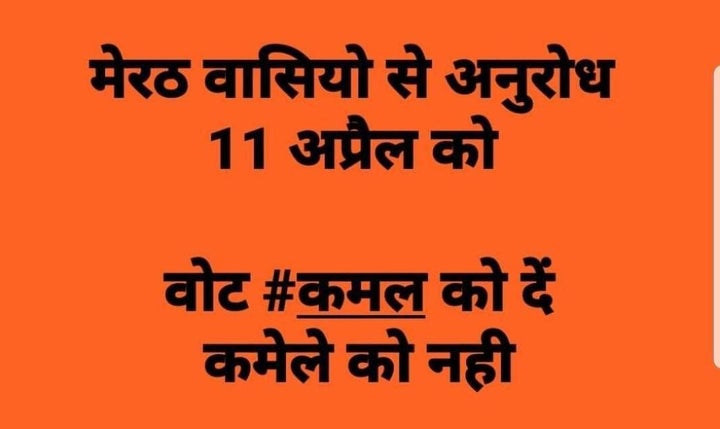 Where is all this coming from?
It is hard to pin down where the messages originate, but HuffPost India was able to establish that the people in these groups are mostly middle class professionals, government officials and even journalists.
BJP volunteers and booth workers say the messages come from, well, other BJP volunteers — paid and unpaid — as well as members of the public. The BJP also has hundreds of paid consultants tasked with feeding these social media channels.
One booth worker in a predominantly Hindu neighbourhood, who is also active on Whatsapp, says that BJP workers and followers truly believe in the idea of Hindutva, and it is their commitment to that ideology which drives the frenetic pace of messaging on social media platforms.
"The Congress is now doing some messaging as well, but it is not as dedicated because they only paid workers. Here, people are willing to work without pay because they believe in the cause," said the booth worker, speaking on the condition of anonymity.
If that is the case, then the virtual world appears to mirror real one.
At this booth in a predominantly Hindu locality, the only poll agents and volunteers were from the BJP. Some had brought their own food to eat, as they kept an eye on the polling and reported to senior party workers over the phone.
One volunteer said that very often, especially in smaller cities, booth workers know the BJP voters in their locality. When it is time for the polls close, and people they know to be a BJP voters have not showed up, the volunteers will try and reach them.
"That is the kind of dedication," said the volunteer, speaking on the condition of anonymity.
However, given that almost everyone in this locality said they voted BJP, it was not surprising to find only BJP agents and volunteers at the polling booth.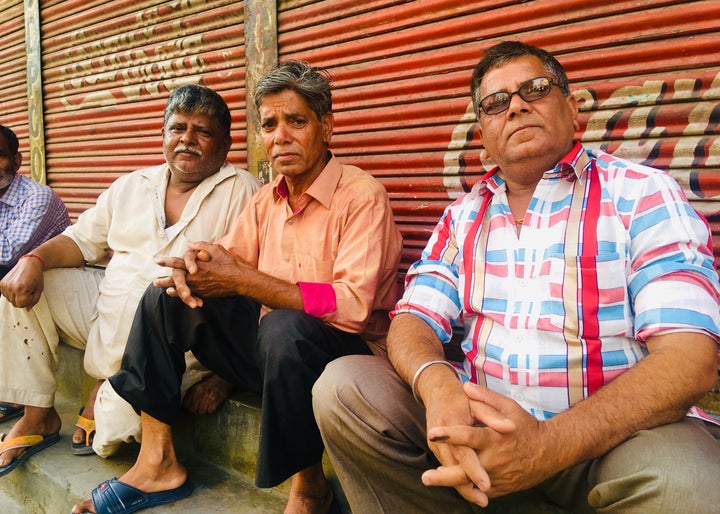 Real reflects virtual
The Hindu-Muslim divide in the localities of Meerut city is the second example of the real world mirroring the virtual one.
In Hindu neighbourhoods, voters, who had cast their votes for BJP, echoed the information and sentiments expressed on the WhatsApp groups.
Rajkumar, who runs a mobile phone store, said, "Modi is the only one to take decisive action against Pakistan. We need a strong leader like him."
Nandlal, who runs a general store, asked how Rahul Gandhi would even think of reducing the presence of the army and paramilitary in Kashmir.
"Rahul Gandhi is planning to take all the guns away from Kashmir. He is playing with India's safety and security. Is he stupid? How can such a joker be our Prime Minister?" he said.
Sitaram, a trader, said that it was impossible for Modi to be corrupt because he is far removed from his family, and does not have children. "What's the point? Who will he horde the money for?" he asked.
On the left side of the Hapur road, which cuts across Meerut city, the localities are almost entirely Muslim.
After voting for Yakub, the SP-BSP candidate, a group of four Muslim men talked amongst themselves on Thursday.
One of them said, "Modi is okay, he, himself, has not said anything against Muslims. It is the people around him who are saying and doing horrible things."
Another man interjected. "How can you say that? He may not have said anything, but Modi has done nothing to stop the violence against Muslims," he said.
A third man said, "One thing I don't understand is why is Imran Khan (Pakistan prime minister) supporting Modi. First you fight, drop bombs on each other. Then, you say you are friends. Is this a joke? What is the politics here?"
The fourth man said the "bottom line" is that Hindus and Muslims were both hit by demonetisation followed by the rolling out of the goods and services tax.
"Modi ji, where is the vikas? More than half our trade used to be with Hindus. All that has gone," he said.
When this reporter requested a photo, they hesitated. Then, the first man said, "Take the photo. We are still living in a free country."