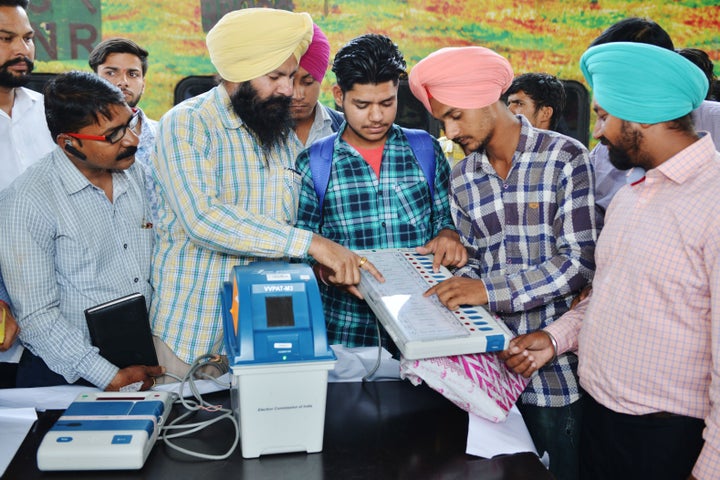 BENGALURU / CHANDIGARH — On April 23, the former Assam Director General of Police Hare Krishna Deka went to cast his vote in the third phase of the general election only to be threatened with arrest.
The electronic voting machine in Deka's usual polling booth in Lachitnagar Lower Primary School in Guwahati was attached to a Verified Voter Paper Audit Trail machine, Deka said, but when he cast his vote, he was shocked to see that his vote had been registered incorrectly.
"I was surprised when I saw that instead of my vote going to the candidate of my choice, it has gone to one of the adversaries," said Deka.
He alerted the polling officials, who told him to "challenge" his vote. But if the poll officers could not reproduce the glitch, they warned him, Deka — a decorated police officer — risked jail time.
"They told me that if I could not prove my claim, I may get arrested or have to pay a fine of Rs 1,000 to the Election Commission Of India (ECI) for raising a false alarm," Deka told HuffPost India over the phone. "There was no way to prove my claim and I could have easily become an accused instead of the complainant. So, I restrained myself from lodging a formal complaint."
This is no idle threat. In Kerala, amid reports of EVM glitches in several parts of the state, voter Abin Babu from Thiruvananthapuram filed a written complaint about the VVPAT showing the wrong party. A test vote was carried out in the presence of polling officials, which showed no glitches. He was then booked by the police, before being released on bail.
India's EVMs have been haunted by allegations of tampering ever since they were rolled out for the general elections in 2004. Over the years, election officials have worked assiduously to allay concerns about the integrity of the voting process. This year marks the first time that 100% of voters shall have the opportunity to verify their vote by peeking at the VVPAT machine, and the manual verification of this paper trail has gone up from one per constituency to five; or a little over 2% of all EVMs. However the introduction of a paper trail only seems to the heightened voter fears.
Rather than confront these, lawyers, political workers, and ordinary voters, say, the EC has responded with force and intimidation. On April 29, midway through polling, the Supreme Court has issued a notice to the Election Commission and the Central Government on a petition asking that voters who point out malfunctions in EVMs should not be subject to criminal proceedings.
Given widespread allegations about security flaws in EVMs, there's a clear need for greater transparency, and taking away the risk of criminal prosecution is likely to help bring issues to light. "This kind of rule is very draconian, and will keep people from complaining out of fear," Delhi-based lawyer Akshay Parashar warned.
"How can you levy fine or introduce imprisonment in a process when you do not provide any provision to rectify any technical snag? I felt betrayed when I saw my vote going to the adversary of the candidate I wanted to elect," said Deka, the retired police officer. "ECI feels that your fingers can go wrong but their machines cannot show any error. Every voter has a right to raise a concern and they should be allowed to do so freely to ensure fair elections."
Understanding EVMs
The EVM is an electronic device that is supposed to be fully isolated so that it can't be tampered with. Each button press should record a vote for just one party, and there are various measures in place to make sure this happens. It's divided into two parts—the control unit with the polling officer, and the ballot unit which is inside the booth. You can only cast your vote on the ballot unit after the polling officer activates the control unit.
The EVM runs on a battery system, and works completely offline, so it's supposed to be tamper proof. There's now a third component which is supposed to add more security. That is the VVPAT—the Verified Voter Paper Audit Trail—a third machine that helps voters to verify their vote.
When you make your selection on the Ballot Machine, a slip is printed showing the serial number, name, and symbol of the candidate, and is visible through a window in the VVPAT for seven seconds. Then, the slip drops into the machine. In theory, these printed votes can be used to verify that your vote was collected correctly. However, if you see a mismatch between the button you pressed and the vote you see, there's not much that a voter can actually do.
Despite multiple reports of glitches though, no action has been taken as election officials simply brush off concerns. Thiruvananthapuram district collector K Vasuki, for instance, dismissed reports of glitches in the machine in Kovalam and said it ensured that polling was error-free.
HuffPost India has sent questions about this issue to the EC and will update the article when there is a response to our email.
The ECI isn't listening
It's not just concerned citizens speaking out about the mismatch they see between the button pressed and the vote cast as shown on the VVPAT slip. Technical experts have also spoken up about the problem, but the EC has not responded.
Hari Krishna Prasad Vemuru—an engineer who runs his own technology company Netindia, and is now a Technology Advisor to the Government of Andhra Pradesh—was jailed in 2010 for his work on showing vulnerabilities in EVMs, work that he was ironically enough recognized and awarded for soon after by the American Electronic Frontier Foundation (EFF), a leading global not-for-profit that works on digital civil liberties.
In early 2009, Vemuru devised a number of proofs of concept that showed the likelihood of the fallibility of the EVMs. In September 2009, the Election Commission of India invited Vemuru to inspect an EVM, but before long, inspection was halted.
"Lack of transparency is one of the biggest problems in our elections right now."
Vemuru and the other engineers and scientists who worked with him went on to publish the results of their study—without stating if any actual tampering had been done, merely that it was possible. A couple of months later, Vemuru was arrested for illegally acquiring an EVM and jailed briefly before being released on bail. The fact that the EVM could be tampered with was not discussed by the EC.
Now, Vemuru fears that there's a new EVM problem, which is not being taken seriously again.
"I came across a WhatsApp video in August showing an anomaly of VVPAT. As per the manual, the slip is supposed to be displayed for seven seconds. But in the clip, it was shown for only three seconds," said Vemuru. "In electronics, the code can't go wrong. If it says seven seconds, it will display for seven seconds until you change the code. And if there's been a change, it needs transparency."
"I was apprehensive when we came across this, so I went to the CM. The first thing he did was to alert the cadre about this and asked them to observe the matter, and if there appears to be any discrepancy, then they should ask the booth officer to take note. Not to make a complaint or half the proceedings, but to include this in the official record of the logs."
After this, Vemuru said, CM Chandrababu Naidu and a small team (including Vemuru) went to see the CEC, and raised their concerns. In turn, they were shown a thick file—the pending case against him.
"They said that as long as I was there they were not interested in discussing the VVPAT," he added. "There might be something serious, so why they have not answered what is going on? Tampering and manipulation are different, and we are not saying this is manipulation, but if there have been changes it should be investigated."
"Who are the engineers that are verifying the integrity of the EVMs? If this is outsourced to some third party, those people could be compromised," he added. "This lack of transparency is one of the biggest problems in our elections right now."