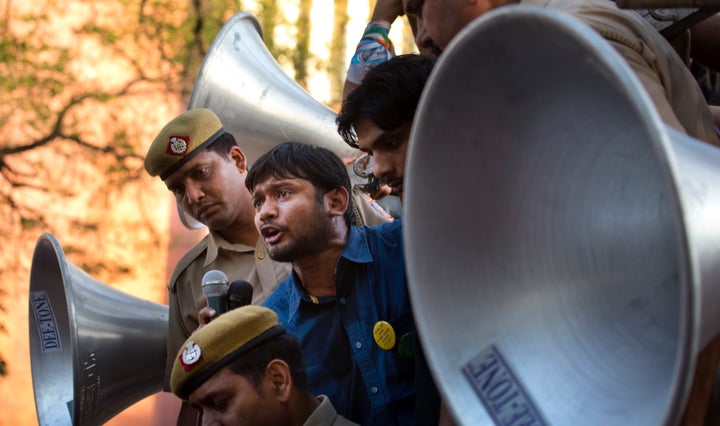 NEW DELHI — When Kanhaiya Kumar's candidature was announced in Bihar, it was met with sheer media frenzy. Kumar, the 'son of the soil' may have been a newbie, but his nomination clearly rattled the BJP. Veteran Giriraj Singh was forcibly moved from Nawada, his usual constituency in Bihar and made to contest from Begusarai. Singh threw a tantrum and initially refused to campaign from Begusarai.
However, the results have made it clear that BJP got their strategy right as Singh left Kumar behind by more than two lakh votes.
WHAT WENT WRONG?
The odds were stacked against Kumar right from the beginning. BJP won from Begusarai in 2014, Kumar did not have the muscle power and money that the national parties have and CPI anyway doesn't have a significant presence in the state.
However, Kumar's popularity with both Hindi and English speaking youth and his proximity to the constituency were factors that were assumed would work in his favour.
The single biggest reason behind this drubbing seems to be the split of the"secular" vote between Kumar and RJD candidate Tanveer Hasan.
As per the trends till now, Tanveer has garnered 1,93,058 votes, whereas Kumar has 2,61,890 votes. Giriraj Singh was leading with 6,68,563 votes when this article was published.
While BJP leaders workers in Begusarai were confused if Giriraj would contest or not, Kumar had reached out to all assembly segments in this Lok Sabha constituency.
RJD 'INSECURITY'
Varun Chavan, a close aide of Kumar told HuffPost India, that Hasan's candidature damaged Kumar's chances a '110 percent'. "It is for the entire country to see how the vote got split here," he said.
Earlier, there were reports that RJD leader and Lalu Prasad Yadav's son Tejaswi Yadav was insecure about Kumar's soaring popularity and would not compromise on the Begusarai seat. He put a halt to plans of having Kumar as BJP's primary adversary and throwing RJD's weight behind him. CPI's Satyanarayan Singh had publicly called Yadav 'insecure'.
DEATH OF LEFT
A close associate of Kumar, however, insisted that the widespread disenchantment with the Left is also a reason that contributed to Kumar's defeat.
"You can not expect one man to resurrect a party. The Left parties are sleeping in the Hindi belt," opined another aide of Kumar from Begusarai.
While onlookers and Kumar's team may have gotten carried away by the turnout at his rallies, the rousing reception he got while campaigning, his team overlooked a crucial aspect of the country's polls. Kumar's team bungled when it came to the booth management — there weren't even the minimal number of people required to man booths. At the end of the day it boils down to how effective booth levels workers are in a constituency. The door-to-door campaigning at the grassroots that eventually draw voters to the polling booth and also getting people to vote on the day is something that's entirely shouldered by the booth workers. While Kumar blew up on social media and delivered incredible speeches, there was no one on the ground to sustain the momentum he set on stage.
CASTE
The Bhumihar votes, the dominant electorate in Bihar, appears to have stuck with the BJP along with other Hindu caste votes. The Dalit-Muslim votes seem to have been divided between Kumar and Hasan.
However, BJP MLC Rajnish Singh from Begusarai claimed that it was the development work done by BJP which tilted the balance in favor of Singh.
"The people of Begusarai do not believe in Hindu-Muslim divide. This constituency witnessed a lot of development works after the election of Bhola Singh as BJP MP in the last election. The people of Begusarai voted for development," said the BJP MLC, who was one of the ticket aspirants from this seat before the election.
Singh also dismissed Kumar's aide's allegations of EVM tampering.
Popular in the Community