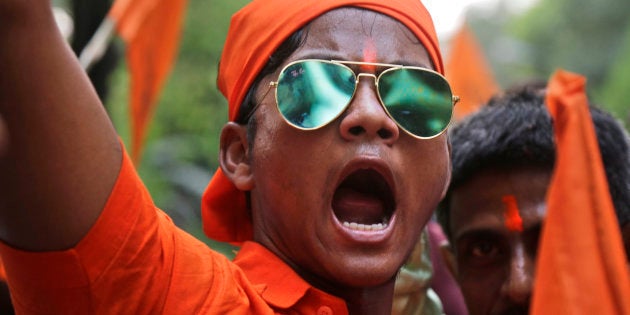 KOLKATA, West Bengal — "Nobody is saying 'Bharat Mata ki Jai', 'Jai Shri Ram' aloud openly here, right?" 39-year-old ICDS worker Ruma Dutta's exasperation is a common sentiment among BJP's post-2014 recruits in Kolkata. Dutta and many of her peers are faced with the challenge of attracting new voters into the fold of BJP in Bengal's urban centres where the rhetoric of Hindutva is considerably less visible than in the Hindi heartland.
On social media—where Indians come to bare their prejudices—the party, however, is in familiar territory. A stray 'like' for a Facebook comment or a 'thumbs up' emoji often helps identify potential supporters, who are otherwise difficult to spot in a state divided between Mamata Banerjee's Trinamool Congress and the Left.
"How do you think we won Tripura this time, after trying for years?" Dutta said.
Faced with the difficult task of countering TMC's violent muscle power in West Bengal, the BJP has recruited workers from a wide cross-section of society—social workers, junior government employees, college peons, local cable TV and internet providers—and tasked them with using their social media networks to make necessary inroads into Kolkata and other urban centres. The seemingly mundane information these volunteers gather—like Facebook pages, home addresses and telephone numbers—HuffPost India found, is yielding surprisingly rich insights into voter sympathies and interests. In interviews, BJP workers from a cross-section of roles explained the increasingly sophisticated ways in which they have made social media a vital part of in their political outreach.
In Tripura, Dutta noted, BJP toppled the Communist Party of India (Marxist)'s 25-year rule. A former BJP campaign manager told HuffPost India on condition of anonymity that the saffron party merged voter phone numbers, private electricity bills of citizens, voter registration rolls and on-ground surveys to build a detailed database of potential supporters. These voters were then bombarded with targeted campaign messages shortly before the elections in February this year.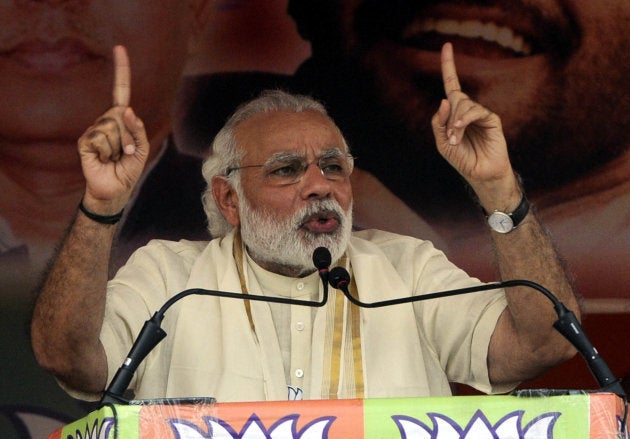 "If data allows you to determine that this person believes in hardcore Hindutva and is anti-Muslim then you can target him with messaging, telling him how all of the opposition parties are pro-Muslims and how BJP is the only one who supports him," said the former BJP campaign manager, who worked on the party's campaigns in Meghalaya, Tripura and Nagaland. For instance, the amount a household spends every month on electricity, the manager said, was a clear indication of its socio-economic status.
"You can target a specific caste that hates another caste and keep sending them messages like, 'if the other caste's government comes in, then you will be the ones to suffer'," the campaign manager said.
Facebook, WhatsApp versus Twitter
Rakhi Mitra, a 48-year-old former social worker, joined BJP towards the end of 2013, at a time the party's social media juggernaut had set the ball rolling for Narendra Modi's impending win. Mitra, now a member of the BJP's IT cell, confidently told HuffPost India that the party is going to replicate the success of the social media propaganda in 2014 in West Bengal in 2019.
Though she refused to divulge the party's strategy in detail, she said that unlike other states where Twitter is an important vehicle for campaigning, she has noticed that Facebook tends to work better in West Bengal.
"Twitter with its limited word count doesn't seem to work in Bengal, especially in the interiors," she said. Though she uses and posts on Twitter regularly, Mitra has found a greater and more enthusiastic audience in Facebook, where she frequently posts updates in English, to appeal to Kolkata's middle-class and upper-middle class voters. Mitra's personal Facebook account has over 2,500 followers and a little less than 5,000 'friends', a lot of whom found her on the social media network.
"I post about what is happening with our party, the country or what the opposition is doing and spreads more promptly on Facebook ," she said.
Facebook offers users multiple ways of signalling and communicating their interests—direct messages, display pictures, photo and video albums, walls that offer a glimpse into a person's political inclinations and comments left on the walls of others.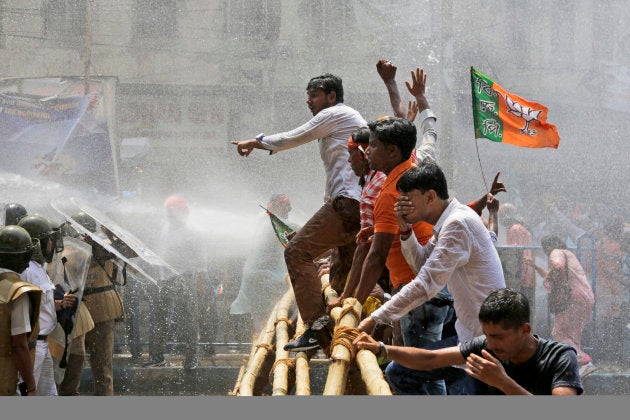 This makes the platform invaluable for BJP workers who have been using their personal social media accounts for political campaigning. More importantly, as users frequently update details like education, schools, colleges and places of work, Facebook, rather than Twitter, is a more convenient platform for profiling and engaging with voters.
Dutta, for example, said she frequently uses the 'messenger' service to take a discussion off a wall to a more personal and discreet one.
For BJP leaders working in various neighbourhoods, adding a local as a 'friend' on Facebook or adding them to a WhatsApp group is often a fuss-free first step towards preparing ground for political conversation. Once a friend request is accepted, it opens the channel for a conversation about the party.
Mahadeb Saha, a cable television and Wi-Fi provider in south Kolkata, who is in charge of three wards for the BJP, told HuffPost India that he often adds clients, people he meets at local chai shops and neighbours to his 'friend-list'.
How to spot a BJP voter in Kolkata
Saha ives in a south Kolkata neighbourhood, formerly a crummy refugee colony which has witnessed a swift and haphazard real estate boom over the past decade. The 45-year-old, who has studied up to the 10th standard, also runs a travel and car rental company. Nearly a decade ago, Saha worked for Congress and then Trinamool Congress for two years until a personal dispute with a local councillor, which led to him getting beaten up, compelled him to leave the party.
Months after Modi won the general election, Saha, who used Facebook sparingly then, saw a photo of his classmate from school holding a BJP flag. When he congratulated his friend for having joined the party, the two ended up discussing the benefits of doing so. In 2014, Modi seemed invincible to Saha, even though West Bengal was pretty much unaffected by the 'Modi wave'. Weeks later, Saha formally joined the party.
Considering his own road to BJP went via Facebook, Saha seems to have gotten a grip on using the platform to enlist people for the party. Leads, he said, come both from people higher up in the IT cell and his own work on the ground.
Months after Modi won the general election, Saha, who used Facebook sparingly then, saw a photo of his classmate from school holding a BJP flag.
"At times, they send us names and profiles of people and tell us that they could belong to our ward. Once I get a name, it's not difficult to trace the person—I have lived here for decades," Saha said.
"I add them on Facebook and then proceed to exchange greetings. I don't immediately ask them about BJP, they will freak out. At first we do 'hi, hello' and then I try to initiate conversations about issues in the neighbourhood, recent items on the news and then after a few weeks, if we seem to agree, I request him if I can add him to a WhatsApp or Facebook group," Saha said, adding that he only speaks to men.
Saha mentioned, during his various conversations, he has spoken about how Mamata Banerjee has 'incurred the same amount of debt in 8 years that the CPM had in 30 years'. "I also speak about Rohingyas, how Mamata's government has given them land to settle. It will ultimately hurt people of Bengal," Saha added. HuffPost India couldn't independently verify if the Bengal government had given land to illegal immigrants, though they had decided to take a 'humanitarian approach' towards Rohingyas.
Saha is not clear about how and from where the IT cell identifies prospective BJP supporters in his ward.
"I also speak about Rohingyas, how Mamata's government has given them land to settle. It will ultimately hurt people of Bengal," Saha added.
HuffPost India's conversation with the IT cell's Mitra, however, suggests that BJP workers closely follow political conversations happening online across various social media groups to get leads to people who may be supportive of the party's politics. Among her thousands of followers, says Mitra, are Facebook pages like "Jai Ho" with over "2 lakh followers" and groups like "Bengalis In Bangalore".
A group called India-Jai Ho, managed by a Mumbai-based branding agency called Social Konnekt, exists on Facebook and has 2 million followers. Their posts are mostly simplistic and not overtly political, though they occasionally share posts from Narendra Modi's Facebook page. The other is a closed group comprising at least 50,000 members.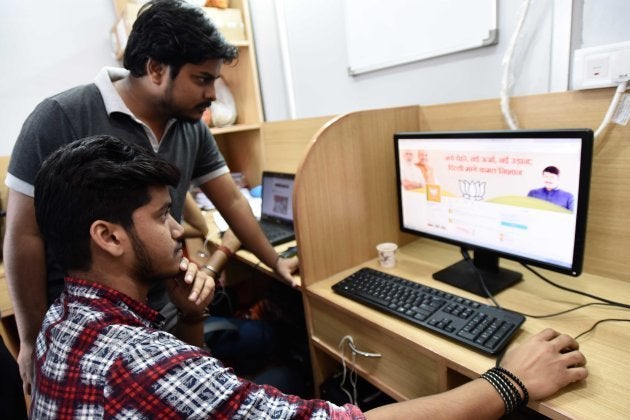 "The latter is a group where there are many concerned Bengalis who have had to leave Bengal because there's no job. They want to keep abreast of what's happening here and the real news, since national media has failed to deliver it to them," Mitra said. On being asked if she follows these groups herself and has enlisted BJP workers from the members and commenters, Mitra said, "We cannot reveal our strategies to you."
Saha and Dutta both said they follow Facebook groups of the BJP and other miscellaneous groups. While Dutta's approach is more forward—she said she often engages in long discussions and debates in the comments sections, which spill over to messages—Saha said he tracks profiles and commenters for a while before making a move. He keeps an eye out for people and profiles whose comments are pro-BJP and pro-Hindutva.
"If someone's posts are pro-Hindutva, 99% probability is that they support the BJP. For others, I see how frequently they 'like' BJP-related news before approaching them for Facebook 'friendship'," Saha told HuffPost India. A profusion of Hinduism-related religious posts is also a cue to make a move, said Saha.
Dutta said that she often gets into debates and discussions in the comments sections. "Then, if I agree with someone, I message them telling them that I work with the BJP and if they want to be involved in any manner. And if someone is disagreeing with me, then also I message them and try to see if they see my point of view," Dutta said.
Dutta and Saha both said that they have enlisted many people for the party through Facebook, though the number is considerably less than the ones they have gotten from personal communication through door-to-door campaigns, meetings and functions. Saha claims to have gotten 300 'active' workers in a year, around 60 of who he recruited through social media.
"If someone's posts are pro-Hindutva, 99% probability is that they support the BJP.
Shubho Bhattacharya, a 25-year-old open university student who works as the general secretary of the party's youth wing in south Kolkata, however, said that there is no directive from the part or the IT cell to approach individuals to join on social media.
However, he added that, over the time, if someone becomes a 'friend' on Facebook and they end up talking frequently, then he has occasionally given them a 'proposal' to join 'BJP'.
Political rivals like Trinamool, Mitra added have also turned to social media with gusto. "They are following what BJP has done," she said.
WhatsApp is king
Dutta at the moment is struggling to master the 'broadcast' feature of WhatsApp. The app was the easiest platform for her work until it restricted message 'forwarding' facilities to five people at a time in July this year following a spate of lynchings in India. When HuffPost India spoke to her, she said she had just attended a 'training session' with the IT cell, which tutored them on using the app's 'broadcast' feature which allows users to send messages to 250 people at one time.
The 'messages' that Dutta and others like her sends is often formatted by the IT cell, but they are encouraged to share 'opinion' on recent developments in the news as well. Dutta said she shares a lot of information from the NaMo app.
"If you have been living in the country for 20 years and do not have valid documents, how are you a citizen of India? I get these information from the NaMo app and send them to my work, family, friend groups on WhatsApp and see if someone is agreeing with me or showing interest."
Dutta vehemently denied charges that right-wing and BJP groups often circulate communally divisive fake news, and said, "We have to wait till someone has sent us a verified piece of news," she said.
The 'verification' of an incident, she said, is done by the workers in the ward or district it has taken place in and they are advised to hold their horses till they get a word from them. However, explaining the kind of messages she has shared recently from the NaMo app, Dutta said, "If you have been living in the country for 20 years and do not have valid documents, how are you a citizen of India? I get these information from the NaMo app and send them to my work, family, friend groups on WhatsApp and see if someone is agreeing with me or showing interest."
Saha manages eight WhatsApp groups and has two designated for newcomers. "I add people to a second-level group for more details of party activities based on how they respond in the first group. If they frequently post thumbs up signs or say 'good work', then I add them to the second group," said Saha.
Not everyone's charmed
Thirty-year-old Khokon Ghosh, president of BJP's youth wing in south Kolkata, began his conversation by saying he doesn't have time for 'social media and those things'. Ghosh, a casual employee who works as a peon in Jadavpur University, said that his rise in politics couldn't have been done through social media. "I live in a slum and grew up there. Growing up, I realised the power of loyalty, being available for locals as the only way to make a mark in politics. I have young people in the youth wing who do the publicity on social media, I don't do all that," Ghosh said.
Between narrating how he has been entrusted with the responsibility of outreach for BJP's 'rath yatra' and how he is on the verge of getting two 'big leaders' to join BJP, Ghosh said, "I also maintain very good relations with boys from all parties. We do politics, but we also play football together, drink tea together and some of them do TMC, but they are always there for me if needed," he added. Ghosh said that he taught local boys football and when he finally joined BJP in 2008, many of them simply decided to trust him and join the party. "Real politics happens through people," he said.
Earlier this week, Chandra Kumar Bose, vice-president for state BJP, told HuffPost India how the party has failed to connect with Bengali voters in Bengal. "The strategies that work in UP, Rajasthan don't work here. Here, you have to be there when someone falls ill on your ward and has to be taken to the hospital. That's how you connect," he had said.