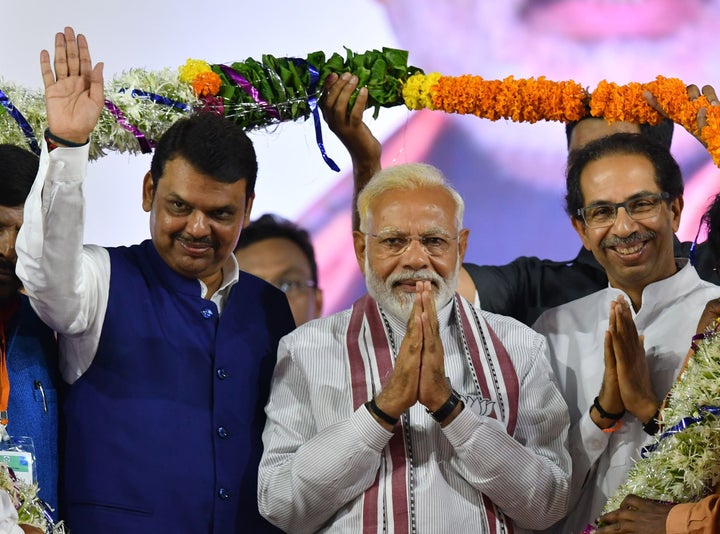 NAGPUR (Maharashtra)—On April 11, hours after the first phase of voting was over for seven seats in Maharashtra, Union minister and senior BJP leader Nitin Gadkari called a meeting of his election team. The BJP's Nagpur candidate came down heavily on the team for getting "complacent", said a person present at the meeting, and for not ensuring that "our people" turned out to vote in large enough numbers.
At the time, the Congress had been witnessing an internal feud, with party leaders including Ashok Chavan expressing unhappiness about ticket distribution. NCP chief Sharad Pawar had also announced a month earlier that he wouldn't be contesting the Lok Sabha election, amid rumours of a family feud.
But after the completion of the fourth phase on Monday, with voting over for all 48 seats in Maharashtra, the BJP and Shiv Sena are wary of what 23 May will bring for them in the state which sends the second highest number of MPs to the Lok Sabha after Uttar Pradesh.
Riding on the 'Modi wave' in 2014, the Shiv Sena-BJP alliance had won 42 out of 48 Lok Sabha seats in Maharashtra, with the Congress reduced to a meagre two seats, and the NCP to four. The BJP had won 23 out of the 24 seats it contested, and the Shiv Sena 18 of 20.
This time, while chief minister Devendra Fadnavis had claimed the combine would win 46 seats, a Shiv Sena leader said on condition of anonymity that they were aiming for a more realistic 35 seats.
But this confidence was shaken on April 11, amid ground reports of unexpected consolidation in favour of the Congress, which worried even Gadkari, who was hoping to win the Nagpur Lok Sabha seat by a higher majority of five lakh votes this time.
Dalits, Muslims, unorganised labourers, farmers and housewives in the Vidarbha region (among the seven seats which went to polls in the first phase) were seen thronging polling booths despite the sweltering weather. This region was also the epicentre of the agrarian crisis over the past few years.
"I had been talking about this consolidation even before the election dates were declared," claimed NCP spokesperson Nawab Malik.
The many problems facing Congress, NCP
At least five Congress leaders from Vidarbha told HuffPost India that if the party had got its own house in order, it could have swept all the seats in the first phase.
The son of Radhakrishna Vikhe Patil, senior Congress leader and the leader of opposition in Maharashtra state assembly, left the party on the eve of the election and got a BJP ticket from Ahmednagar constituency. Patil, in turn, refused to campaign for the Congress-NCP candidate in his district, asking for votes for his son instead. After days of this ridiculous state of affairs, Patil resigned from the post of leader of the opposition last week.
Some Congress leaders were unhappy over tickets being distributed to newcomers like actor Urmila Matondkar, instead of established party workers.
The party's Mumbai unit chief was replaced after election campaigning had already started.
The NCP also saw some internal turmoil when Sharad Pawar gave in to his grandson Parth Pawar's insistence and dropped his plans of contesting from Madha Lok Sabha seat. Parth was fielded by NCP from Maval constituency but party loyalists were unhappy with his lack of political astuteness.
Rohit Pawar, Pawar's grandnaphew, is considered a more suave politician. While Rohit chose the local body route to politics, the decision to field Parth directly in the Lok Sabha appeared to have widened the gaps in the family. But Sharad Pawar's daughter Supriya Sule tried to tackle these rumours by posting a picture with Rohit and Parth on Instagram.
NCP received another blow when its senior leader and former Maharashtra deputy chief minister Vijaysingh Mohite and his son left the party on the eve of the election.
"Rohit Pawar, Pawar's grandnephew, is considered a more suave politician. While Rohit chose the local body route to politics, the decision to field Parth directly in the Lok Sabha appeared to have widened the gaps in Pawar family"
But a bigger headache was waiting for the BJP-Shiv Sena right after the first phase.
Shiv Sena founder Bal Thackeray's nephew and Maharashtra Navnirman Sena chief Raj Thackeray held his first rally in Nanded district of the state on April 12.
His next few rallies in Marathwada and western Maharashtra in the next week changed the discourse of the campaign in the state.
His party is not contesting a single seat this election but Thackeray has been asking people to vote against Narendra Modi and Amit Shah, indirectly supporting the Congress-NCP.
In the last three phases of the polls in Maharashtra, at times the battle appeared to be directly between BJP and Thackeray.
BJP leaders, led by Fadnavis, called him "inconsequential" but targeted him in every speech and political rally. The BJP even organised a special rally to discredit him in Mumbai on April 27.
The entire campaign of the BJP and Shiv Sena appeared to be focused on Thackeray in the last three phases of the election but they found it difficult to counter Thackeray's oratorical skills and innovative way of discrediting PM Modi by taking apart his old claims in public rallies. The phrase 'jara lav re' (play it up), which Thackeray used to ask his aides to play Modi's videos at his speeches, went viral as well.
Thackeray addressed five more rallies in and around Mumbai before the fourth and last phase of the election in the state.
"He has damaged us, no doubt. It was unexpected and before we could prepare to counter him, the election was over in the state. By targeting him, we gave him more value. Aditya and Uddhav (Thackeray) should not have mentioned him in their rallies," a senior Shiv Sena leader from Mumbai told HuffPost India on condition of anonymity.
BJP spokesperson Madhav Bhandari, however, continues to maintain that only "Modi-hater media" is giving importance to Thackeray.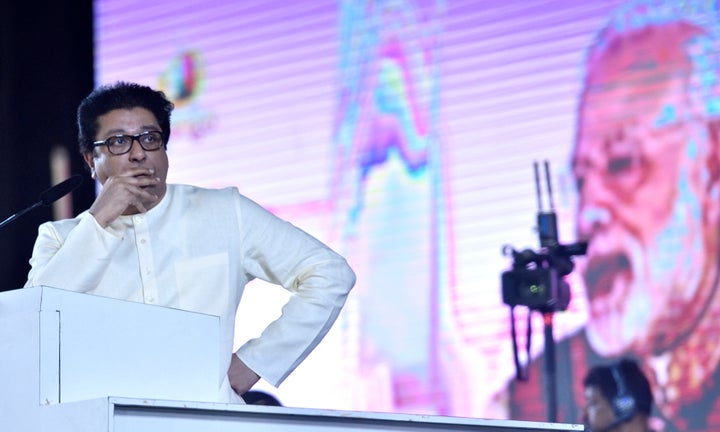 Pawar play, and other factors
Another significant change this election was in Maharashtra was an unusually active NCP president Sharad Pawar.
Even though he himself didn't contest, the 79-year-old politician addressed over 70 rallies this election and crisscrossed the state, which made him a target for PM Modi.
Modi targeted Pawar in his rallies, at times getting personal with his jibes.
Modi's focus on Pawar rather than on Congress in the state shows that the NCP leader is perceived to be a bigger challenge in the state, which is going for assembly polls in October later this year. If the results don't deliver a majority for the BJP, Pawar may also have a role to play in forming the next government.
Pawar's presence ensured that NCP's ticket distribution and campaigning was far smoother than the Congress.
Political observers and people who left MNS to join Shiv Sena and BJP say that the ploy to deploy Thackeray against BJP-Shiv Sena was Pawar's idea when he could not get Congress to agree to include Thackeray in the alliance.
Apart from this, there are a number of other factors which made the BJP-Shiv Sena's campaign difficult this time.
The alliance's campaign was a little toned down this election season as the two parties had spent most of their time in the last four-and-a-half years targeting each other. The leaders of both these parties may have buried differences but their workers were clearly uncomfortable working with each other on the ground.
In spite of infighting, many Congress candidates also made sure they gave a good fight to the saffron combine. Actor Urmila Matondkar's surprisingly feisty fight has forced BJP's Gopal Shetty to sweat it out, despite him winning the seat by around 4.50 lakh votes in 2014.
Congress' Milind Deora and Priya Dutt also gave tough challenges to the Shiv Sena-BJP combine in Mumbai South and Mumbai Central-North Lok Sabha seats respectively. Deora even got India's richest man Mukesh Ambani to appear in his campaign video.
The BJP-Shiv Sena alliance's expectations that Prakash Ambedkar-Assauddin Owaisi's Vanchit Bahujan Aghadi would eat into Congress-NCP's votes do not appear to be coming true except in Solapur and Aurangabad seats.
Fadnavis's crafty handling of the Maratha reservation issue, which had isolated Marathas and led to a non-Maratha consolidation in favour of BJP in all local body elections in the state in the last four years, doesn't seem to be as effective this election as it was earlier.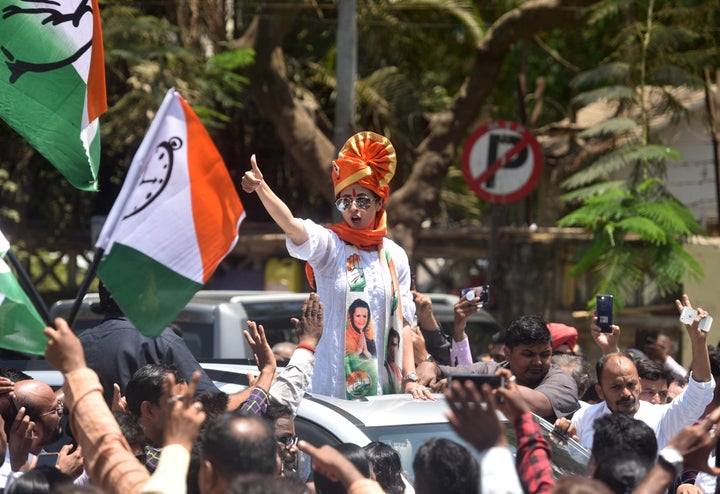 The Bhima Koregaon riots and the handling of the aftermath also pushed sections of Dalits away from the ruling combine in Maharashtra.
Last week, the NCP's candidate from Shirur Lok Sabha seat in western Maharashtra, Amol Kolhe, revealed that he quit Shiv Sena as he was asked to contest against king Shivaji's descendants Udayan Raje Bhosale from Satara Lok Sabha seat.
This announcement, just a couple of days before campaigning for the fourth phase was to get over, may have had an impact on the Maratha vote.
Another shot in the arm for the Congress-NCP combine this election was the alliance with Raju Shetty, a popular farmer leader in the state. Shetty himself contested from Hatkanangale and fielded a candidate from Sangli Lok Sabha seat as a part of an alliance.
Overall, despite internal feuds, lack of coordination and not-so-popular candidates, the Congress looks set to fare better than it did last time.
With possible losses in the Hindi belt and no major hopes from southern states, a decline in the tally in Maharashtra could effectively mean the difference between whether the NDA manages to come back to power or not.
And with just five months to go for the state assembly elections, the BJP will have to work hard to keep control of this prominent state which houses the financial capital of the country.