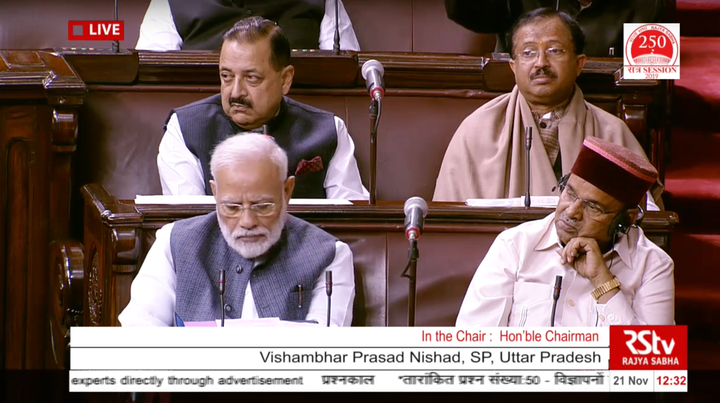 Rajya Sabha was adjourned on Thursday after the Vice President, Chairperson of the Upper House in the Parliament, refused Congress' request to take up the issue of electoral bonds for discussion.
When it reconvened after the first adjournment, Rajya Sabha TV was blacked out for a few minutes as some MPs continued to protest. As the uproar grew, Naidu threatened to adjourn the House again. PM Narendra Modi was present in the House.
Meanwhile, there was uproar in the Lok Sabha as Congress leader Adhir Ranjan Chowdhury asked the Speaker to take up the issue for discussion on an urgent basis, saying the "country is being looted".
MP Manish Tewari attempted to bring it up again during Zero Hour in the lower house. However, his mention of PM Narendra Modi triggered protests from the treasury bench and the Speaker did not let him finish his statement.
According to ABP News, Congress walked out of the Lok Sabha after this.
Nitin Sethi's investigation showed how the Narendra Modi-led government brought untraceable funds into Indian politics.
Congress submitted adjournment notices in the Lok Sabha and Rajya Sabha, citing reservations expressed by the Reserve Bank of India against the electoral bonds scheme.
Sethi's report revealed that the government had dismissed RBI's warnings that the scheme would encourage money laundering and undermine faith in the Indian currency.
It showed how the Prime Minister's Office told the finance ministry to break its own rules to allow for illegal sale of electoral bonds before crucial state elections.
While then finance minister Arun Jaitley had told the Rajya Sabha that the donors contributing money through these bonds would by anonymous, Sethi's report showed that the scheme did not actually provide a donor with anonymity from the government of the day.
Another report in the investigation showed that the government had also dismissed the Election Commission's concerns about the scheme, lied to the Parliament and covered these up when caught out.