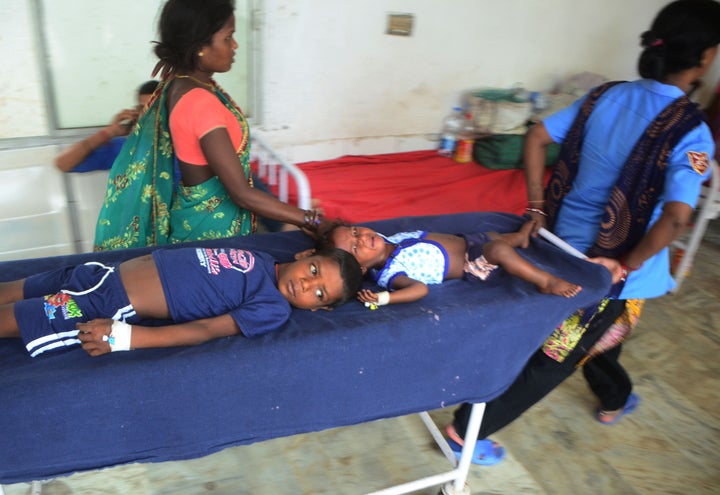 The Acute Encephalitis Syndrome (AES) leading to more than 150 deaths of poor children, within a span of a few weeks in the State of Bihar, should be fading as a bad memory by now.
In June, one watched images of overcrowded hospitals, parents' helplessness and despair writ large in media coverage.
What apparently has been missing is any sense of urgency and deep concern on the part of public administration and political executives. A group of experts, including members of AIIMS, New Delhi, after a visit to the affected area reported that most 'children are killed by administrative failure and state's apathy towards people.'
Most critical analyses have found serious faults with the State's health system, which could normally have saved these innocent lives. It may be an appropriate opportunity to explore if the healthcare inadequacies could have been offset, even compensated by a wholesome, rapid administrative action.
An affirmative answer to this hypothesis would seem to hold a major promise of handling such life threatening emergencies differently and more effectively in the future.
As an aware citizen, experienced public administrator, I feel that instant situation like AES need not slip out of hands.
In comparatively localised situations of health emergencies, and other disasters (like instances of fire, building collapse, heavy rains, land erosion, mass uprooting of trees on motorways/residential areas, et al), my experience with municipal and urban administration suggests that a rapid and heavy-dose corrective action at the initial stage helps to curb and control the situation fast.
I also ensured engaging a wide range of stakeholders in the administrative response to such a situation. This approach helps much needed confidence building amongst the affected people that public administration is by their side in that hour.
The situation in Bihar came more like a flash flood. This clubbed with the weak medical infrastructure, ignored preventive measures and other healthcare programs, worsened the AES outbreak scenario.
Most critical analysis by Indian and foreign media, as well as expert investigations including by the AIIMS group found that most of such programs were grossly ignored, and that there were serious shortages / non availability of essential equipment, medicines and manpower.
"The situation in Bihar came more like a flash flood."
Some positive factors
In this context certain positive factors also existed, though notionally. For example, the research finds AES treatable. Second, the Bihar government had already put in place robust and comprehensive healthcare programs.
There are bright examples where states in India have taken the primary healthcare seriously and followed on the laid down preventive and health promotion programs comprehensively.
Most of the state programs help addressing cases of undernourishment, which is seen at the root cause of the AES, and the like. These programs essentially comprise preventive measures, including specific public awareness advisories. In addition there are supporting nutrition programs, largely delivered to the children by the local agencies, including field workers. Their meticulous follow up could have effectively checked chances of any serious breakout in affected districts of Bihar.
Some programs are partly funded, and initiated by the central govt. Central agencies like Niti Ayog, and international bodies like WHO play a proactive role by handing out public policy instructions and guidelines in the matter.
It is an opportunity for states like Bihar to learn from the past and make a fervent and committed foray in hitherto ignored child health policy programs.
"It is an opportunity for states like Bihar to learn from the past ..."
What could help then?
India is a long known place for 'jugaad', a term used for locally customised and tried successful solutions. This thinking has come to be called 'innovation' in the international market.
In arguably one of the worst handled situations as in Bihar, we need to infuse fresh blood and think of fresh approaches, on utmost priority.
A draft framework in the given context is suggested in the following part of this analysis.
First, and as a model for future, first step should be to declare a public health emergency within that region, and with immediate effect. This would more specifically mean: the state healthcare and other agencies concerned, including the district administration and disaster management authorities will pool in their wisdom and resources.
A Group comprising representatives from such organisations may be constituted, to be headed by a dedicated administrative officer of the requisite expertise and experience.
This Group will come into operation not later than 24 hours, and will take full control and responsibility toward reaching prompt lifesaving medical services, including essential nutrition supplements.
The Group will be largely an autonomous body with defined administrative and financial powers.
It will take necessary decisions, and coordinate mounting of all requisite efforts, including putting in place research work, and additional infrastructural support from within the state, and outside.
The Group's mandate will be all inclusive, and will start with ensuring dissemination of information (by all means of media, and field health workers) on the disease, general awareness on government nutrition and hygiene programs available, precautionary measures, obtaining and sharing of diagnosis-treatment protocol, taking feedback on the treated patients, and not the last, disbursal of amount of compensation to the unfortunate victim's entitled kith and kin, speedily.
A blueprint of the suggested administrative mechanism can be kept ready by each state, with various functionaries nominated and notified. This can be done in districts with bad public health record.
The Group will conduct periodical mock drills in a professional manner, particularly in more vulnerable areas.
This blueprint will be actually realised as and when a need arises.
The Group's resources can be unscaled suiting situational demands. It should be particularly expected of the Group to organise frequent field visits to see all arrangements work flawless, and take swift action on any bottlenecks.
Yet another significant and futuristic policy measure would be to reorganise working of the existing government hospitals, particularly at the primary and middle level.
"First step should be to declare a public health emergency within that region, and with immediate effect."
Private public partnerships
As health centres across most states have adequate built up space and other infrastructure available, a part of the same can be leased out by the state to private hospital chains.
In normal times these privately run units will provide regular, on payment, healthcare to those who can afford.
Indeed, such private medical centres with their enhanced medical capacities in place, can be recognized and co-opted under the Ayushman Bharat Yojna (ABY). More particularly, in emergency situations, like the one under discussion here, these units can be commandeered to majorly attend to the newly arising emergency.
There are various models of Private Public Partnership (PPP) arrangements.
I tried some of these, including leasing out to private agency part of the existing hospital building space, successfully. I had also worked out an arrangement with the then most reputed Escorts Heart Institute to set up and run their unit at an existing hospital in Delhi Cantonment, on certain terms.
PPP variants are being practised in large areas of public administration, as these bring in low cost effective solutions, and generate healthy competition, and more service oriented attitude.
Not merely a medical battle
Long term plans to create and expand healthcare mechanism are much more time consuming and resource demanding. The proposed reorganisation of health centres beside substantially adding to the existing health services at literally no cost to the government kitty, will also help generate a healthier work culture.
Finally, it is of utmost importance that functioning of such reorganised health centres need to be more closely and professionally monitored, as also through local community and Panchayati Raj institutions.
Indeed, the local community in a dire and largely helpless situation like these, should be actively engaged in assisting the timely undertaking of various health programs including mass awareness measures.
Moreover, this would help, what is most needed, the advance, meticulous preparedness for effectively fighting any future threat.
Incidentally it would help create useful employment, and real time skill development opportunities in the society.
It may also be useful to urgently fill up perennially existing vacancies and thereby strengthen the existing health centres. This can be accomplished in most healthcare institutions, particularly in remote rural areas, through an easier and viable route - that is, through contractual appointment of doctors and para medical staff by engaging from amongst the retired personnel (both civil and military).
Further, the existing large pool of those qualified and running their private clinics can also be tapped by engaging them on a part time basis.
These ideas and models are highly practical and tried by the author in Ambala, Bareilly, Agra, and Delhi.
India and its governance system cannot let people die, and must adopt fresh approaches and put the health system in any-time-ready mode.
Crisis like the AES is not merely a medical battle; it is to be seen as an administrative mission which involves the challenge of dealing with serious community, indeed national, stakes.