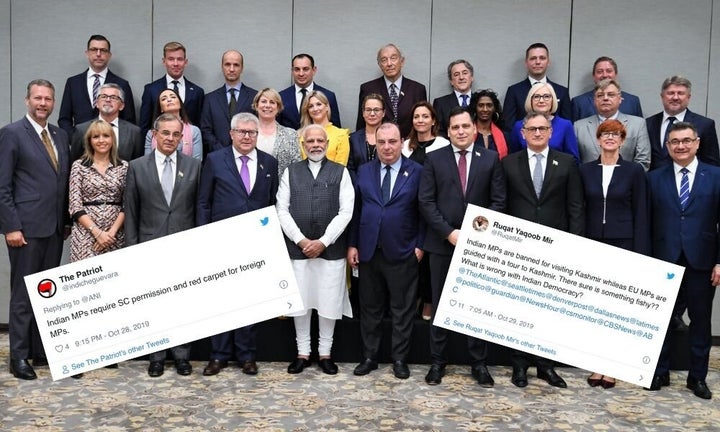 So a visit by European Union lawmakers to Kashmir on Tuesday is drawing flak—one reason is, of course, that severe restrictions are still being imposed on the region, many opposition leaders are under house arrest and MPs have been turned away while trying to visit. The other reason is far stranger—as The Indian Express reported on Tuesday, 22 of the 27 members are right-wingers or from the far-right. This includes a Polish politician who was removed from his post as a vice-president of the European Parliament for using a Nazi slur, as well as virulent anti-immigration advocates.
News18 reported government officials as saying this was an "unofficial" visit in a bid to counter Pakistan's narrative on Kashmir. Reports also say this is not an official, EU-sanctioned visit, but that the 27 lawmakers are in India in their "private capacity".
This will be the first foreign group to visit Kashmir since August 5, when Article 370 was abrogated. This comes after members of the US Congress had expressed concern over the lack of access to media and foreign delegations to the state.
But the move has not gone down well with many politicians, including those from the BJP.
Congress leader Rahul Gandhi took to Twitter and said, "MPs from Europe are welcome to go on a guided tour of Jammu & Kashmir while Indian MPs are banned & denied entry... There is something very wrong with that."
CPI(M) general secretary Sitaram Yechury highlighted the problematic politics of the members of the group of lawmakers, asking why they were chosen over Indian politicians.
Congress leader Shashi Tharoor said his request for a visit by an all-party delegation of MPs has still not been accepted.
Opposition leaders pointed out how several leaders including Rahul Gandhi and Ghulam Nabi Azad were stopped from visiting the state in the aftermath of the abrogation of Article 370.
Azad had to get permission from the Supreme Court to visit Kashmir.
BJP leader Subramanian Swamy also criticised the government led by his own party. He said, "I am surprised that the MEA (Ministry of External Affairs) has arranged for European Union MPs, in their private capacity (not EU's official delegation), to visit Kashmir. This is a perversion of our national policy. I urge the government to cancel this visit because it's immoral."
Even senior Indian journalists took to Twitter to express their disappointment.
The severe restrictions on internet in Kashmir has meant that the voices Kashmiri journalists have been muzzled for almost three months now.
Almost 90 days since the Modi government announced that the special status for Kashmir was being scrapped, while some newspapers have been able to publish in print, their websites have not been updated since August 5.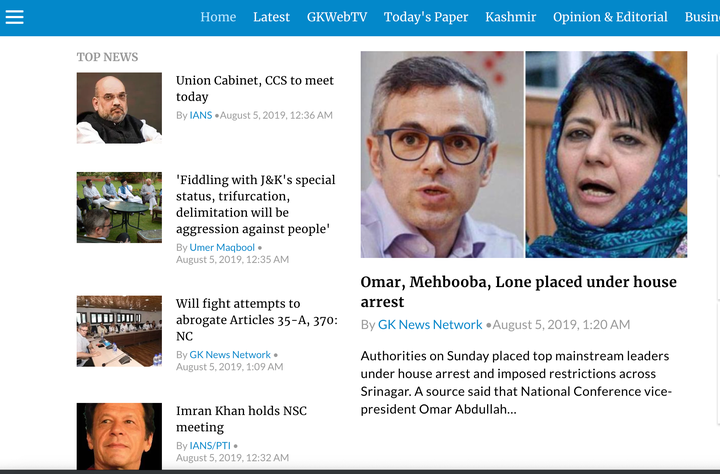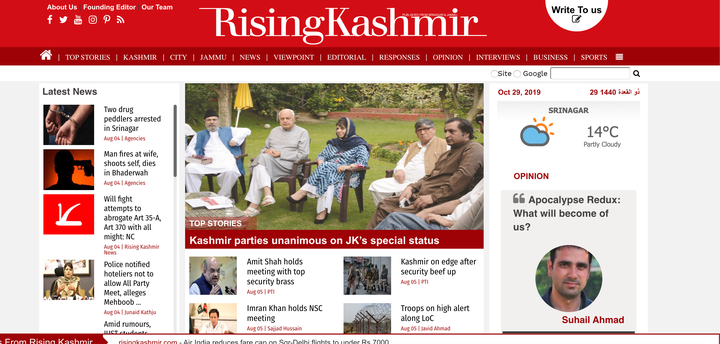 The visit of the EU lawmakers seems even more jarring as regional political leaders of Kashmir such as Mehbooba Mufti, Omar Abdullah, Farooq Abdullah and Sajjad Lone are still under house arrest.
Adviser to the Jammu and Kashmir governor, Farooq Khan, had said on October 3 that these leaders would be released "one by one after analysis of every individual." Almost a month later, there is no official news on their release.
Twitter users also expressed their concern over the Modi government's discrimination:
Prime Minister Modi kept his focus on Pakistan-sponsored terrorism when he spoke to the lawmakers on Monday. PTI reported that a statement from the PMO said that the visit should help them better understand of the cultural and religious diversity of the regions of Jammu, Kashmir and Ladakh.
Modi said the visit should also "give them a clear view of the development and governance priorities of the region".
Popular in the Community