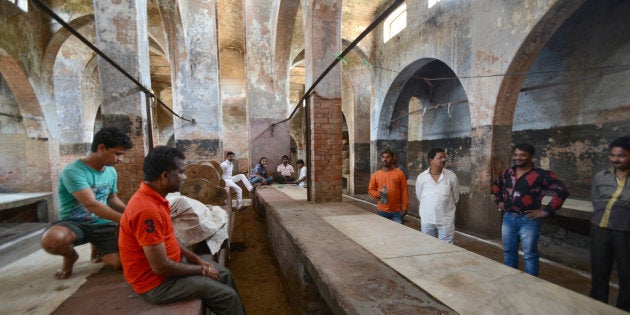 Despite Uttar Pradesh Health Minister Siddharth Nath Singh's assurance yesterday that legal slaughterhouses will not be targeted, almost half of those with valid licenses have also been temporarily shut down in the state, for violating some norm or the other.
"As many as 26 licensed slaughterhouses have been shut down during the last five days, as they were not following the set rules. It is not a permanent closure... they have been temporarily closed and would be allowed to function once they follow all norms," Chief Secretary Rahul Bhatnagar was quoted as saying by the Indian Express.
Bhatnagar could not clearly confirm how many of these abattoirs are mechanised.
Peculiarly, the government has "no official count on illegal slaughterhouses being shut down since there is no official record," according to Bhatnagar. But according to industry insiders, there could be an estimated 140 abattoirs and over 50,000 meat shops that don't have permission to operate.
Thousands of meat shops in Uttar Pradesh had downed their shutters in protest against Chief Minister Yogi Adityanath's crackdown on illegal slaughterhouses. According IANS, meat sellers have complained that police were forcing the closure of abattoirs with valid licences.
"We have decided to intensify our strike. All (meat) shops will remain closed. The crackdown on slaughterhouses has adversely hit the livelihood of lakhs of people," Mubeen Qureshi of the Lucknow Bakra Gosht Vypar Mandal told reporters yesterday.
"I have sold only half of (meat) what I would sell normally," Chand Qureshi, a meat seller in Shahberi market of Noida Extension, told IANS. He said meat shops at some other places like in Ghaziabad were asked to put up curtains on shop fronts.
Singh had urged civil and police officials "not to be overexcited" while imposing the ban.
The Rs 15,000-crore industry, that employs 25 lakh people in the state, has sent shockwaves in Parliament.
The issue was raised in Parliament by AIMIM President and Lok Sabha member Asaduddin Owaisi, who asked the state government to give time to illegal abattoirs for regularisation instead of just recklessly closing them down. Replying to a related question from Owaisi, Union Commerce Minister Nirmala Sitharaman said: "What is being done in Uttar Pradesh is about illegal slaughterhouses. I think even the honourable member (Owaisi) would not want illegal slaughterhouses to function. There cannot be a difference of opinion here." (With inputs from IANS)