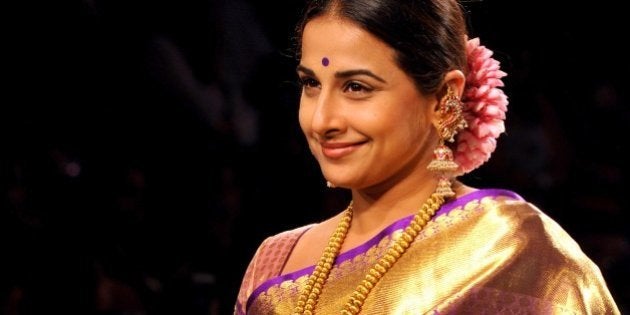 Why do you love ethnic wear and saris?
Ethnic wear adapts to a woman's sensuality and also makes her look elegant. My love for saris started quite early: I used to dress up in my mother's saris and my family album is testimony to that. I have always preferred ethnic wear and I feel it celebrates the essence of being a woman.
We know Sabyasachi Mukherjee is one of your favourite designers. Any other?
I have a lot of favourites, but designers who work magic in their clothes are Gaurang Shah and Sabyasachi Mukherjee. Gaurang Shah for taking up the causes of handloom weavers across the country, reviving dying textiles, and showcasing them in a more contemporary light. Sabyasachi's clothes are international with an Indian soul. He moves seamlessly between stunningly crafted ethnic wear and perfectly structured western statements.
Vidya Balan, also the ambassador for craftsvilla.com, walked the ramp for Gaurang Shah at Lakmé Fashion Week Summer/Resort 2015 in an organza kanjeevaram sari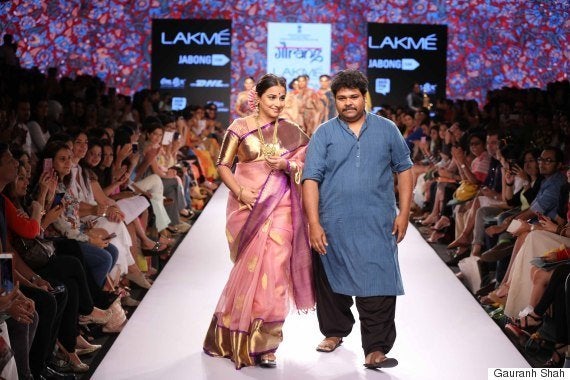 Do you think ethnic ensembles work well for the Indian physique?
Indian clothing, especially saris, is extremely versatile! It flatters the wearer, and doesn't judge between a thin or a curvaceous figure, instead lending both dignity and sensuousness (which is why it is the national dress of our country). I think women should wear ethnic clothes to keep alive the perishing handlooms of India. I feel proud that even our Prime Minister (Narendra Modi) has started an initiative to protect the interests of the weavers.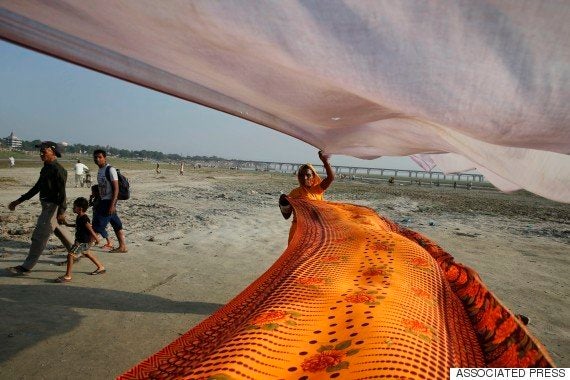 How has the sari evolved to dress today's youth?
Like I have said, Indian clothing is extremely versatile and has come a long way. Now, Indian designers are focusing their energy on reconstructing traditional Indian ethnic silhouettes for an increasingly younger demographic. From sari-gown to half-length lehenga, to teaming up saris with shirts, tunic, bikinis, jeans, straps, there are a lot of interesting options nowadays.
Shilpa Shetty dressed in a modern Masaba Gupta sari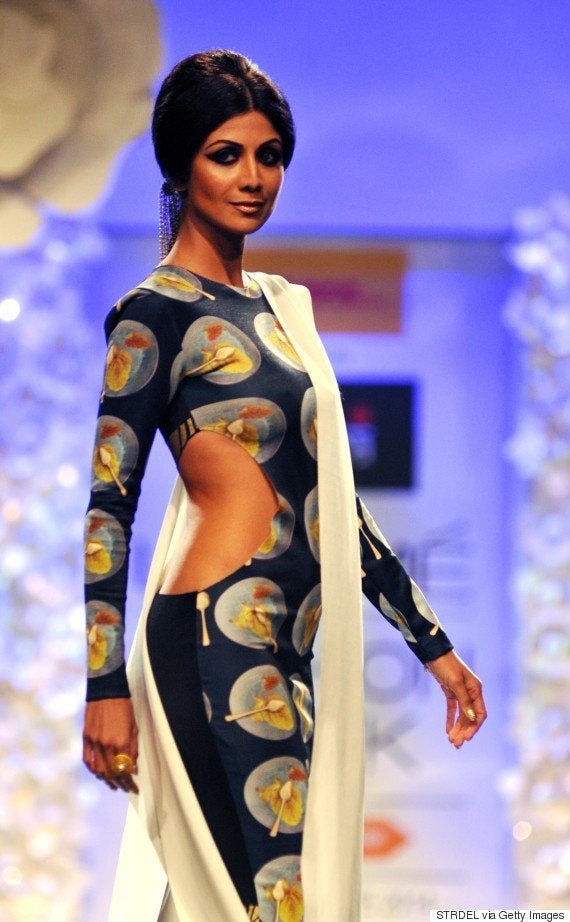 Indian clothing must-haves every woman needs to own?
I believe every woman must have a kanjeevaram or a banarasi sari in her wardrobe. I am someone who wears a lot of handlooms as I strongly feel about the cause of the weavers. We have a rich cultural heritage in terms of handicrafts, handloom, clothes, jewellery, furniture (and so on), and we should uphold that tradition. This is something that people worldwide will appreciate.
Of the several you have in your wardrobe, which are your favourites...?
In my growing up years, I have seen most women wearing saris with ease daily, especially in South India. I have a collection of cotton saris which I have collected from all over the country in different hues. Apart from that, my favourites include a pink and green kanjeevaram gifted by my parents and a red banarasi sari my husband gifted me.



Popular in the Community