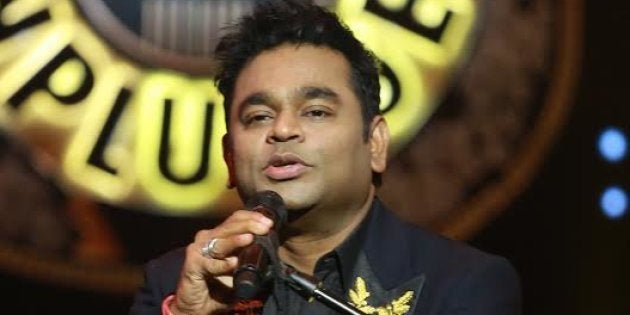 AR Rahman is once again back on the atmospheric sets of MTV Unplugged, jamming passionately with his crew.
Despite not having had a good musical run in the movies of late, the Jai Ho composer appears to be in his element on the show (and there are reasons for that). While the album of Ashutosh Gowariker's Mohenjo Daro was met with a lukewarm response, the reception to Ok Jannu's music hasn't been overwhelmingly positive either.
In a telephonic interview with HuffPost India, Rahman opened up about his thoughts on the revised version of HammaHamma, the artistic freedom offered by music shows, and why he thinks he hasn't 'lost his touch' as his critics would like to believe.
What is it that keeps bringing you back to MTV Unplugged?
I feel it's a very strong entity for MTV. The collaborations that happen here are pure gems. In a way, I find this to be a refreshing outlet for my music. The space MTV provides, the atmosphere, and the overall vibe is so infectious, I feel good making music here. It has been over eight years now and what is exciting is that half the musicians that we jam with are from our music college. It is amazing to nurture young talent and watch them grow.
You upgraded the Urvasi Urvasi track and used it to make some political statements. You think music can be effectively used as a tool to drive social change?
Songs like 'Urvasi Urvasi' are iconic and they're meant to be upgraded. Sometimes, you end up making them more socially relevant than when they were originally imagined. Music has always helped make a political statement. But I believe you shouldn't be too aggressive with it. Then it becomes boring. The tone should be such that it connects with people, while at the same time serving something socially significant. Bob Dylan's music is the best example in this case.
I had a complete block. I categorically said 'No' when Karan Johar (producer, 'Ok Jaanu') and Shaad Ali (director) came to me with it. I said I don't think this is a good idea. Let's not do it. But they were convinced that Badshah could spin his magic and make it work for the younger audience. They wanted to go ahead with it. Now that the song has released, it's apparently a big hit, so I guess they were probably right.
Do you feel artistically liberated when you're on a show like Unplugged as opposed to a movie set where you've to go by the producer's diktats?
Everything has its own advantages. Movies want to cater to a bigger audience so they have their set of demands. Some have these formulas which they believe will work. I find those extremely boring. Some people here really don't have a clue of what they're doing. But there's no denying that films help your music in reaching a bigger audience. I like to be on a show like Unplugged because of its young energy. The young talent here triggers a beautiful vibe. I feel inspired.
There are some who'd like to argue that you've lost the magic touch that you once had. Do you ever find yourself being too self-critical when an album of yours fails?
I am quite touched to hear that (laughs). People evolve and that affects their music. So perhaps my music has changed from what it used to be. But my passion hasn't. I love making music and that's what I will be doing for the rest of my life. I am quite proud of the work that I do and if some critics feel the way they do, they are free to have that opinion. For me, my work is everything. And I am not going to defend it to anyone.